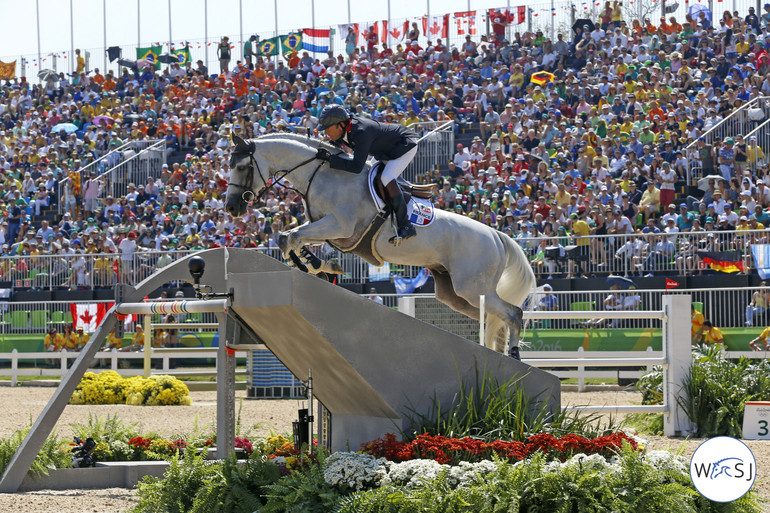 Rahotep de Toscane and Philippe Rozier at the Olympic Games in Rio in 2016, where they won team gold. Photo © Jenny Abrahamsson for World of Showjumping
Philippe Rozier has announced that his Olympic team gold medallist Rahotep de Toscane (Quidam de Revel x Beach Boy) will be retired from the sport, at the age of 16. The stallion will now focus on breeding duties.
An adored pair and regulars on the French team, Rozier and Rahotep de Toscane contributed to France's team gold medal at the 2016 Olympic Games in Rio de Janeiro. The pair also won the CSIO5* Nations Cup in Al Ain in 2017, was third in the CSI5* LGCT Grand Prix in Chantilly in 2017, second in the CSI5* Grand Prix in Knokke in 2016 and second in the LGCT Grand Prix in Madrid in 2015 – to mention some of their many top results.
In February, the pair did their last international appearance at the Valencia Spring Tour in Spain, where the EHV-1 outbreak originated. According to Rozier's social media channels, the stallion returned home and became severely ill.
On his official Instagram account, Rozier writes:
"After more than 11 years by my side, it is time for my faithful Rahotep to put an end to his sports career. He allowed me to participate in the most beautiful competitions around the world but how can we not mention our greatest victory together: The Olympic team medal in Rio.
I would like to thank all the people who were by his side in the recent years: Maud, Angèle, Vanessa, all of my team, his veterinarians, his farrier, his osteopath, his masseuse and all those who took care of his well-being.
Rahotep will leave a big void in the stable when he goes to Normandy to join his own brother Jadis de Toscane and Lauterbach to start his second life as a breeding stallion at the stud of his owners Mr and Mrs Baillet whom I can never thank enough for their trust for over 30 years.
Thank you for all my champion."
At World of Showjumping, we wish Rahotep de Toscane a happy retirement!