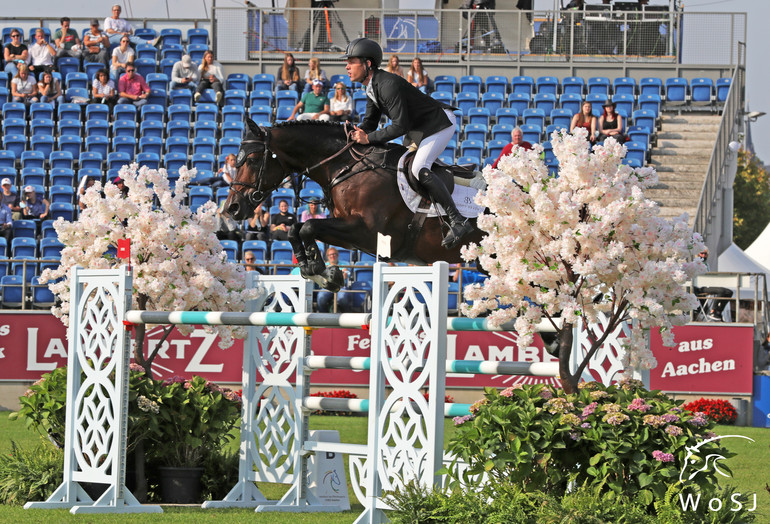 Scott Brash and Hello Vincent at CHIO Aachen in 2021. Photo © Jenny Abrahamsson for World of Showjumping.
Text © World of Showjumping
---
Hello Vincent (ex. Coquin de Coquerie Z, Consul de la Vie Z x Fergar Mail) retires from the sport to stand at stud, Great Britain's former world number one Scott Brash has told World of Showjumping.
The now 14-year-old stallion, produced by Tim Wilks (GBR) and Jodie Hall McAteer (GBR), had a hugely successful career with Brash in the saddle. Brash took over the reins from McAteer in 2019, and the two went on to win the CSI5*-W 1.60m Grand Prix in London after only two months together. In 2021, they won the CSI5*-W Grand Prix of Lyon, the CSIO5* 1.55m Allianz-Prize at CHIO Aachen, placed fourth in the CSI5* 1.60m Grand Prix in Knokke, second in the CSIO5* 1.60m Grand Prix in St. Gallen and picked up top five-star placings at venues such as Doha and s'Hertogenbosch.
"Winning the Grand Prix in London, winning in Aachen and Lyon, jumping at Spruce Meadows... Those would be some of our best memories," Brash said to World of Showjumping. "Vincent has been an amazing horse for me. He can jump in any ring, at any height. He has an unbelievable temperament; he is easy, straight-forward, level headed and rideable. He can win in a big grass ring just as well as in a small indoor. He could go into a big class on the first day, he could be my Grand Prix horse or my speed horse – he could do everything. Vince has been a joy to compete and look after over the years and will be sadly missed from the sport. However, we are happy to end his sport career in good health, and the beauty is that he is a stallion and I'm delighted to now concentrate on translating his qualities into future prodigy."
At World of Showjumping, we wish Vincent a very happy retirement!