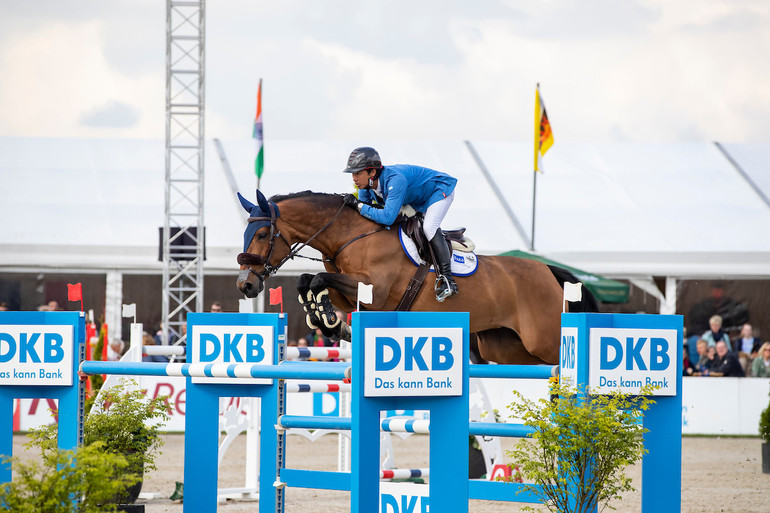 Heroine de Muze with Taizo Sugitani in the saddle. Photo © www.sportfotos-lafrentz.de/Stefan Lafrentz.
Text © World of Showjumping
---
Ioli Mytilineou has acquired the 14-year-old mare Heroine de Muze (Tinka's Boy x For Pleasure), the mother to her incredible 10-year-old stallion Levis de Muze (Elvis Ter Putte x Tinka's Boy). Heroine de Muze has several offspring jumping at international level, but the most famous of them all is Levis de Muze – that stole hearts at this year's Longines FEI Jumping European Championships when finishing 12th individually after some spectacular jumping with Mytilineou in the saddle.
Heroine de Muze has herself competed successfully at top level for many years with Japan's Taizo Sugitani, who has had the mare since she was five. In 2019, the pair won the individual gold at the FEI Asian Championships in Pattaya, Thailand, and they also finished fourth individually as well as with a team silver at the Asian Games in Jakarta, Indonesia, in 2018. With Sugitani, Heroine de Muze also has numerous top-three finishes in international Grand Prix classes on her record.
"When we started looking into Porky's [Levis de Muze] origins, we were pleased, yet not shocked, to discover that Luna [Heroine de Muze] has a number of offspring that are successful at international level," Mytilineou tells World of Showjumping. "Although we don't run a breeding operation, I still think that part of the way forward is doing a bit of it and what a mare to start with! It would be fantastic if Luna could produce a few more great offspring for me, both from a sport as well as a sentimental point of view. I'm so happy to have Porky and his mum in the same barn at the same time, and I wish they were both aware of it. To have future offspring that are half- or full-siblings to Porky would be a dream come true! If they're even half the horse that he is, she'll have given me more than enough."
"Luna herself is a very, very good mare and Taizo has been structured in his show plan and maintenance of her, so although she is 14 now, I think she is solid enough for me to be able to show her for a couple more years. She will join, as well as strengthen, the string of horses I have going to Florida this winter to compete," Mytilineou tells. "I will not overdo it with her by trying to do just the right number of shows – hopefully continuing Taizo's hard work. Since she is a little older and set in her ways, I will for sure have to adapt myself and my riding to her – she goes the way she goes. Being a great rider, I have no doubt that Taizo has perfected her to go the way he feels suits her the most, so to maintain this is quite a task for me to take on. I aim to maintain what Taizo has done with her for the nine years he has had her, and hopefully we'll make just as good of a team."
"In the last year or two there has been an increased interest in Luna from potential buyers, so I want to thank Taizo for being so honourable to his word. She is definitely a part of his family, so I'm hugely grateful that he chose me as the person to care for and love her as much as he does," Mytilineou says.
"I have had Luna since the end of her five-year-old season," Taizo Sugitani tells World of Showjumping. "In the beginning, she was owned by an Australian client, who came to show her a few times per year in Europe. The rest of the time I was showing her. As she turned eight and started to jump bigger classes, I really had a good feeling on her – so I told my owners that we should keep her and take her to the top level. One of my sponsors decided to buy the mare for me to do the sport and since then she has been jumping bigger classes. We went to the Asian Games, the Asian Championships where we won individual gold and she did many five-star starts in Europe. My biggest aim was to do the Tokyo Olympic Games with her, but unfortunately we could not make it."
"Over a year ago, Ioli already asked me for Luna," Taizo continues. "And I promised her, that after the Tokyo Olympic Games she would be the first one who could try her, and if she liked her, she could buy her. It is a beautiful story, because Ioli is riding Luna's son Levis and they have great results together. I am really happy that Luna is going to a nice home. Yes, she is 14, but for a few more years she can do the sport easily. This mare really meant a lot to me. Normally I don't get that attached to a horse, but this one – when I had a hard time, she helped me out and she just means so much to me."