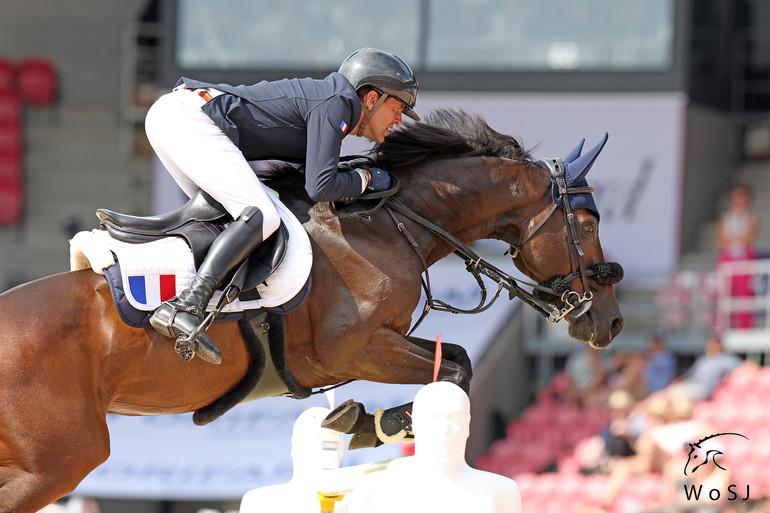 Simon Delestre is on the long list for the 2024 Paris Olympic Games with three horses, one of them is Cayman Jolly Jumper. Photo © Jenny Abrahamsson for World of Showjumping.
The French Equestrian Federation (FFE) has published their long-list of horses and riders for the 2024 Olympic Games in Paris.
The jumping list includes thirteen horses and nine riders:
Roger-Yves Bost and Cassius Clay VDV Z (Calvino Z x Wolfgang, owned by Georges Van Der Velden, Equiblue and Bost)
Roger-Yves Bost and Delph de Denat*HDC (Air Jordan x Tlaloc M, owned by Haras des Coudrettes, la Scea CT Horses and la Sarl Les chevaux de Malmain)
Grégory Cottard and Bibici (Norman Pre Noir x Nelfo Du Mesnil, owned by Ecuries de Wy and GC Sport)
Simon Delestre and Cayman Jolly Jumper (Hickstead x Quaprice Bois Margot, owned by H Jumping and Philippe Berthol)
Simon Delestre and Dexter Fontenis Z (Diarado x Voltaire, owned by Eric Hochstadter)
Simon Delestre and I Amelusina R 51 (Dexter R x Chin Chin, owned by SA M.S.H, Pascale Bliscaux and Philippe Berthol)
Marc Dilasser and Arioto du Gèvres (Diamant de Semilly x Qualisco III, owned by la Sarl Equiouest Jump)
Julien Epaillard and Donatello d'Auge (Jarnac x Hello Pierville, owned by Hello Holdings SLU)
Pénélope Leprévost and Bingo del Tondou (Vigo d'Arsouilles x Querlybet Hero, owned by la Scea Hapi and l'Eurl Michel Robert)
Mégane Moissonnier and Bracadabra (Pacific Des Essarts x Couleur Rubin, owned by Laurent Guillet)
Olivier Perreau and Dorai d'Aiguilly*GL Events (Kannan x Toulon, owned by l'Ecurie Perreau)
Kevin Staut and Viking d'la Rousserie (Quaprice Bois Margot x Apache d'Adriers, owned by la Sas Finegal)
Kevin Staut and Visconti du Telman (Toulon x Dollar du Murier, owned by Françoise Sanguinetti)
For more information about equestrian sports at the 2024 Olympic Games, click here.