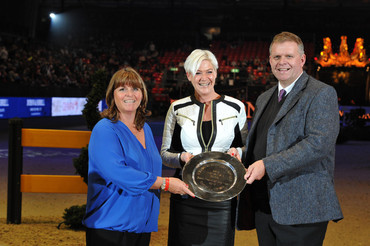 Lizzie Bunn, Inge Van Der Net from Horse International, and Edward Bunn. Photo by (c) Trevor Meeks/Olympia.
The Longines Royal International Horse Show has been crowned the world's best showjumping competition by the Horse International year book, L'Année Hippique. The international show, which has been held at Hickstead in West Sussex since 1992, won the award for 'Best Showjumping Event of the Year Award 2014', taking a massive 40% of the vote ahead of CHIO Aachen (19%) and the Alltech FEI World Equestrian Games (11%). Hickstead Directors Edward and Lizzie Bunn accepted the award from Inge Van Der Net from L'Année Hippique during a presentation at the London International Horse Show at Olympia.
"We're delighted to accept this award," said Lizzie Bunn, whose father Douglas founded the All England Jumping Course in 1960. "It's an incredible honour, especially considering the calibre of the second and third placed events. "We very much hope that this international recognition will encourage more overseas visitors to attend the show next summer. Britain is flying high with Scott Brash as world number one, and Hickstead as the world's best showjumping event!" Lizzie adds.
Hickstead is host to one of only three CHIO 5* events in the world, alongside Aachen in Germany and Rotterdam in the Netherlands. The Longines Royal International Horse Show features the highest levels of showjumping alongside championship showing classes, while an international dressage nations cup is run concurrently within the venue by Dressage at Hickstead.
The Longines Royal International Horse Show boasts the only Furusiyya FEI Nations Cup leg held in Britain, where the world's best teams go head to head. The show concludes with the British Grand Prix – formally known as the Longines King George V Gold Cup – which has a €200,000 prize fund.
The show (patron: Her Majesty The Queen) is more than 100 years old, making it one of the oldest horse shows in the world. It is the official show of The British Horse Society.
Next year's Longines Royal International Horse Show will run from 28 July to 2 August, and tickets are on sale now from www.hickstead.co.uk
Source: Press release from The All England Jumping Course