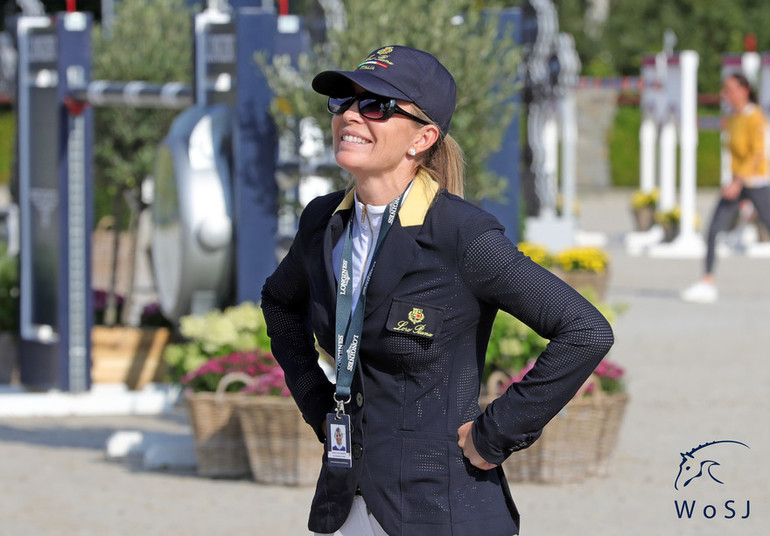 Edwina Tops-Alexander will be competing individually in Tokyo. Photo © Jenny Abrahamsson for World of Showjumping.
Following Jamie Kermond's provisional suspension and exit from the Australian Olympic jumping team earlier this week, Equestrian Australia has announced that Edwina Tops-Alexander and Katie Laurie will be permitted to compete individually at the Tokyo Olympic Games. Kermond was provisionally suspended and put off the Australian jumping team for Tokyo after having returned a positive A-sample for a metabolite of cocaine following a test conducted by Sport Integrity Australia on 26 June 2021. As travelling reserve Rowan Willis had withdrawn earlier this month, Australia was left with only two jumping athletes – and both of them can now compete in the individual competition.
A statement from Equestrian Australia reads:
"The Australian Olympic Committee has been informed that Edwina Tops-Alexander and Katie Laurie will be permitted to compete in the Individual Jumping competition at the Tokyo Olympic Games.
Chef de Mission, Ian Chesterman, has welcomed the decision to allow Tops-Alexander and Laurie to participate in the Games following the deselection of teammate Jamie Kermond on Tuesday.
"We are thrilled with the outcome for our remaining two Jumping athletes, who have been anxiously awaiting confirmation regarding their participation at the Games.
"Edwina and Katie have both worked extremely hard to earn their place on the Australian team and we are delighted they will get the opportunity to realise their Olympic aspirations in arena at Tokyo."
Tokyo 2020 will mark a milestone fourth Olympics for Tops-Alexander, making her the first Australian Jumping athlete to ride at four Games.
"I'm very happy about the outcome for myself and Katie Laurie to be able compete as individuals in Tokyo. I'm proud and I look forward to representing Australia. I will absolutely give it my utmost best," she said.
Laurie will be making her Australian Olympic debut in Tokyo and says she can't wait to compete at the Games.
"Words cannot describe the feeling of hearing that Edwina and I could both go as individuals. It's been a rollercoaster but we are ready and so excited to get to Tokyo."
Australia will not be represented in the Team Jumping competition in Tokyo.
Tops-Alexander and Laurie will arrive in Tokyo on Wednesday 28 July as scheduled."