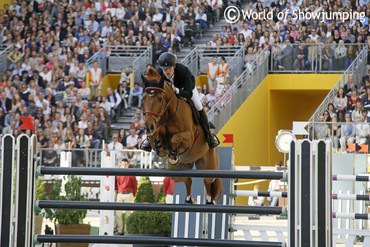 Daniel Neilson with Varo M in Paris in 2014. Photo (c) Jenny Abrahamsson.
Daniel Neilson's Varo M (Pierrot x Weinfurst) has been sold to Abdullah Al Sharbatly. Daniel and Varo M have been successful up to CSI5* level and have several times been part of the British team at the Furusiyya FEI Nations Cups - the pair was on the winning Nations Cup team in St. Gallen this year, and last year they also finished third in the World Cup at Olympia to mention some of their many top results together.
"I have ridden and produced Varo since he was four turning five years old," Neilson comments to World of Showjumping. "He has been a pleasure to ride and produce and turned into the horse I always believed he would back when he was five. Here at Aspen Stables I have been given a great opportunity to compete and produce horses for the top end of the sport. The owners we have are investors which means all the horses I ride are open for sale. We have re-invested in some new exciting horses; two very talented eight year old horses and a superstar in the seven year old Clinta that I believe could the best horse I have had."
"I wish Abdullah the best of luck with Varo. I know he will be successful and win many Grand Prix classes," Daniel closes off.