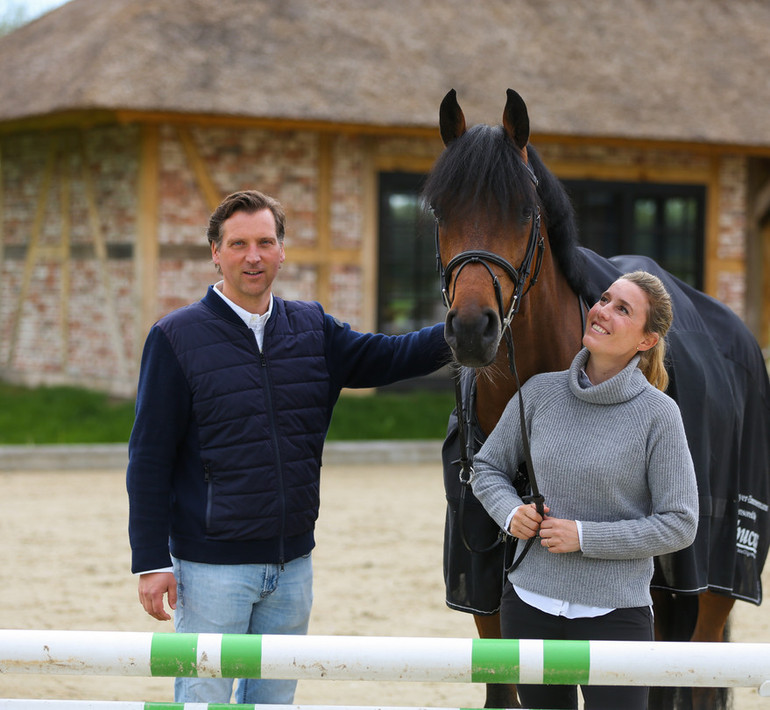 In July, Janne-Friederike Meyer-Zimmermann and Christoph Zimmermann open the doors to their facilities in Waldenau, Germany, as hosts to CSI Hof Waterkant. Photo © Aenne Mueller.
Text © World of Showjumping
---
When Aachen Grand Prix-winner Janne-Friederike Meyer-Zimmermann and her husband Christoph Zimmermann open the doors to their facilities for CSI Hof Waterkant during the first week of July, it's in the belief that this difficult past year can bring something positive for the future.
In tough times, where many organisers have seen themselves forced to cancel their events, Janne and Christoph decided to take a leap of faith and launch a brand new CSI3* show at their facilities in Waldenau, just outside Hamburg, Germany. "The Holstein-region used to be the motherland of showjumping; there is so much history and tradition in this area when it comes to breeding and sport. For a long time, we have wanted to give something back to the sport – to the breeders, riders and supporters that are based here," Christoph tells. "When the Deutsches Spring- und Dressur Derby in Hamburg – our favourite show, which is only 15 minutes from our stable – was postponed to the end of August, it really pushed us to do something about our ideas. Due to the situation with Covid-19, it has been difficult to know whether or not we eventually would be allowed to run CSI Hof Waterkant. However, we have had great support from the politicians and the mayor of our town and now things are finally starting to look better. Hopefully, we can welcome exhibitors and spectators to the event too."
"Over the years, we have been to many nice shows organised by Janne's colleagues and so we thought that this is the time for us to take on the role as hosts," Christoph continues. "It's been a very tough year for the riders. The system has worked for the people on the top of the ranking; however, it's been very difficult for the riders that are further down on the list. There are so many good riders below the top hundred, but during the last year there have not been enough opportunities for them. We want to offer that kind of opportunity, with a different and personal event that has been made in an entrepreneur-spirit."
"We don't have the biggest budget, but we have managed to find supporters here in the area that make it possible for us to have good prize money and for that we are very thankful," Christoph says.
"For Janne and me, it has been important to create a show made for the horses and the riders. When it comes to the sport, we wanted to avoid qualifications for the Grand Prix – I really dislike when you go to a two- or three- star show and can't make a proper plan for your horses because it all depends on whether or not you qualify," Christoph points out. "At CSI Hof Waterkant, we will limit the number of entries and everyone can ride the CSI3* Grand Prix, the U25 Grand Prix and the Young Horse Finals. It is also a big chance for those who still have to qualify for the European Championships 2021 in Riesenbeck or for the World Championships 2022 in Herning, as the CSI3* Grand Prix will count as a qualifier towards those two major events."
"After this last year, I think we all miss the atmosphere of a real show and that's what we want to try to create here," Christoph continues. "We hope to be able to bring people together again; serve high-class, organic food and a drink as well as good music. We plan to have a food-court with food-trucks, and we will also have famous Hamburg-chef Cornelia Poletto cooking here. Our farm is located just outside the city of Hamburg, next to a forest, so everything we do for the event will be inspired by the nature."
"On Saturday evening, we will have a foal auction – an effort on our side to link the sport together with the breeding in our area," Christoph says. "For Janne and me, it is very important to involve the breeders in the region of Holstein, Hannover and Oldenburg – since we have a strong network here. The auction is also a great opportunity to present some of the offspring of our stallions Chinchero and Quim, but we also have something very special up our sleeve such as a foal by Chacco-Blue out of the mother of Tobago Z."
"Right now, we are working very hard to make it all happen. Luckily we have a great team to help us and we look forward to July!" Christoph closes off.