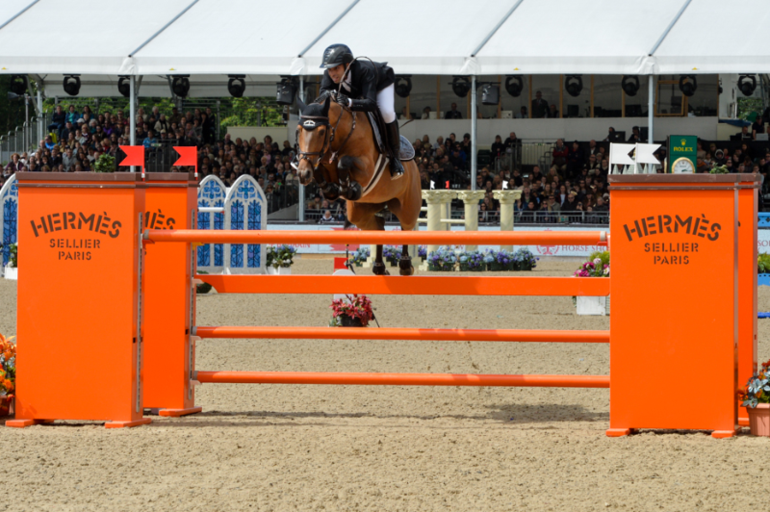 Abdel Said and Hope van Scherpen Donder en route to victory at Royal Windsor Horse Show. Photo (c) Royal Windsor Horse Show.
The second day of international CSI5* showjumping kicked off in spectacular style with the 1.55m Kingdom of Bahrain Stakes for The King's Cup, which saw Egypt's Abdel Said triumph in a tightly fought contest.
The tight time-allowed in the first round added to the complexity of the course, which was twisty and up-to-height and saw eight of the 29 starters jump clear. Sixth to go, Cheshire-based Irishman Billy Twomey broke the deadlock and his clear round was emulated by some of the best riders in the world, including world no. one Kent Farrington and Olympic gold medallists Ben Maher and Eric Lamaze, setting up an exciting jump-off for the £52,500 prize fund.
As second to go in the jump-off, last year's winner Kent Farrington set a blistering pace aboard his striking grey gelding Dublin (Cobra x Calido) however an extra stride before the last meant his time of 43.01 seconds was within reach to those who followed. Abdel Said followed, riding AS Sport Horses' Hope Van Scherpen Donder (Quadrillo x Balou du Rouet) and set-off meaning business. The nimble bay mare jumped faultlessly, making the tightest of turns and galloping to the last to take over the lead from the current world no. one. Britain's Ben Maher put up a good challenge aboard Don Vito (Quaprice Z x Jus de Pomme), with an immaculate display of jumping – however his time of 42.86 seconds was only good enough for second place.
Speaking after the class Said said, "She's a real tryer, she gave everything today and I was lucky that we were fast enough to win - I'm delighted. It's my first time at Windsor and it's a great experience, we are loving it, it's a really nice show."
The jumping action culminated with the 1.50m Falcon Stakes, a two-round competition whereby the top ten from the first round were guaranteed a spot in the jump-off. With only eight clears in round one, this paved the way for the fastest four faulters: Billy Twomey and Ben Maher.

Ben, riding the twelve-year-old chestnut mare Diva II (Kannan x Berlioz), produced a speedy clear round to finish on a cumulative total of four faults and put pressure on the riders to follow. With several riders having faults in the jump-off, Maher's round moved him up to eventual fifth. Home favourite Michael Whitaker was the first to finish on a zero score, but he took it relatively steady on new ride Baltimore VDM (Cardento x Dutchboy) to finish in fourth.

Local rider William Funnell jumped a fantastic round with homebred mare Billy Fanta (Billy Kongo x Cevin Z), to take the lead with just four riders left. However it was last to go, America's Jessica Springsteen, who took the victory in impressive style. The daughter of rock legend Bruce Springsteen shaved over two seconds off Funnell's time, riding the in-form Davendy S (Kashmir van Schuttershof x Pachat II).
Following her success Jessica said; "She [Davendy S] is unbelievable, she jumped great, it was definitely an advantage to be towards the end but she's so competitive, she always goes out and wants to win so she's a lot of fun to ride. It's so much fun here at Windsor, there's such an amazing atmosphere with the crowds, it's one of my favourite shows."
---
Source: Press release from Revolution Sport + Entertainment / Picture © Royal Windsor Horse Show