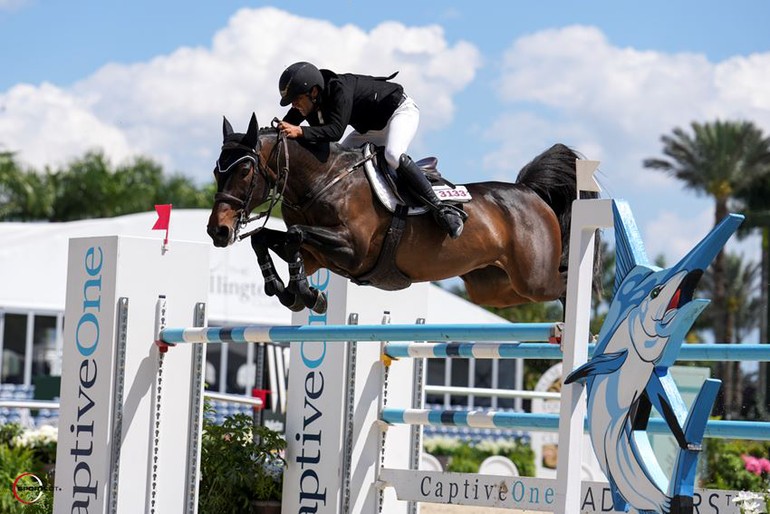 Jad Dana and After Eight topped the $78,000 CaptiveOne Advisors CSI5* 1.50m Classic. Photo © Sportfot.
Press release from Wellington International
---
Lebanon's Jad Dana and After Eight brought Week 9 at the Winter Equestrian Festival (WEF) to an end by reaching a milestone win in the $78,000 CaptiveOne Advisors CSI5* 1.50m Classic on Sunday. The penultimate qualifier before the CaptiveOne Advisors 1.50m Championship during WEF 11 christened the first CSI5* win for both Dana and his mount.
Returning second to last in a 15-horse jump-off, Dana crossed the timers one hundredths of a second faster than Darragh Kenny (IRL) who took over the lead early in the second round.
Alan Wade (IRL) designed the track for fifty-six entries with six different nations represented in the tiebreaker round. After Eight, a 13-year-old Swedish Warmblood mare (Diarado x Cardento) owned by Springhill Farm 1850, LLC swooped in and stole the top of the leaderboard with a time of 35.10 seconds. Second and third place went to Kenny aboard Vancouver Dreams, owned by Oakland Ventures, with a time of 35.15 seconds and Chic Chic for owner Vlock Show Stables in 36.04 seconds, respectively. Fourth place was earned by Egypt's Nayel Nassar on Dorado de Riverland, owned by Evergate Stables. They stopped the clock in 36.17 seconds.
Dana was almost speechless after his victory and still wore the smile that beamed as he crossed the final timers. "I went late in the jump-off, which is definitely an advantage because I got to see how fast they went. Honestly, when I saw Nayel who ended up fourth, I didn't think I could beat him, and I thought it would be impossible to beat Darragh.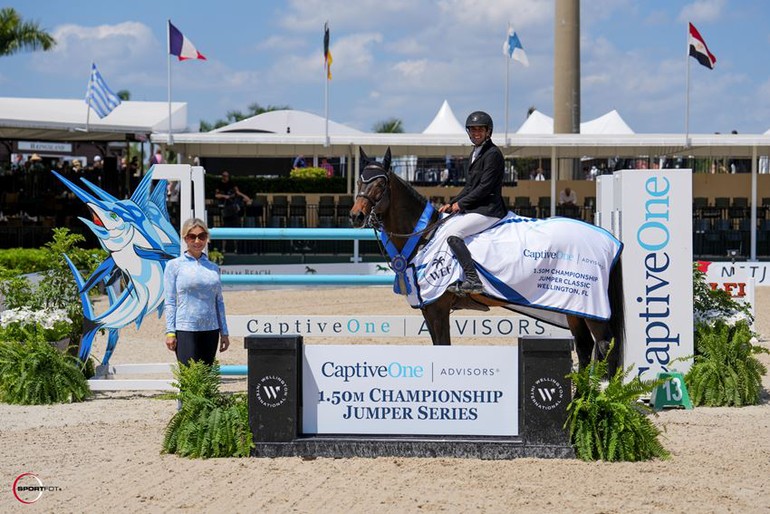 Jad Dana and After Eight presented as winners of the $78,000 CaptiveOne Advisors CSI5* 1.50m Classic by Olga Hartsock. Photo © Sportfot.
"Even though my mare is very fast, the riders today had so much experience and they are incredibly talented," continued Dana. "I truly thought I had no chance. I was happy to just be in the jump-off to start with. This mare tried her heart out for me today."
Dana has seen success with After Eight, but he admits that he put in the work to be competitive with her unconventional style. "The way she goes and the way she jumps is a little different, but you can tell she's very hot and has a lot of blood," said Dana. "She does everything because of her huge heart. I love her so much. I have no words."
Sunday's CSI5* first for both Dana and After Eight built from a CSI3* 1.50m victory during opening week of international competition at WEF.
"I was thinking to myself today that I'm a very competitive person and I absolutely love to win but I also recognized that I was in a five-star and I hoped to enjoy it," said Dana who trains with U.S. Olympic team gold medalist Leslie Howard. "Even if it wasn't a win today, I am grateful and enjoyed the moment. To win a five-star is absolutely a dream come true. I didn't wake up this morning thinking I had a chance really, but everything just went really well."