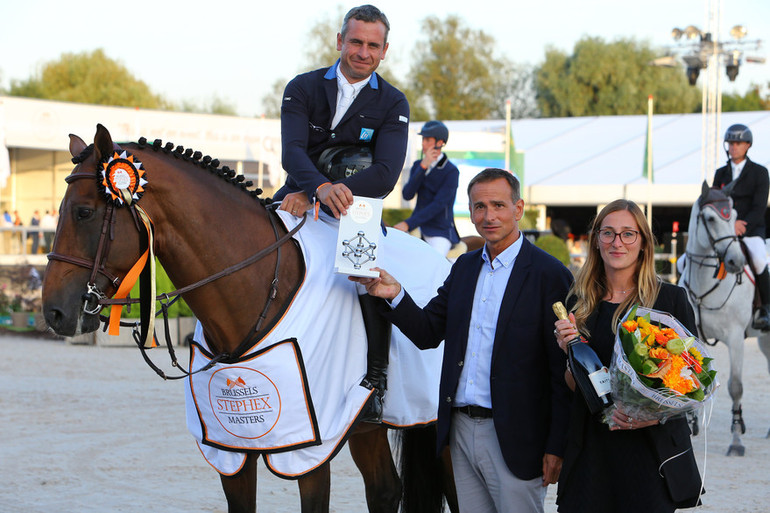 Julien Epaillard and Safari d'Auge won the CSI5* 1.50 Sea Coast Prize at the Brussels Stephex Masters. All pictures (c) Scoopdyga.
All about Epaillard in the CSI5* 1.50m Sea Coast Prize
Julien Epaillard (FRA) – the King of Speed – was not to beat in the first CSI5* competition at the Brussels Stephex Masters; the 1.50m Sea Coast Prize worth a total of 25 000 Euro.
Coming straight from Gijon – where he won no less than three of the speed classes –
Epaillard continued where he left off, to record yet another victory. Taking all the risk aboard the 10-year-old Diamant de Semilly-son Safari d'Auge, especially on the last line to the final upright, Epaillard's time was as good as 60.33 seconds.
"I was no. 31 to go, so I got to see a few riders at the start of the class. My plan was to try to win today; Safari d'Auge is my horse for the Grand Prix but he has not got so much experience at that level so I try to win what I can ahead of Sunday," said Julien after.
About his round, Epaillard said: "I did not start off all that fast, but I got a very good turn to the plank at no. four and also a nice distance coming in. To the last vertical I took out a stride, so I think I saved quite a lot of time there."
One rider after Epaillard, Laura Kraut (USA) and the lovely grey mare Cavalia (Vingino x Manhattan) gave him a run for the money but despite their efforts they were still 0.13 seconds behind. Kraut's round pushed Stephex Stables' own Daniel Deusser (GER) down to third with Happiness van't Paradijs (Obourg x Quick Lauro Z) with 0.51 separating him from the no. one spot.
Jérôme Guery (BEL) on Papillon Z (Perhaps x Cassini I) finished fourth, and Ben Maher (GBR) ended fifth on Aristo Z (Andiamo x Flamenco de Semilly).
The winning horse Safari d'Auge is home bred by Epaillard and his wife Susana, and although the gelding has been successful there have been quite a few ups and downs. "We always believed he would be a good horse, but he has been a bit unlucky with a few accidents. I hope the luck will change now, and on Sunday he will jump his first five-star Grand Prix in one and a half year," Julien explained.
Caroline Poels-Devos best in the Top Series De Buyl Insurance Prize
Caroline Poels-Devos (NED) was the best of the 53 riders in the CSI2* 1.45m Top Series De Buyl Insurance Prize.
The stylish Dutch lady rider went in against six others in the jump-off in this 24 600 Euro competition, where she was one of only two to go double clear. Stopping the clock at 35.72 seconds aboard the 10-year-old stallion Gin D (Clinton I x Skippy II), Poels-Devos took home the victory.
Second place went to the double gold medalist from this year's European Championships for juniors; Gilles Thomas (BEL) on Conaro (Con Capitol x Quinar) – who had almost a second up to Poels-Devos.
Santiago Lambre (MEX) had the fastest time in the jump-off on Fortin (Forsyth x Quinar Z), but on the expense of a rail – settling for third. Jessica Mendoza (GBR) finished fourth and Frederic Vernaet (BEL) fifth.
Jérôme Guery and Instit de Jucaso to the top in Future Stars Sovaro Prize
It was the 100 % Belgian combination of Jérôme Guery (BEL) and Instit de Jucaso (Cooper van de Heffinck x Darco) that went to the top in Thursday's CSIYH Future Stars Sovaro Prize, a 1.35-1.40m competition against the clock open to 7- and 8-year-old horses.
Instit de Jucaso – a Belgian bred gelding aged 8 out of the mare Urca de Jucaso, that has produced several international jumpers – was the fastest horse of those 23 that jumped clear in this 70-horse class. Two seconds separated this couple from another Belgian combination; Philippe Le Jeune on the 8-year-old Cadeau de Muze – a son by Le Jeune's famous former World Championship medalist Nabab de Reve out of the mare Atlanta that jumped at the 2006 World Championships.
In third place followed Kent Farrington (USA), on the 8-year-old Pepper Corn 2 (Perigueux x Lord Caletto). Fourth was Frederic Vernaet (BEL) on the best 7-year-old in this class; Just A Gamble (Toulon x Corofino), while fifth went to Ben Maher (GBR) on the 8-year-old Cliff 67 (Casall x Calvaro Z).
---
Source: Press release from Brussels Stephex Masters // Pictures © Scoopdyga