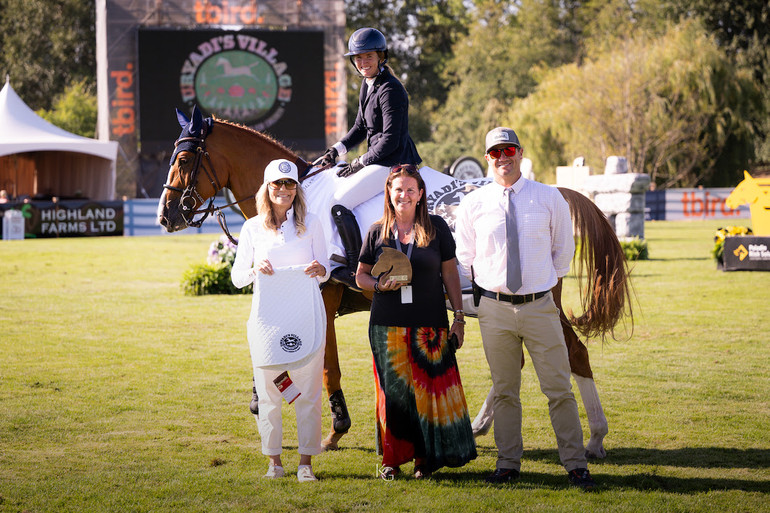 Kara Chad and Easy Boy d'Aubey Z stand for the winner's presentation with tbird CEO Jane Tidball, Jennifer Crooks of Uryadi's Village and tbird President Chris Pack. Photo ©tbird/Kim Gaudry.
Press release from Thunderbird Show Park
---
Kara Chad (CAN) has had the ride on Easy Boy d'Aubey Z (Emerald van't Ruytershof x Rubels) for less than three months. But you wouldn't have known it watching the pair in the CSI3* Uryadi's Village Winning Round Saturday at Thunderbird Show Park.

The duo looked like longtime partners as they made light work of the uniquely formatted two-round competition, taking the win with a final time of 38.91 seconds. Katie Kruger (CAN) nearly captured her second win of the week with Goodwill VB (Orlando x Lys de Darmen), ultimately settling for second (41.39 seconds), while John Perez and Julio de Toxandria Z (Jilbert van't Ruytershof x Castelino van de Helle) were third (41.75).

"He's only nine years old, but he's super, super talented," Chad said. "He's a good jumper [and] loves to be competitive. So, he's an absolute dream to have."

The top 10 combinations from the first round returned for the winning round, jumping Anderson Lima's (MEX) short track in reverse order of standing on a clean slate. Perez made the most of the opportunity, moving up to the podium after returning in 10th place.

Chad, however, needed no such boost with "Eddie"; her clear and quick first round earned her the chance to return last for her second course. She made up the time and pulled away with an efficient rollback to the third fence on course as well as a big gallop to the final three fences, including leaving out a stride to the final vertical.
"He has such a big stride for a little horse. He just jumps everything out of stride, so it's easy to go fast on him, I guess you could say, and he likes that rhythm a bit more," Chad explained. "It also helps when you are in these winning rounds to be the last person to go, because you know what you need to do to give the win a go anyway."

Eddie understood the assignment.

"You've got to know your horse," Chad said, "and I know that as soon as you ask him to open up his stride, you're like two strides ahead of [where you were!]"

The CSI3* Uryadi's Village Winning Round featured the Clear the Jump initiative. Every time a horse-and-rider combination cleared the namesake vertical, a donation was made to Uryadi's Village, a family-style, permaculture-based village for orphaned children in Soddo, Ethiopia. Their mission is to "care for, love, and listen to each and every child, while creating a replicable model for empowerment that encourages local engagement." Saturday's event raised more than $34,000. To learn more, visit UryadisVillage.org.