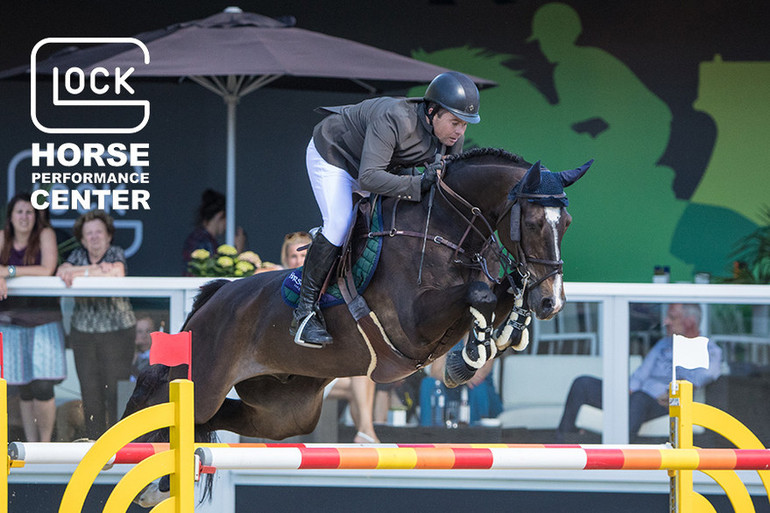 For the second time this weekend, Cian O'Connor won in Treffen - this time riding Callisto. Photo (c) GHPC / Michael Rzepa.
Cian O'Connor (IRL) took his second victory of the weekend at Glock Horse Performance Center in Treffen when winning Saturday's 1.55m Glock's Perfection Tour. This time around, the Irish rider was aboard the 10-year-old gelding Callisto (Quasimodo Z x Jokinal de Bornival) claiming the top prize of 15 500 Euro.
As one of thirteen riders, O'Connor made it to the jump-off after jumping clear over the first round track. First to go against the clock, O'Connor produced a flawless round in 40.98 seconds – a time none of the other competitors could beat.
"You have to take each class as it comes, now I enjoy this victory," said the winner about going into Sunday's Grand Prix with two wins on the record. "Tomorrow I will be riding another horse than today, so we will have to see what is possible."
O'Connor also praised course designer Franz Madl. "He has done a great job here. The wide oxers and the lines were the big challenge today. I did not think that I would win because after me were still twelve good riders. But, I have worked a lot on myself in the recent months after an injury that I sustained, changed my lifestyle and that really pays off. I think I've never had so many good results in a month!"
Jeroen Dubbeldam (NED), 2000 Olympic Champion and reigning European and World Champion finished second on SFN Zenith (Rash x Fuego du Prelet) with a time of 43.13 seconds in the jump-off. Third was Peder Fredricson (SWE), 2016 Olympic silver medallist, who after winning the Gaston Glock's Championat yesterday again was in the big money now riding H&M Christian K (Namelus R x Calvados). Pieter Devos (BEL) ended fourth, and Piergiorgio Bucci (ITA) fifth.
---
Source: Press release from EQWO media house // Picture © Michael Rzepa