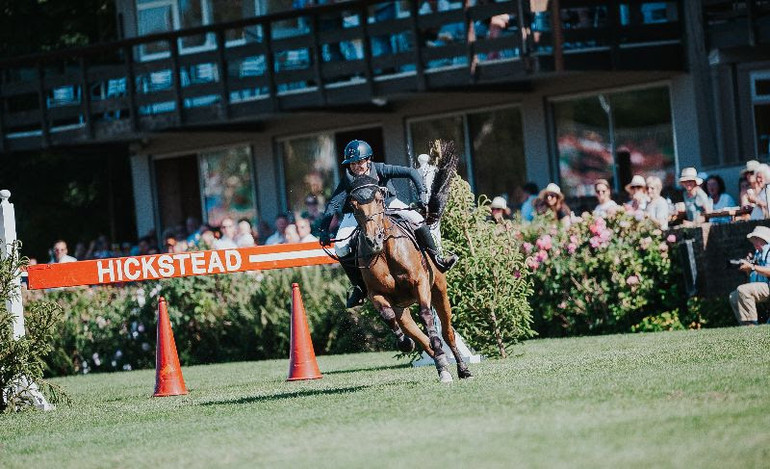 Ella Dalton and Quality Rubies N Diamonds, winners of the British Speed Derby. Photo © Tilly Berendt.
Edited press release from Hickstead
---
Twenty-one year old Ella Dalton won Saturday's British Speed Derby at Hickstead, riding Quality Rubies N Diamonds (OBOS Quality 004 x Coevers Diamond Boy).
It was Kent-based Ella's first ever attempt at the 1.45m world-ranking speed class, which features many of Hickstead's unique obstacles. Drawn 11th to go out of the 26 starters, she set off in determined fashion, especially after an early fence down put pressure on. But even with the 4sec time penalty, she still finished in a time of 101.72sec to take the win.
"I wasn't happy fence two came down, but I just thought, keep going really fast – it doesn't matter," said Ella. "It was quite incredible, and quite shocking that I managed to win!"
The young rider has grown up competing in working hunter classes as well as eventing up to three-star level, which meant Hickstead's permanent fences didn't cause her much concern. So what did she make of her first trip round the course? "I was definitely just trying to enjoy it, but the bank's actually quite high up, so I was quite scared about that! But when you're on a horse that's bold and brave, you get the confidence from that."
British riders filled the top four places, with second placed William Rekert on Concert Z (Candillo 3 x Kojak) and third placed Jay Halim on Zuniek VD Tojopehoeve (VDL Zirocco Blue x LBH Calvados) each having a fence down apiece to finish on 104.79sec and 106.21sec respectively. William marked himself as one to watch for next year's class, as Concert Z is a brand new ride. "We only picked him up last week, and this is literally the fourth time I've sat on him, so I'm very pleased!" he said.
Ryan Lockwood and Hyperion VP Wisbecq (Bentley van de Kapel x Quidam van de Kapel) were fourth, and the 2019 Al Shira'aa Derby winner Michael Pender was the best of the Irish riders in fifth place, riding HHS Fortune (Catoki x Douglas)
It was a class filled with thrills and spills – especially right at the end of the class. Three-time winner Harriet Biddick was looking like collecting another victory with the fantastic campaigner Silver Lift (Easy Lift x Silver Cloud) when her bridle broke over the Irish Bank three fences from home. The grey 18-year-old gamely carried on through the tricky treble of Hickstead planks despite Harriet having no bridle at all, but they were unable to jump the final fence and retired.
Third place Jay Halim took a tumble early on course with second ride Gentle (Libero H x Lord Calando). "I actually thought he would be the one for the win, and it's gone the other way," he explained. "The mare is a new horse to me and I've only had her a few months. She was amazing, and I'm really pleased with this for her first attempt."
A total of 48 partnerships came forward for the £24,400 Agria Hickstead Master's Trophy on Saturday afternoon, and just eight of those would nab an elusive clear round and qualify for the jump-off.
For a significant chunk of the class, it looked as though the old adage, where there's a will, there's a way, might come true: William Whitaker, William Funnell, and Will Edwards each delivered the goods to sit at the business end of the leaderboard, with two of those – Whitaker and Edwards – logging the exact same jump-off speed, 46.21 seconds.
But you can never discount the Irish at Hickstead, and two of them came in to break up the run of Wills. The first of those was Shane Breen, who snuck in with Scarteen (Cardento x Chellano Z) behind then-leaders William Funnell and Equine America Billy Picador (Billy Mexico x Animo) – and then it was the turn of Dermott Lennon.
Riding Bronte Stables Ltd and Harry Marshall's Millview Cicero (Cicero Z Van Paemal x Oklund), Dermott cantered into the ring fully aware of the standard the three Wills had set. "I knew the boys were quick, and it was very close, so there was no room for error," said Dermott, who threw down an extraordinarily quick jump-off time of 42.75 to win by more than three seconds. "We like to try to beat the English on home ground! My horse was jumping super, and so it was easier to go fast – and for once, the jumps came to me in the right place."
Now the Irishman is looking ahead to a bright future with the nine-year-old, who he bought as a five-year-old from breeder Harry Marshall in Northern Ireland.
"I've always believed he can do the very biggest stuff, and he's doing some lovely things along the way to that. He's jumped every day here and he's gotten better every day, so I'm delighted with him. He makes me look better! The horse has a very easy scope, and he's careful, so you can really ride him at the jumps. He's brave, too – sometimes, the horses come to these big arenas for the first time and with so much going on, they can be a little bit intimidated, but he's gone right in and taken it all on."