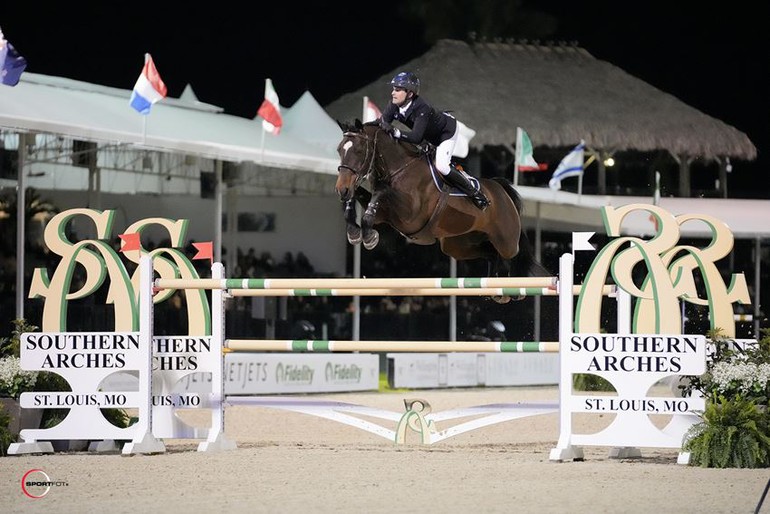 Darragh Kenny & Volnay du Boisdeville won the CHF 140,000 Southern Arches CSI3* Grand Prix. Photo © Sportfot.
Press release from Wellington International
---
A wave of unseasonably cold weather for Wellington, FL, worked to Darragh Kenny's advantage during "Saturday Night Lights", giving Volnay du Boisdeville a little extra spring in his step. Together, they topped the CHF140,000 Southern Arches CSI3* Grand Prix during week 1 of the Winter Equestrian Festival (WEF).
A course designed by Nick Granat (USA) produced six clear rounds representing four different countries. The trailblazer in the first round, Kenny (IRL) again set the pace in the jump-off with a blistering clear round in 37. 58 seconds. His lead would not be breeched as the five challengers to follow all pulled rails.
"He's an incredible horse and he's better when he's fresh," said Kenny of Volnay du Boisdeville, a 2009 Selle Français stallion (Winningmood x Jaisco B) owned by Vlock Show Stables. "The cold weather was a good factor for us tonight because it had him a little fresher than normal.
"You can trust him at the jumps and he's very fast in jump-offs," continued Kenny. "I knew it was a competitive jump-off, so I just tried to go as quick as I could and hope that the jumps stayed up."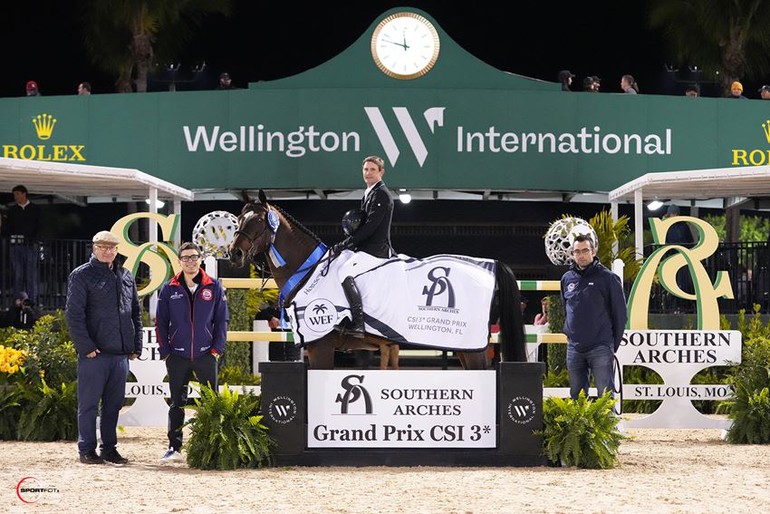 Darragh Kenny, Volnay du Boisdeville, owner Teddy Vlock and groom Alejandro Suarez presented as winners of the CHF140,000 Southern Arches CSI3* Grand Prix by Wellington International President Michael Stone. Photo © Sportfot.
The last to jump over the short course, Carly Anthony (USA) made a solid effort but finished on four in the runner-up position with Jet Blue for owner Portfolio Horses LLC. U.S. Olympic team gold medalist Laura Kraut rounded out the podium with Dorado 212 in the horse's official debut in the international grand prix ranks.
"It was a magic night in the end," said Kenny, whose owner Teddy Vlock celebrated a birthday while watching his horse bring home a CSI3* victory. "He loves this horse, and he picked a fantastic night to win."
Volnay du Boisdeville sits at the helm of Kenny's string and will next focus on the CSI5* during WEF 7. While the stakes are high for the horse, he's a very simple ride according to Kenny. "He's really simple. He' a stallion but not a stallion at all."
Kenny was presented to as winner by Wellington International President Michael Stone on behalf of Southern Arches. Then Quentin Judge, Cayce Harrison and Caitlin Creel gave the $500 Grooms Award, presented by Double H Farm to Vlock Show Stables groom Alejandro Suarez.
"We are really happy to do this for the second year in a row; the grooms are an integral part of the whole operation," said Quentin Judge on behalf of Double H Farm. "We wouldn't be able to be here if it wasn't for the grooms, and we think it's important to recognize them. It's a hard job and it's nice when your horse jumps well to recognize them for it."