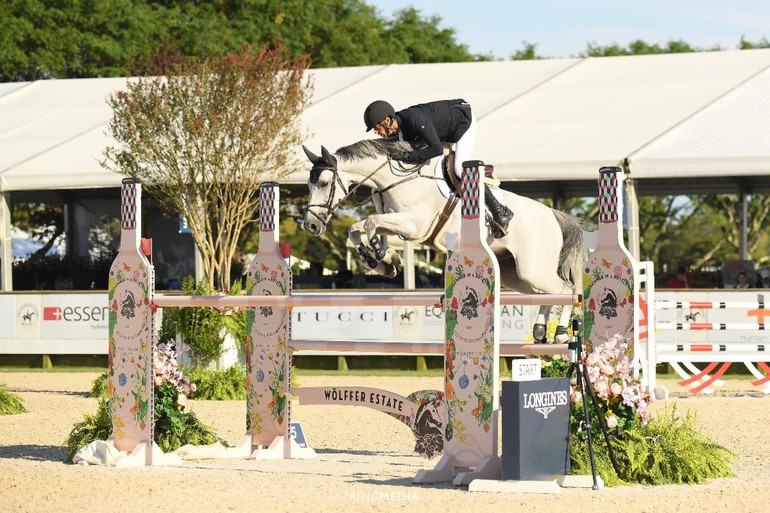 Rene Dittmer and Burlington Riverland won Thursday's $39,000 Flecha Azul 5* Speed Stake at the 2023 Hampton Classic Horse Show. Photo © KindMedia.
Edited press release from Hampton Classic Horse Show
---
With 63 entries representing 15 countries contesting the $39,000 Flecha Azul 5* Speed Stake to prepare for a weekend of competitive sport, claiming the top of the leaderboard was anybody's game. Rene Dittmer (GER) proved up to the task as he sliced around Alan Wade's 15-effort, 1.45m track aboard Burlington Riverland, putting in the fastest fault-free score of 31.18 seconds.
The Hampton Classic, August 27-September 3, is one of the world's most prestigious horse shows, featuring competitors at every level from young children in leadline to Olympic, World, and World Cup Champions. The Classic also has competitions for riders with disabilities.
Panama's Victoria Heurtematte set an early time to beat in the two-phase, piloting her 13-year-old Zangersheide mare Scarlett Du Sart Z through the timers in 32.87 seconds. In the end, only three riders could make that time, with Dittmer and Live Oak Plantation LLC's 12-year-old Selle Français gelding proving unbeatable in 31.18 seconds.
"I didn't see Darragh's round at all, actually," Dittmer said of the lead Darragh Kenny (IRL) overtook for the class's latter half. "But I knew I was about one second slower on my first horse (Corsica X). With Corsica, I rode eight strides to the first line in the first phase, but I set up better on Burlington to ride seven strides there and cut some turns a bit shorter. That was lucky enough to win in the end."
Second place went to Kenny and Eddy Blue, Kerry Anne LLC's 11-year-old Oldenburg gelding, for their time of 31.95 seconds. Kelli Cruciotti Vanderveen (USA) finished third and fourth respectively aboard two Serenity Farm entries, the 13-year-old Dutch Warmblood gelding Forever SFN (0/0/32.45) and 9-year-old Belgian Warmblood mare Isabella Van De Zuuthoeve (0/0/32.63). Heurtematte and Scarlett Du Sart Z ultimately walked away with fifth.