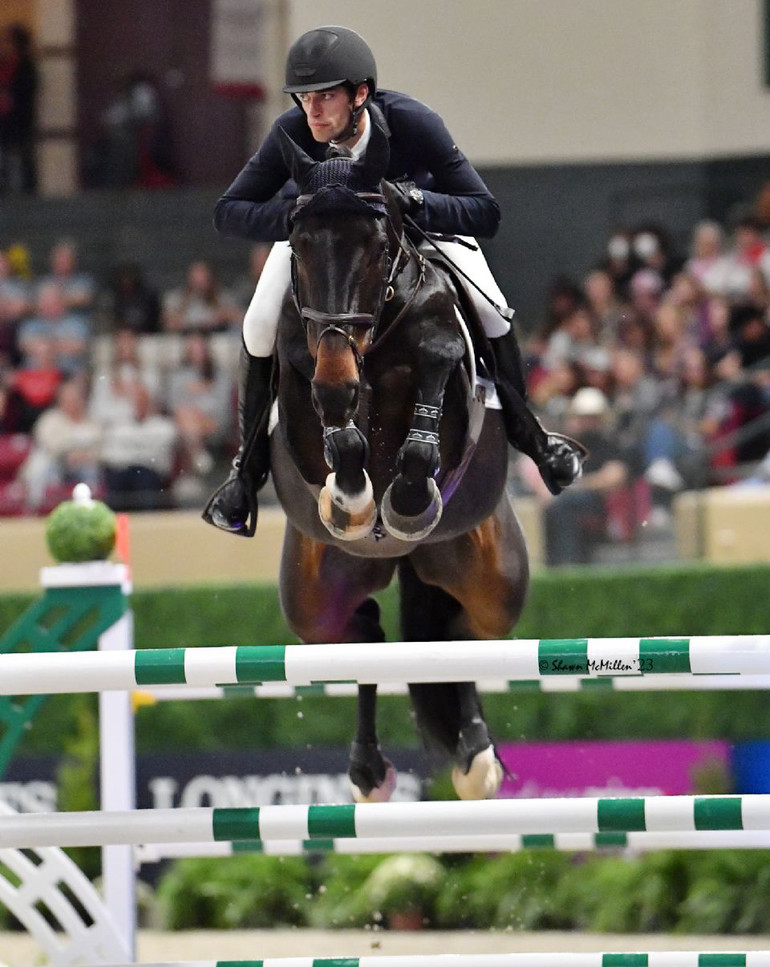 Rene Dittmer and Corsica X on their way to winning the $78,000 FEI Welcome Stake. Photo © Shawn McMillen Photography.
Press release from Jump Media
---
The 2023 Washington International Horse Show (WIHS), presented by MARS Equestrian™ heated up on Thursday, October 26, at Prince George's Equestrian Center in Upper Marlboro, MD, where daytime junior hunter competition gave way to the first evening session, featuring the opening international jumper classes during MARS Barn Night. It was newcomer Rene Dittmer (GER) who ruled the day, racing to the win in the $78,000 Welcome Stake, and then dashing to victory in the $40,000 International Jumper Accumulator class.

FEI Level 4 Course Designer Bernardo Costa Cabral (POR), assisted by Nick Granat (USA), designed the challenging track for the 23 starters representing eight countries in the Welcome. Nine managed to jump fault-free to advance to the jump-off.

"I was very happy with my first round," said Dittmer. "Corsica did everything how I wanted it. I was first thinking I should go inside to the last line, but the time wasn't so short today, so it all worked out fine."

Jad Dana (LBN) was the first to tackle the short course aboard Caro W, an 11-year-old Holsteiner gelding (Castelan II x Aragorn) owned by Peter Howard and Laure Sudreau, and set the time to beat in a speedy 31.42 seconds. Just two horses later, Dittmer shaved almost two seconds off the time with Corsica X, stopping the clock in 29.58 seconds. Four rides after that, Shane Sweetnam (IRL) gave it a shot with his sensational partner James Kann Cruz, a 10-year-old Irish Sport Horse gelding (Kannan x Cruising) owned by Gizmo Partners LLC, but couldn't quite catch the time, finishing in 30.61 seconds. In the end, it would be Dittmer leading the victory gallop. Sweetnam finished in second, and Dana claimed third.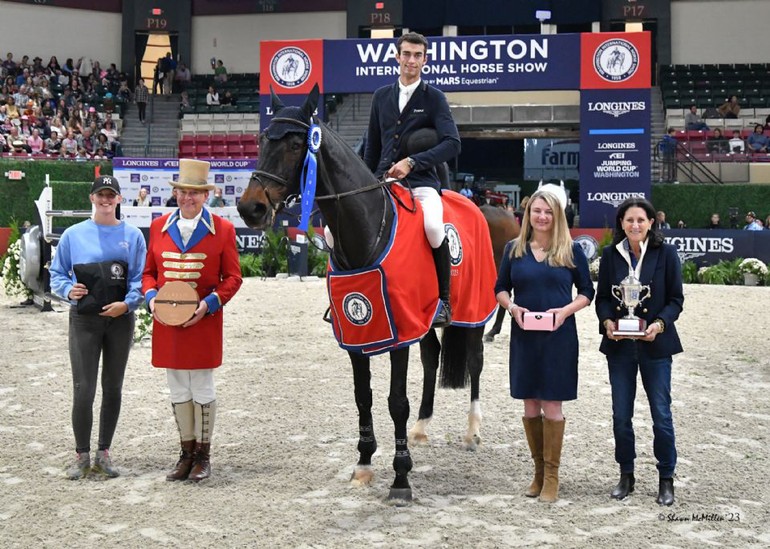 Groom Carolin Kagelmann, ringmaster Steve Rector, WIHS President Vicki Lowell, and WIHS Board of Directors member Isabel Kurek join Rene Dittmer and Corsica X in their winning presentation. Photo © Shawn McMillen Photography.
"Corsica is a naturally fast horse and usually when I catch everything quite well, I have a good chance to be in the top three, and today it was enough for the win," described Dittmer of his ride with the 10-year-old Holsteiner mare (Connor x Corofino II). "She really knows where the top rail is. She's so smart. In a class like today, I was a little deep to the one vertical in the middle, but she's so smart to get out of the way. To be honest, she can be a bit mareish in the stable, like a lady, but in the course she's just on it."

Dittmer has had the ride on Corsica for about a year and half and have developed a strong partnership, racking up numerous top finishes. Now, they are in the hunt for valuable qualifying points for the Longines FEI Jumping World Cup™ Final in Riyadh, Saudi Arabia, in April, so they are aiming to make their WIHS debut a winning one. Clearly, they are on the right track.

"I've heard a lot about Washington before, so I was really excited to come here," shared Dittmer. "That it went like this on the first day, it's the best feeling ever. When you come down the ramp and there are so many spectators and they're all clapping and cheering for you, you have goosebumps when you get in there. This is a super, super great show. I love to be here. It couldn't be better."

With Corsica's owner Mark Miness in the crowd, it was a perfect night to celebrate a big win.

"For sure we'll have a couple drinks tonight," smiled Dittmer. "It's so great to have his support."

For his win, Dittmer was presented with the Ben O'Meara Memorial Challenge Trophy.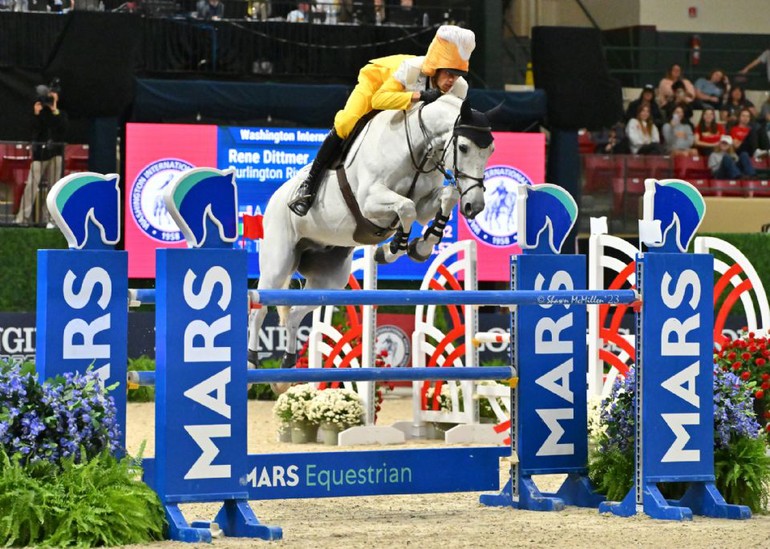 Beer stein Rene Dittmer and Burlington Riverland racing to the win in the $40,000 Accumulator Costume Class. Photo © Shawn McMillen Photography.
After the Welcome it was time to speed things up and turn the excitement up a notch, delighting the sold-out crowd in attendance for MARS Barn Night. In the $40,000 International Jumper Accumulator class, riders earned points for each clear fence they jumped in the course plus an additional 20 points for the final fence. Dittmer once again came out on top, this time aboard Burlington Riverland, with a perfect score of 65 and a lightning-fast time of 44.32 seconds. For this triumph, Dittmer was presented with the Crown Royal Trophy and Burlington Riverland was presented with the Sue Ann Geisler Memorial Trophy, donated by the Washington International Horse Show.

Dittmer is on a hot streak with the 12-year-old Selle Français gelding (Mylord Carthago*HN x Dollar du Murrier) owned by Live Oak Plantation LLC. They scored wins at The Hampton Classic CSI5* and at HITS Championship CSI4*, and now at WIHS.

"He has been doing really great recently," said Dittmer. "He has been in really good form, and he kept going like that here today. He can also do some big classes, but I have to switch it around sometimes, so today he had to be the speed horse, and he did a really good job."

Burlington Riverland is known as "Burli" at his barn in Germany, but in the States his friends call him "Brian." Dittmer's girlfriend, top U.S. rider Chloe Reid, was riding Burli, but Dittmer took over the reins two years ago when the horse stayed in Germany with him while Reid was riding in the U.S.

"I was lucky that I got to keep him so far," related Dittmer. "He has quite a funny character. He's super nice to be around, super friendly. Burli is like a good friend, like a buddy. He always wants to do a really good job. He has such a good mind. He really gave his best and made it work tonight."

For the class, Dittmer was modeling his Oktoberfest finest, a costume selected by Reid.

"She went to the costume store and thought, 'Well I have a German boyfriend, so he gets the beer costume,'" joked Dittmer. "At first when I walked into the arena for the course walk and I had the beer hat on, it was very hot, but now I put it over the helmet, which was better. I was really completely fine. I could ride like this every day."

At the end of an incredible evening, Dittmer needed to let it all sink in.

"It's an unbelievable feeling," he said. "I can't believe it yet. I hope it keeps going like that."

Second place in the Accumulator, in a time of 45.58 seconds, went to unicorn Aaron Vale aboard his magnificent pegasus, Elusive, a 14-year-old KWPN gelding (Rorigoo x Capfucino) owned by Thinkslikeahorse. Dracula, sometimes known as Conor Swail (IRL), flew into third in a time of 46.32 seconds with his spooktacular mount Casturano, a 10-year-old Holsteiner gelding by Castelan 3 owned by Mannon Farm.