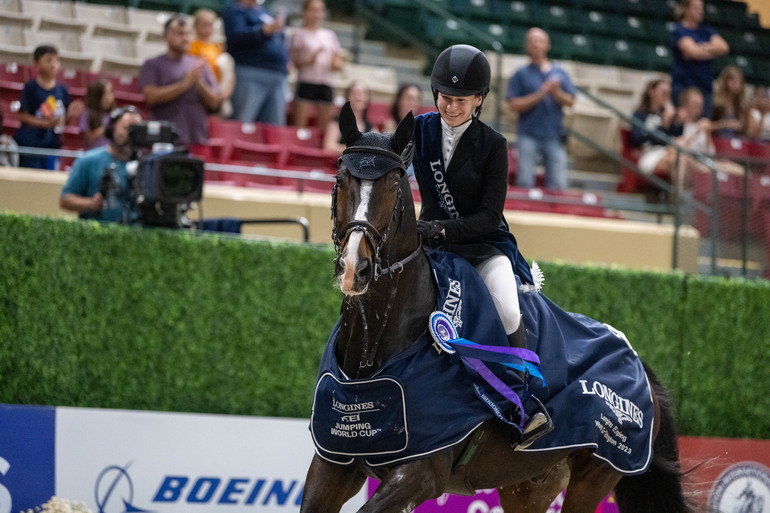 Katie Dinan and Brego R'n B, winners of the Longines FEI Jumping World Cup™ of Washington. Photo ©FEI/AK Dragoo Photography.
Press release from FEI written by Catie Staszak
---
Headed to the final fence of the jump-off in the Longines FEI Jumping World Cup™ Washington (USA), Katie Dinan (USA) admitted she wasn't sure how many strides she was working on. What she did know, was that pulling was not the answer.

"A good distance showed up right away jumping in to the last line, and I kept on moving, and there was a lot of noise from the crowd. I saw my distance to the last jump, and I thought, 'This is a lot more forward than I thought this line was supposed to be,'" Dinan described. "I thought if I started pulling, it was definitely not the right thing to do. [My horse] just sprouted wings, and it was a good ending."

Last to go in a seven-horse jump-off, Dinan and her mount of five years, Brego R'n B (Namelus R x Gerlinus) claimed the first World Cup victory of their partnership, edging ahead of Rene Dittmer (GER) and Corsica X (Connor x Corofino II) at the final three obstacles of Bernardo Costa Cabral's (POR) short course.
Dinan trusted her horse to a bold distance into the combination three obstacles from home and left out a stride to the final oxer to secure the victory. The winning time was 33.50 seconds. Dittmer settled for second in 34.40 seconds, followed by Devin Ryan (USA) and Eddie Blue (VDL Zirocco Blue x Marlon) in 34.74 seconds.
The very forward [distance] showed up to the double, and I thought, 'If not now, when?' I went for it.
Dinan and "Brego" have had many top placings on the North American League in previous seasons, and they qualified for the 2022 Finals in Leipzig (GER). Still, a win had eluded them. Under the tutelage of her longtime coach Beat Mändli (SUI), Dinan made it a personal goal to improve her speed and efficiency in jump-offs, which began to pay off in the summer. Saturday's win is the pair's third in Grand Prix competition since June.

"I realized that Brego is a really fast horse, and if I wasn't going fast in the jump-off, it was because of me, so I had to work on that," Dinan shared. "I had to find a way, even if he's not the small, catlike horse that can just run around, to be smarter and better as a rider, to push myself to try to win these classes."
"It's hard not to love Brego. He's a super, super horse. I am so lucky to have him...This is our first five-star Grand Prix win together, and he's 17. He really, really deserves it. I'm thrilled for him," Katie Dinan says.

As Brego has matured, Dinan has also prioritized the careful management of the gelding's schedule. Coupled with a busy course load as a PhD candidate at Rockefeller University (USA), Dinan isn't always able to get as much show ring practice as she'd like.

"Sometimes as a rider, I have to stay cool and patient and let it come, not stress out about not being in the ring as much," Dinan said. "I try not to show [Brego] too much and make the most of it when I do."

Dinan now shares the lead in the NAL standings with Sacramento victor Robert Blanchette (IRL) on 20 points. Sophia Siegel (USA) sits third with 17 points.

The North American League continues at Lexington (USA) on 4 October 2023.