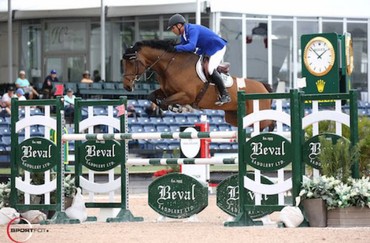 Doda de Miranda and AD Nouvelle Europe Z. Photo (c) Sportfot.
Week twelve of the 2016 Winter Equestrian Festival (WEF), sponsored by Rolex, began Wednesday morning at the Palm Beach International Equestrian Center (PBIEC) in Wellington, FL, with a win for Brazil's Doda de Miranda aboard AD Nouvelle Europe Z in the $35,000 Douglas Elliman 1.45m Jumper Classic.
Anthony D'Ambrosio (USA) is the course designer in the International Ring for the final week of WEF competition. To start the week on Wednesday, D'Ambrosio saw 65 starters over his 1.45m speed track, with 25 clear rounds.
Third from the end, Doda de Miranda and AD Nouvelle Europe Z took the win with the fastest time of 61.06 seconds. Richie Moloney (IRL) immediately followed with the second place round in 62.05 seconds aboard Equinimity LLC's Slieveanorra. Up until that point, Conor Swail (IRL) had led most of the class with Susan and Ariel Grange's Cita, but settled for third place with his time of 62.21 seconds. Also jumping near the end, Adam Prudent (FRA) and Plain Bay Sales' Vasco finished fourth with a time of 62.42 seconds.
De Miranda and AD Nouvelle Europe Z, a 12-year-old Zangersheide mare (Nelson Z x Jimtown), have had many great results this circuit, including a win in week one's $35,000 Ruby et Violette WEF Challenge Cup Round 1, and victory in week five's $35,000 Douglas Elliman 1.45m Jumper Classic. The mare had a few weeks off and came back fresh for a win to start week 12.
"She is a very competitive horse, and she gives everything to the rider," de Miranda stated. "She had a good rest after week eight. She jumped the Nations' Cup and she did both rounds, with one down in each, and then on Sunday that week she jumped the grand prix, and I had two rails and then I retired. Then I decided to give her weeks nine, ten, and eleven just flatting and jumping a little bit at home.
"Now you can see how happy she is," de Miranda continued. "That is the best plan for her. She is always going in there to win, but sometimes, especially here when they are going a lot in the same ring, they need a little bit of time off to forget about this arena. I had a plan to jump her in the WEF (Challenge Cup) this week, but now she jumped so good today, I want to give her three days of flat work and go in the 1.50m final on Saturday."
With his draw at the end of the order in Wednesday's class, de Miranda had the advantage of watching many other rounds, most importantly the one he needed to beat.
"I saw a few important rounds," he explained. "I saw Conor Swail and I saw Harrie Smolders go early. Harrie had a very smooth round. It was quite nice today because I was lucky to watch one of the best riders, and then I knew that my horse was capable of beating his time. It was important that I not rush her too much because she is always quick and sometimes my mistakes are because I overdo it. Instead of letting the jumps come to her, I chase a little bit sometimes, especially at the end, and today I was very happy because I could manage from number one to the last to have this balance."
Also competing in the International Ring on Wednesday, the $6,000 1.40m speed, sponsored by Illustrated Properties, was held with a win for Laura Chapot and Bradberry. The $1,500 Adequan® Seven-Year-Old Young Jumper speed class was also held in the morning with a one-two finish for Julie Welles. Welles guided Poden Farm's Escada to first place honors and also finished second aboard Poden Farm's Ereina.
The final week of competition at the 2016 Winter Equestrian Festival continues on Thursday with the $35,000 Illustrated Properties 1.45m Classic, as well as the $35,000 Ruby et Violette WEF Challenge Cup Round 12 featured in the International Ring. The Shapley's Grooming Products combined Green and Regular Conformation Hunter division will award championship honors for week 12 in the E.R. Mische Grand Hunter Ring. For more information and full results, please visit www.PBIEC.com.
Final Results: $35,000 Douglas Elliman 1.45m Classic
1. AD NOUVELLE EUROPE Z: 2004 Zangersheide mare by Nelson Z x Jimtown DODA DE MIRANDA (BRA), A.A. de Miranda Neto & Victory Equestrian Sport BV: 0/61.06
2. SLIEVEANORRA: 2002 Irish Sport Horse gelding by Voltaire x Flagmount Diamond RICHIE MOLONEY (IRL), Equinimity LLC: 0/62.05
3. CITA: 2006 Holsteiner mare by Casall x Pik Ramiro CONOR SWAIL (IRL), Ariel and Susan Grange: 0/62.21
4. VASCO: 2002 KWPN gelding by Andiamo x Clinton ADAM PRUDENT (FRA), Plain Bay Sales: 0/62.42
5. CATUSO: 2007 Holsteiner gelding by Canto x Corrado I DARRAGH KENNY (IRL), Blue Gate Farm LLC: 0/62.50
6. ARISTO Z: 2004 Zangersheide gelding by Andiamo x Flamenco de Semilly BEN MAHER (GBR), Jane Clark: 0/62.94
7. QUISTER: 2004 Selle Francais gelding by Kannan x Eyken des Fontenis BEEZIE MADDEN (USA), Abigail Wexner: 0/64.96
8. BÖCKMANNS LAZIO: 2000 Westphalian stallion by Lancer II x Cor de la Bryere MARGIE ENGLE (USA), Elm Rock LLC: 0/65.56
9. LURON S Z: 2007 Zangersheide gelding by Lord Z x Landetto ABDEL SAID (EGY), AS Sport Horses & Philippe de Balanda BVBA: 0/65.73
10. UITTERAARD: 2001 KWPN gelding by Numero Uno x Burggraaf MARK BLUMAN (COL), Stransky's Mission Farms Inc: 0/65.94
11. CEDRIC: 1998 Holsteiner gelding by Chambertin x Carolus Z LAURA KRAUT (USA), Cherry Knoll Farm Inc: 0/66.60
12. APOLLONIA 23: 2004 Danish Warmblood mare by Bogegardens Apollo x Bogegardens x Capello HARRIE SMOLDERS (NED), Copernicus Stables LLC: 0/66.83

---
Source: Press release from Equestrian Sport Productions News // Picture © Sportfot