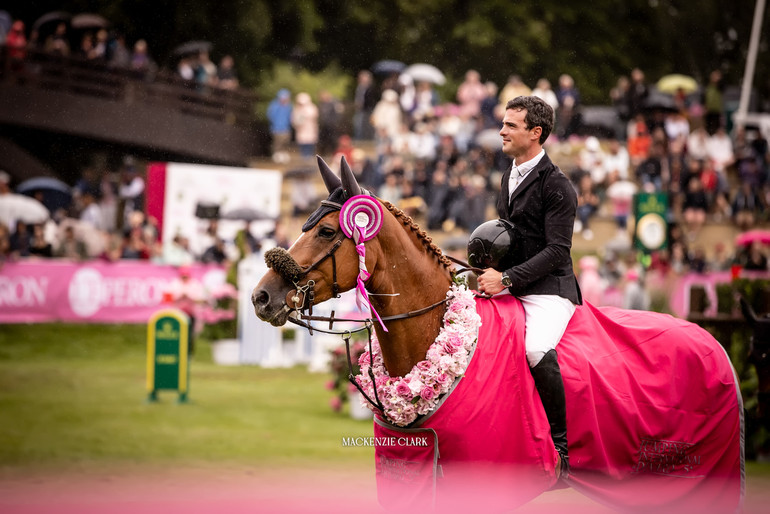 Emeric George and Dune du Ru, winners of the prestigious Derby de Bretagne at Jumping International de Dinard 2023. Photo © Mackenzie Clark.
Edited press release from Jumping International Dinard
---
This year's CSI3* 1.45m Derby de Bretagne at Jumping International de Dinard brought together 17 horse-and-rider combinations determined to complete the 1,100-meter course designed by Jean François Morand – which every year is the same. The course includes several natural fences, and features a dozen more jumps than on a classic course with its 25 efforts.
As every year, thousands of spectators, eager to see this increasingly rare spectacle on the international circuit, made their way from the early hours of the afternoon around the Val Porée grass arena – as usual in its fuchsia-pink ceremonial decor.
To see the first clear round, the public had to wait for the 12th pair in the running; Swiss Olympic champion Steve Guerdat and the 9-year-old Easy Star de Talma (Quick Star x Opium de Talma) – recent winners of the derby in Falsterbo, Sweden. But there were still two serious candidates to come, including the host nation's own very experienced Nicolas Delmotte. Riding the 10-year-old Denerys du Montceau (L'Arc de Triophe Bois Margot x Rox de la Touche), he dethroned the Swiss champion by signing a splendid clear round in a time of 167.01. Despite a persistent downpour, the public did not regret staying to the end of the derby, as home hero Emeric George with the 10-year-old Dune du Ru (Vagabond de La Pomme x Apache d'Adriers) – the last to take the start – put all his experience as a former top-level eventer to good use on the course, jumping the third clear round of the day in a time of 159.89 to clinch the victory.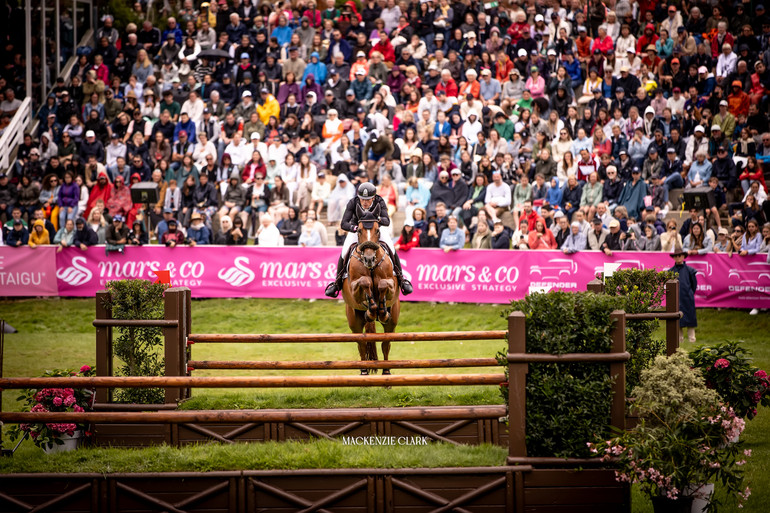 A full house watching Emeric George and Dune du Ru win the Derby de Bretagne at Jumping International de Dinard 2023. Photo © Mackenzie Clark.
"I rode the Derby with this same mare last year, and I watched the video," Emeric George said after the win. "She's got a lot of blood and energy, she's very brave, and from our first experience on this type of course, I felt she was made for it, and besides, 1.45m isn't the maximum she can do, and today I can allow myself to take more pace. Unfortunately, the derbies, which I like a lot, are becoming rarer and rarer, because it's a fun exercise for the horses that's not at all incompatible with the classic classes, and very useful in their training towards the top level."
Second placed Nicolas Delmotte paid tribute to his mare who jumped magnificently but whom he felt slightly tired at the end of the course. "That's why I didn't speed up at the end, and even slowed down a little to let her catch her breath," Delmotte explained. "Of course, it's always a little disappointing not to win, but 2nd is also very good. I chose to enter Denerys du Montceau because she had already taken part in the Derby de la Baule, and she's very competitive at this level. As soon as a class like this appears on the program, and I have the horse for it, I go for it because it's fun to ride, especially here with this very enthusiastic and knowledgeable public. I had anticipated Denerys' training so she wouldn't be surprised. The Derby is an excellent way of training certain horses."
Steve Guerdat, who placed third in the end, confided that he had enjoyed the whole course with his partner of the day, who loves it, and particularly appreciates this type of class, which "is good for the horses, gets closer to the very nature of our sport, and makes a change from the usual courses which sometimes become boring for spectators and riders alike. It's a pity that derbies are disappearing from more and more programs," Guerdat concluded.