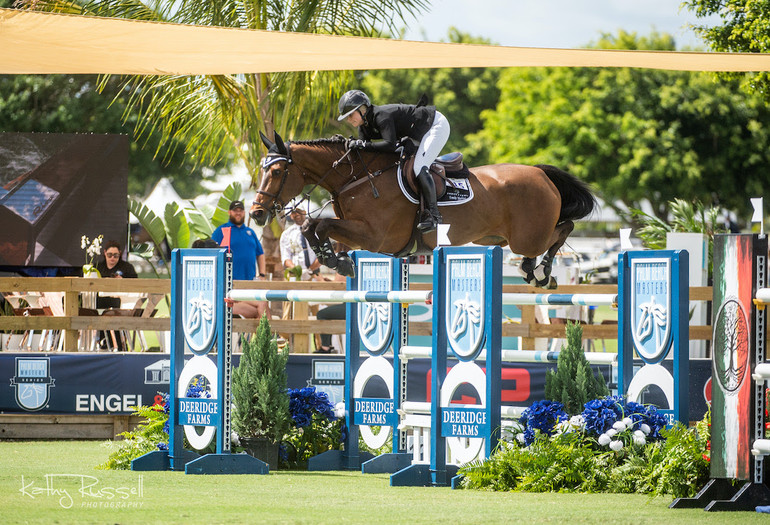 Emily Moffitt (GBR) and Tipsy du Terral topped a 13-horse jump-off in the $137,000 CSI5* Palm Beach Masters Classic. Photo © Kathy Russell Photography.
Press release from Palm Beach Masters
---
When Emily Moffitt (GBR) walked the course for the $137,000 CSI5* Palm Beach Masters Classic, she was not feeling overly confident. Alan Wade's (IRL) 1.55m track didn't pull any punches, and Moffitt worried it was a big step up from her warm-up class with Tipsy du Terral (Toulon x Quat'sous) two days earlier.
"It was tough. There were quite a few big verticals and wide oxers, and seeing as I raced her around a 1.45m course [in Thursday's $36,600 CSI5* Suncast Welcome Stake], I was walking, and I was thinking, 'Hmm, Tipsy is not going to be expecting this!'" Moffitt said.
"She just stepped up, as always, so it was great."
As one of the last of 13 riders to return for the shortened course, Moffitt had the advantage of watching others who jumped earlier in the field, and she had her sights set squarely on pathfinder Lucas Porter's (USA) then-leading 39.36-second time aboard C Hunter (Cassini II x Corland).
Navigating the winding jump-off course's multiple rollback turns with ease, before finding a spot-on galloping stride to the last oxer, Moffitt and her veteran partner shot straight to the top of the leaderboard, clinching their third victory of the 2020 Palm Beach Masters Series® on a winning time of 38.20 seconds.
"I think the final line [is where I won it]," Moffitt said. "I kept going the entire way; I never took one pull, so I think that's probably where I got [the advantage]."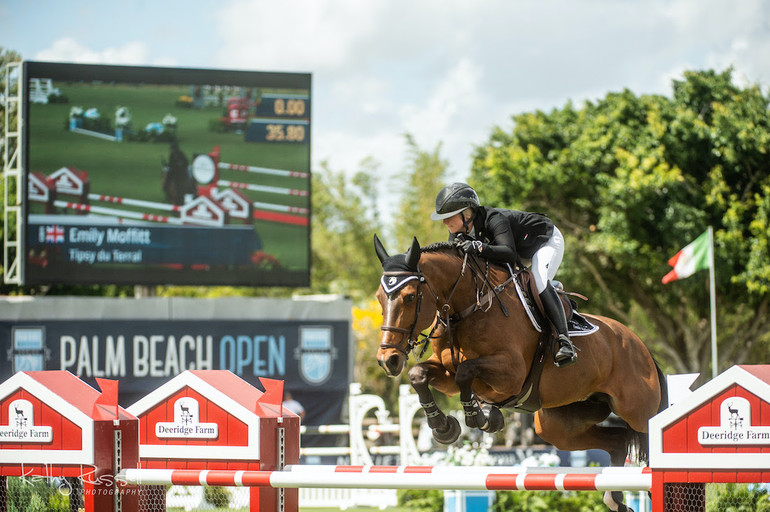 Emily Moffitt and Tipsy du Terral have recorded three wins at the 2020 Palm Beach Masters Series®. Photo © Kathy Russell Photography.
Porter's time, which held for more than 10 riders, proved good enough for third place. Ireland's Conor Swail, last to jump on GK Coco Chanel (Clarimo x Lerano 2), took the runner-up spot on 38.57 seconds.
Moffitt's impressive season at the Palm Beach Masters Series® began with two, 1.45m wins aboard Tipsy du Terral during Longines FEI Jumping World Cup™ Week CSI4*-W/CSI2. One event later, Moffitt also rode Winning Good to a double-clear performance for Great Britain in the $230,000 CSIO5* Longines FEI Jumping Nations Cup™ USA, leading her team to a second-place finish.
For Moffitt, the success is especially sweet when she considers the mindset with which she began her 2020 season. She credits much of the turnaround to her longtime partnership with the 13-year-old Selle Français mare, Tipsy du Terral.
"I definitely was in a rut coming here," Moffitt said. "Tipsy has been my go-to for a few years now, and she's always been one that, even when I was in that rut, I [could] get on her and immediately feel confidence.
"She's super special to me, and you don't come across many horses that can give you that feeling. I'm really lucky to have her."
The 2020 Palm Beach Masters Series® and the Palm Beach Open CSI5*/CSI2* conclude Sunday with the $300,000 CSI5* CP Palm Beach Masters Final at 1:30pm ET.