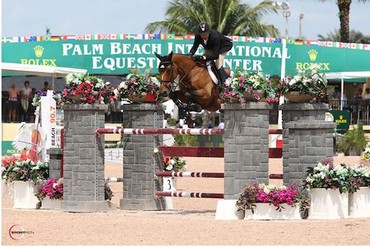 Eric Lamaze and Rosana du Park. Photo (c) Sportfot.
The 2015 Winter Equestrian Festival (WEF) began its twelfth and final week of competition at the Palm Beach International Equestrian Center (PBIEC) on Wednesday with a win for Eric Lamaze (CAN) and Artisan Farms and Torrey Pines Stable's Rosana du Park in the $34,000 1.45m FEI speed class. Abigail McArdle (USA) galloped to second place with Cosma 20; McLain Ward (USA) and Azibantos finished third.

WEF 12, sponsored by Rolex, runs March 25-29. The week features the $500,000 Rolex Grand Prix CSI 5* on Saturday, March 28. Other highlights include the $50,000 Ruby et Violette WEF Challenge Cup Round 12 on Thursday and the $10,000 Holtgers 5-Year-Old Young Jumper Classic, $15,000 Adequan® 6-Year-Old Young Jumper Classic, and $20,000 Adequan® 7-Year-Old Young Jumper Classic on Friday.

Steve Stephens (USA) is the course designer in the International Arena for week twelve. Stephens saw 70 entries on his 1.45m speed track with 22 clear rounds. Lamaze and Rosana du Park raced to the winning time of 58.10 seconds. McArdle and David McArdle's Cosma 20 finished in 60.34 seconds, and Ward and Group C LLC's Azibantos clocked in at 60.36 seconds.

Venezuela secured the remaining places in the top six. Emanuel Andrade and Walter 61 were fourth in 61.03 seconds, Andres Rodriguez and Arao Enterprises LLC's Caballito placed fifth in 61.40 seconds, and Luis Larrazabal and San Francisco Stables LLC's G&C Close Up finished sixth in 62.56 seconds.

For Lamaze, Rosana du Park was the right choice to kick off the final week of WEF competition. The 10-year-old Selle Francais mare (by Kannan) is fast and careful, a perfect combination for the competitive speed class.

"It is a five-star week, so we try to put some very good speed horses in these 1.45m speed classes, for the ranking points alone, along with the prize money," Lamaze stated. "I have a few horses for this week that I could play around with, and Rosana was the choice for today. This was a good opening event for me for the week."

On what it takes to be the winner in a class that fast, Lamaze explained, "There is no secret to these 1.45m; just go as fast as you can go. If you are last to go and for whatever reason it has not been a super fast class, then you may have a plan, but usually the plan is the fastest track that your horse can possibly jump clear and take as much risk as you can. Then you hope the rails stayed up when you finish because they are going extremely fast."

Lamaze detailed his winning round, stating, "She is really quick, she has a big stride, and she never gets too hot. This was a shorter type course; it was not as long as some of the other 1.45m, which by week number 12 is just fine. The horses have jumped a lot. It is hard to keep repeating speed classes in the same ring over the same jumps. These horses, they get clever and they get a little bit quick, but she is a super competitor. I went early enough in the order, and I knew with the field behind me I had to be fast. I took a lot of options. There was an inside turn where you could go inside a standard to a skinny, which was very, very short. I risked that, and it worked out. I had a great distance to come out of the turn with and take. Sometimes it does not always happen that way, but it did and then it made my last line kind of nice."

Also showing on Wednesday, the $6,000 Spy Coast Farm 1.40m speed class was held in a California Split with wins for Alvaro Tejada and Voltaral Palo Blanco in Section A and Andrew Ramsay with Winn Winn in Section B. The Adequan® 7-Year-Old Young Jumper division held its speed class in the International Arena in the morning with a win for David Beisel and Patrice Schreiber's Vigilante.

WEF 12 continues on Thursday featuring the $50,000 Ruby et Violette WEF Challenge Cup Round 12 at 8 a.m. in the International Arena at PBIEC followed by another $34,000 1.45m speed class. The Loddon Stalls Pre-Green Hunter 3&4 Year Olds will award championship honors in Ring 7. For full results and more information, please visit www.pbiec.com.
Final Results: $34,000 1.45m Speed
1. ROSANA DU PARK: 2005 Selle Francais mare by Kannan ERIC LAMAZE (CAN), Artisan Farms LLC & Torrey Pines Stable: 0/58.10
2. COSMA 20: 2003 Hanoverian mare by Couleur Rubin x Stakkato ABIGAIL MCARDLE (USA), David McArdle: 0/60.34
3. AZIBANTOS: 2005 KWPN gelding by Chin Chin x Cantos MCLAIN WARD (USA), Group C LLC: 0/60.36
4. WALTER 61: 2002 Sachsen Anhaltiner gelding by Werenfels x Donator 1382 EMANUEL ANDRADE (VEN), Emanuel Andrade: 0/61.03
5. CABALLITO: 2002 Oldenburg gelding by Contendro x Argentinus ANDRES RODRIGUEZ (VEN), Arao Enterprises LLC: 0/61.40
6. G&C CLOSE UP: 2007 KWPN gelding by Eurocommerce Washington x Cobra LUIS LARRAZABAL (VEN), San Francisco Stables LLC: 0/62.56
7. CONCONCRETO BELIEVE: 2006 KWPN mare by Ukato x Burggraaf DANIEL BLUMAN (COL), Blue Star Investments, Alberto Simhon & Abraham Chehebar: 0/62.57
8. APLICATIA: 2005 KWPN mare by Corland x Karandasj SOFIA LARREA (MEX), Monica Burillo: 0/62.83
9. WAMIRA: 2003 KWPN mare by Oklund x Animo JOAO VICTOR CASTRO (BRA), Joao Victor Castro: 0/63.24
10. ROMANTOVICH TAKE ONE: 2000 KWPN gelding by Numero Uno x Karandasj CHRISTINE MCCREA (USA), Candy Tribble: 0/64.79
11. ENTRE NOUS: 2004 Belgian Warmblood gelding by Conan Z x Ohio van de Padenborre LAUREN TISBO (USA), Tequestrian Farms LLC: 0/64.83
12. HH CARLOS Z: 2002 Zangersheide gelding by Chellano Z x Voltaire MCLAIN WARD (USA), Double H Farm: 0/64.87

Source: Press release from Jennifer Wood Media Inc.