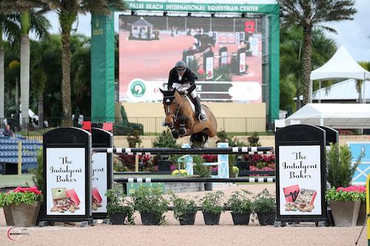 Eric Lamaze and Rosana du Park. Photo © Sportfot.
The Winter Equestrian Festival saw an unprecedented streak of wins last year in the Ruby et Violette WEF Challenge Cup Series by Olympic Gold Medalist Eric Lamaze of Canada. He took home five victories in the Series in 2015, including four in a row and the top placing in this same class with the same horse, Rosana du Park, owned by Artisan Farms. Lamaze topped a large jump-off field on Thursday, which included Laura Kraut (USA) on Andretti S, who placed second, and Beezie Madden (USA), who rode Breitling to third.

Today's class had 96 entries, and while 24 were clear to advance to the jump-off, only 20 chose to return. Setting the winning pace as the first entry back in the second round, Lamaze and Rosana du Park blazed through the course in 35.58 seconds. Finishing second in the Ruby et Violette WEF Challenge Cup for the second week in a row were Kraut and Andretti S, owned by Stars and Stripes. They were just off the pace in 36.35 seconds. Third place went to Madden and Breitling, owned by Abigail Wexner, in 36.66 seconds. Finishing in 37.67 seconds, Margie Engle (USA) and Indigo, owned by Griese, Garber, Hidden Creek and Gladewinds, were fourth, while Meredith Michaels-Beerbaum (GER) and Comanche 28, owned by Artemis Equestrian Farm LLC, were fifth in 38.92 seconds.

Lamaze followed the same plan as 2015 for the start of the WEF circuit; he gave his horses a long break so that they were "really fresh" to start the winter show season. He noted that Rosana du Park, an 11-year-old Selle Francais mare by Kannan, was ready for WEF to start. "She did two little classes the first week and then geared up toward this class, and it paid off today," he confirmed.

Praise for Rosana du Park comes easily as she is a jack-of-all-trades. Lamaze explained, "She's a really competitive horse so if you're in a jump-off with 20 horses - even if you're first - it's clear what you have to do, so strategy is simple and I'm very much sitting on the right horse. She's versatile; she can do anything."

Lamaze will compete on Saturday night in the $86,000 Marshall & Sterling Insurance Grand Prix CSI 2* with Rosana du Park and plans to aim her at some other big classes throughout the circuit.

Building a 1.45m course today in the second week of WEF with 96 starters was no easy feat, but Lamaze praised the design by Course Designer Catsy Cruz of Mexico. "I thought it was very fair, time allowed was short, (and) the triple combination was very careful, but not overly scopey, so a lot of young horses could make a debut in this competition. It was a good introduction," he said.

In addition to his class victory, Lamaze picked up a $3,000 bonus for wearing SSG 'Digital' style riding gloves as part of the 'SSG Gloves Go Clean for the Green' promotion.
Source: Press release from Equestrian Sport Productions News // Picture © Sportfot