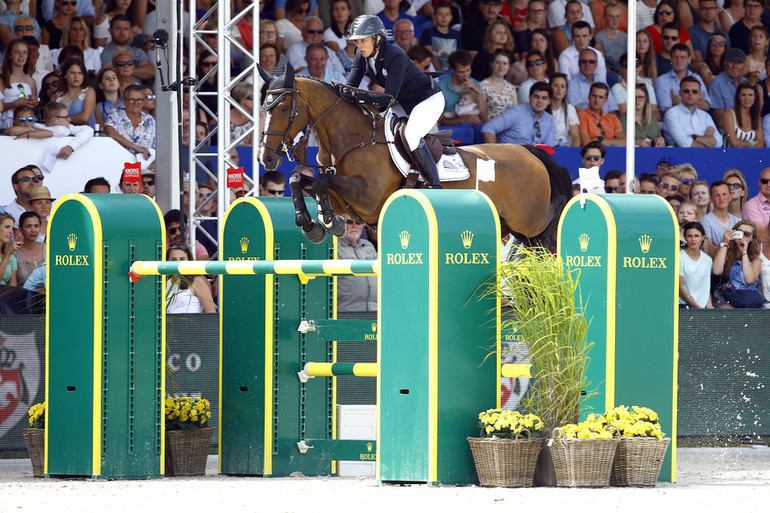 Gudrun Patteet and Sea Coast Pebbles Z en route to victory in the Rolex Grand Prix of Knokke presented with BMW. Photo (c) Scoopdyga.
The € 300.000 Rolex Grand Prix of Knokke presented with BMW concluded in the best possible way for the home riders, with three Belgians filling the podium in what turned into an electric competition where the spectators were kept at the edge of their seats to the very end.
That was if they had a seat, because the home crowds met up in huge numbers on this sunny day in Knokke – and filled every possible space around the main ring Zoute Plage to create a fantastic atmosphere as they cheered on their favourite riders. It was not just the weather that brought the temperature up today, the fact that six Belgian riders managed to qualify for the jump-off made things heat up even more – with the expectations of another home win raising to an all-time high.
Uliano Vezzani (ITA) had again built a master piece of a track, that at first glance looked like it would not be too tricky to jump when clears where delivered early on by William Whitaker (GBR) and Karim El Zoghby (EGY) as second and fourth in the ring. However, the thirteen fence track turned out to be a very delicate one – and in the end faults came frequently. It was especially the line from fence five to six – an oxer to a vertical with Vezzani's signature bushes under – that caught out the riders, as did the airy upright at fence eleven with water trays and the penultimate Rolex triple combination also had its fair share of victims.
In the end fourteen of the 42 riders managed to produce clear rounds, to move on to the jump-off where Vezzani had made full use of the huge ring – starting at one long side and finishing on the other. With several open stretches to gallop, it was all about speed – but the horses also had to back up on a few tight roll-back turns in between.
William Whitaker set the first clear in the jump-off as pathfinder, stopping the clock at 48.95 seconds. One rider later, Gerardo Menendez Mieres (ESP) shaved off 0.20 seconds on Whitaker's time riding Cassino DC (Cassini I x Reichsgraf) – taking over the lead.
It was short-lived however, as next to go was Gudrun Patteet (BEL) who set off in an unparalleled pace aboard Sea Coast Pebbles Z (Picasso x Flamenco Semilly). Perhaps inspired by her speed win in the first five-star class of the day, Patteet did not once pull back – taking every imaginable risk. Coming full speed down the diagonal towards the huge orange oxer half-way before she turned as sharp as she could to the next vertical, she made the crowds gasp for air. Flying into the penultimate oxer, she was lifted on by the home audience on the final stretch that went all the way from one side of the arena to the other – and when she cleared the last Rolex upright it exploded at Knokke Hippique.
With a time of 44.33 seconds, it looked like catching up with Patteet would be a nearly impossible task – and that was also how it turned out.
One rider later, Pieter Devos – winner of the Top Series Grand Prix presented by BMW – made it a valiant effort. Although very fast, his horse Espoir (Surcouf de Revel x Laudanum xx) spends a bit more time in the air than Sea Coast Pebbles Z and crossing the finish line Devos was 0.53 seconds behind.
Those who came tried, but in vain – Patteet remained the leader. Even Niels Bryunseels (BEL) – known to be one of the fastest on the circuit and winner of the Rolex Grand Prix at Brussels Stephex Masters last year – had to see poles fall in the chase, as did Jérôme Guery who won the Grand Prix at Knokke two years ago.
Olivier Philippaerts (BEL) gave Patteet a run for the money though, but despite racing down to the last upright on the super quick mare H&M Legend of Love (Landzauber x Corgraf), he could not cover as much ground in each stride as his compatriot and slotted into third with a time of 45.40 seconds.
With only three to go, the crowds held their breath. It was a close call when last year's winner Daniel Deusser (GER) approached the final Rolex upright a bit ahead on the clock, but agonisingly it fell – the risk took its toll and when neither of the two last riders managed to leave the track intact either Patteet could celebrate the first five-star win of her career that included the keys to a brand new BMW cabriolet. Rounding off the top five behind the Belgians where Rolex testimonie Kevin Staut (FRA) and Gerardo Menendez Mieres. "It feels great, especially since it came in my own country!" said a smiling Patteet about her career-best afterwards.
About her risky jump-off, Patteet said: "The only place I protected a bit was into the combination. There I knew I could not take too much risk with him. And after that I really went for it! I was not nervous before or during the jump-off, I was more nervous after – watching the others go!"
"I know that my horse could do this, but he is unpredictable – so it's difficult to say with him!" said Patteet of her winning partner Sea Coast Pebbles Z.
Pieter Devos was perhaps beaten, but far from disappointed! "I think we all experienced some great sport today," he said. "For us as riders, for the audience, for the sponsors, for the organizers – I think it was a great afternoon. This is what our sport is about: Going fast and make the public enjoy! It was an amazing jump-off, I would love to have won but the best one took the victory today," smiled Devos who like Patteet has had a great show at Knokke Hippique.
"It's simply an amazing show! It was incredible here, and the crowd was super today – they were really motivating me," added Patteet.
Third placed Olivier Philippaerts joined in on the praise. "We really have to thank Mr. Conter and Mr. Gheysens for this great show!" he concluded as the first week of the 2017-edition of Knokke Hippique came to an end.
"It was exceptional sport today," said Event Director Stephan Conter. "I would like to thank all our sponsors, that have enabled us to create beautiful sport here."
---
Source: Press release from Knokke Hippique // Pictures © Scoopdyga