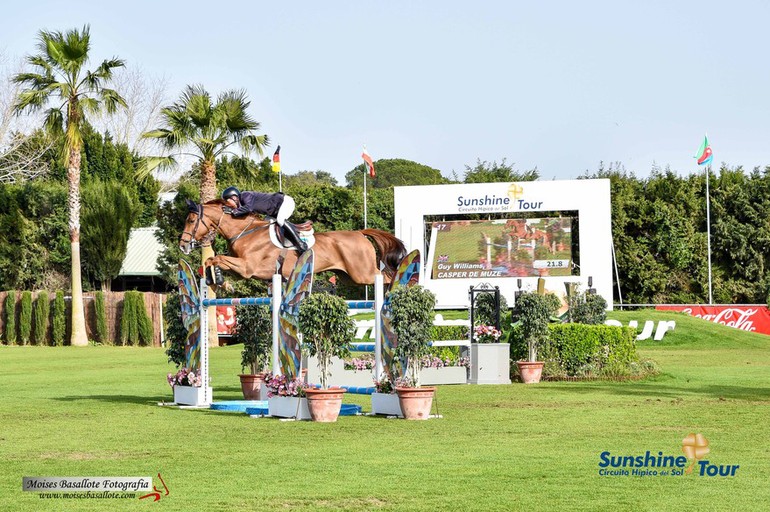 Guy Williams and Casper de Muze en route to victory at the Sunshine Tour. Photo (c) Moisés Basallote.
British rider Guy Williams won Saturday's CSI4* 1.45 Grand Prix presented by Coca-Cola at the Sunshine Tour.
The small Grand Prix of the Big Tour was more than testing enough, build by Italy's Uliano Vezzani and counting for the Longines Ranking. Out of the eighty riders in the competition, fourteen went clear to move on to the jump-off that turned into a real race against the clock.
Aboard the 15-year-old gelding Casper de Muze (Triomphe de Muze x Corsaire de Vaubain), Williams set the time to beat to 34.05 seconds early on in the jump-off and the rest of the riders were left to chase him without succeeding. Closets came Ireland's Billy Twomey on the 8-year-old Kimba Flamenco (J'Taime Flamenco x Heartbreaker) with his time of 35.44 seconds, after a very fast round over the shortened jump-off track. Germany's Katharina Offel followed in third on Z Canturana (Canturo x Calato), after stopping the clock in 35.89. Dutch rider Vincent Voorn finished fourth, and Great Britain's Matthew Sampson fifth.
---
Source: Press release from the Sunshine Tour // Picture © Moisés Basallote