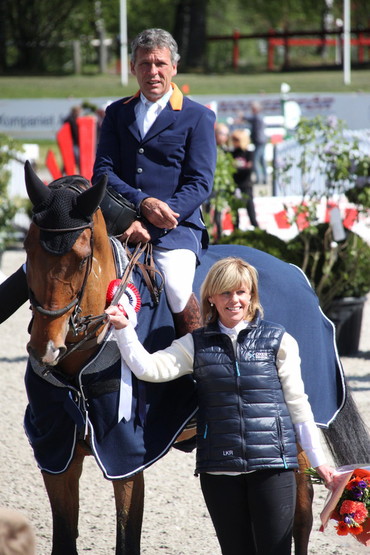 Henk van de Pol and Willink. Photo (c) World of Showjumping.
After a speedy jump-off in Drammen it was Henk van de Pol who took home the CSI3* Grand Prix presented by Oxer Eiendom for the second consecutive year riding the 12 year old gelding Willink (Twister x Landsieger).
After a weekend with various weather the sun was shining from a blue sky in Drammen as eleven riders cleared Anders Hafskjold's first round in the big sand ring. In addition to the eleven who went on to the jump-off Elin Jansson from Sweden, Torben Frandsen from Denmark and Marie Longem from Norway were clear, but outside the time and ended at one time penalty. With her one time penalty Marie Longem was the closest the Norwegian home riders came to a jump-off. The quite young Spanish team on the other hand made sure to revenge their disappointing Nations Cup on Friday and qualified three riders for the second round while the more experienced Sergio Alvares Moya withdrew Kisby (Kaiserwind x Lohberg) after a disappointing round.
From the Spanish team it was Antonio Marinas Soto and Cash and Go who finally produced the best result ending third with a double clear and the time 35,62. For a long time it looked like Mathieu Billot from France and Shiva d'Amaury (For Pleasure x Lando) would be crowned as winners, but the penultimate rider Henk van de Pol left his brakes at the gate and was over a second faster than Billot as he crossed the finishline. Alex Duffy from Ireland was the last rider to enter the ring, but aboard Wce Cruco (Cruising x Darco) Duffy had some steering-problems around the shortened track leaving van de Pol and the Dutch team with yet another win in Norway.