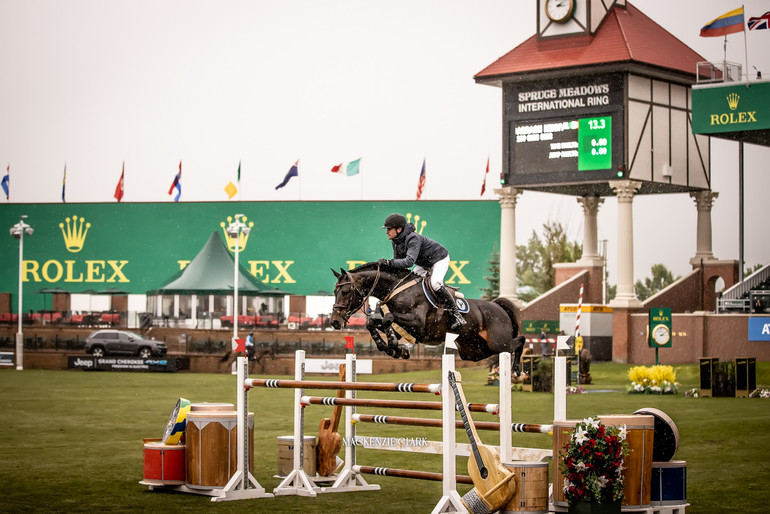 "Chic Chic is very brave so I just went as fast as I could," Darragh Kenny said about competing in the heavy rain at the Spruce Meadows 'National'. Photo © Mackenzie Clark.
Edited press release from Spruce Meadows Media
---
Mother nature decided to add a little moisture into the mix for the final afternoon of the Spruce Meadows 'National' Tournament and the CSI5* ATB Cup 1.50m. With the rain not letting up, the FEI Ground Jury met and opted to change the type of competition from a Table A with a jump-off to a Table A against the clock; the fastest round with the least amount of faults would be placed at the top of the leader board.
Darragh Kenny (IRL) was unfazed by the change in conditions on the International Ring though, and like a true Irishman he braved the weather aboard Chic Chic (Comme Il Faut x Contendro I) and performed brilliantly. Kenny was able to open the stallion's stride up and sail through the finish line clear in a time of 66.55 seconds, taking the win ahead of Conor Swail (IRL) and Theo 160 (Christian x Calando IV) in second in 67.08 and Patricio Pasquel (MEX) aboard Alicia Santa Rosa (Presley Boy x Cornet Obolensky) in third in 68.04.
"It was a great day, I haven't been to Spruce Meadows in probably four or five years and it's a fantastic facility. The rainy weather didn't really bother me. Chic Chic is very brave so I just went as fast as I could," Kenny said after his win.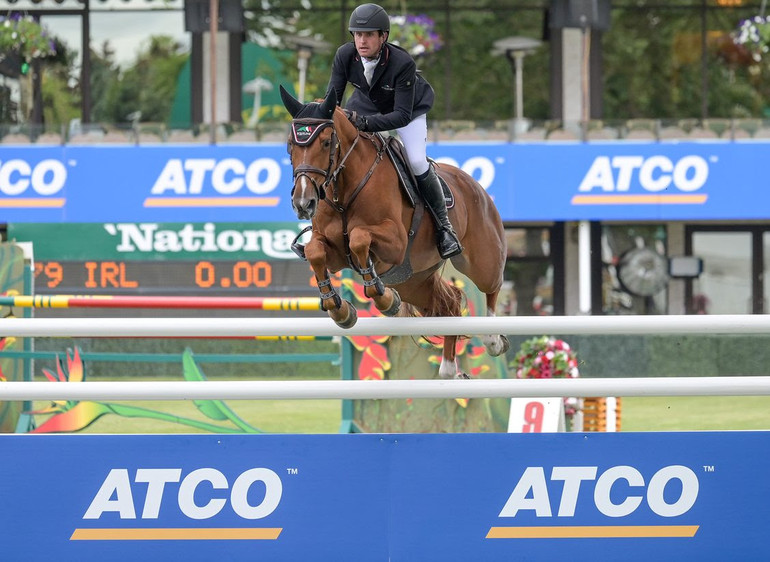 Darragh Kenny and Vancouver Dreams, winners of the CSI2* ATCO Grand Prix. Photo © Spruce Meadows Media/Mike Sturk.
The CSI2* ATCO Grand Prix was the first competition on the final day of the Spruce Meadows 'National', presented by Rolex. Only the top thirty-five horse-and-rider-combinations from qualifiers earlier in the week were able to step through the iconic clock tower in hopes of making it to the winner's circle.
Thirteen riders representing seven nations passed all the first round's tests set out by Olaf Petersen Jr. (GER) and advanced to the jump-off. Aboard Vancouver Dreams (Valentino 240 x Stakkato), Ireland's Darragh Kenny galloped clear through the finish line with the fastest time of 39.50s and took the win ahead of Conor Swail (IRL) and Gamble (Vingino x Indoctro) in second and Maddison Stephen (AUS) in third aboard Yalambis Ikon (Yalambi's Carpino Z x Yalambi's Val D'isere VDL).