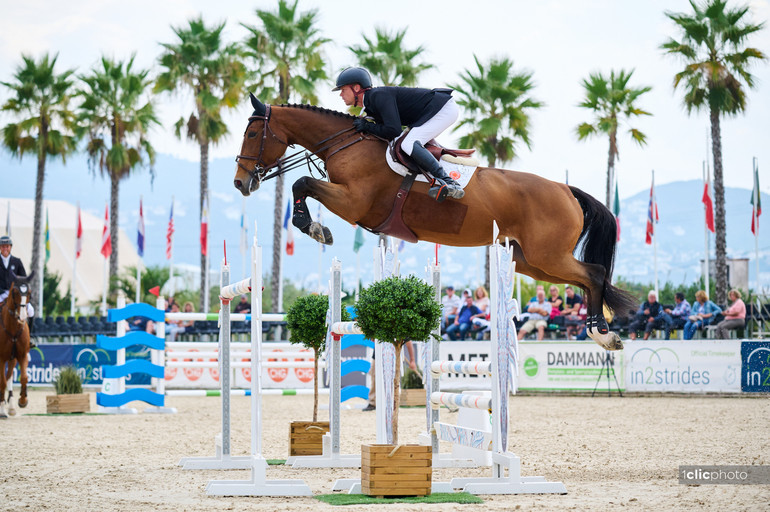 Jérôme Guery and Margriet de Mariposa won the CSI3* 1.50m CHG Grand Prix at the Autumn MET I 2021. Photo © Hervé Bonnaud/1clicphoto.com.
Press release from Mediterranean Equestrian Tour
---
The third week of the Autumn MET I 2021 concluded with the CSI3* 1.50m Grand Prix presented by CHG, and it was Belgium's Jérôme Guery on Margriet de Mariposa that took home the win – the biggest yet in the career of this promising mare.

The course designed by Peter Schumacher (GER) was delicate and technical, and eight pairs out of the starting field of 31 cleared it – joining the deciding jump-off. It was not until half-way into the Grand Prix that the first clear was posted, and it came from Julia Houtzager-Kayser (AUT) on High Five (Toulon x Burggraaf NV). Straight after the break, a jump-off was secured as Katharina Offel (GER) and Hearst DB (Emerald x Vingino) delivered a clear round – and then six more pairs joined in to battle it out for the win: Hendrik-Jan Schuttert (NED) on Good Farming HS (Carrera VDL x Atlantic), Mouda Zeyada (EGY) on Fiori LS (Riscal La Silla x Quidam de Revel), Michael Greeve (NED) on Guan GJB (Namelus R x Sydney), Jérôme Guery (BEL) on Margriet de Mariposa (Nabab de Reve x For Pleasure), Jason Foley (IRL) on Clyde VA (Caretino z x Quintero) and Willem Greve (NED) on Grandorado TN (Eldorado vd Zeshoek x Carolus II).

In the jump-off, Julia Houtzager-Kayser and High Five opened with a steady clear setting the time to beat at 38.53 seconds. Katharina Offel and Hearst DB brought the time down to 36.83 but the risk came at the expense of a pole down on the Liverpool upright midway, while Schuttert had three poles down, Zeyada two and Greeve one – keeping Houtzager-Kayser in the lead. That was until Guery entered the ring though, going all in with his 9-year-old mare – crossing the finish line in 35.74 seconds. None of those to come could catch up with Guery, and in the end, Houtzager-Kayser had to settle for another runner-up position, while Jason Foley on Clyde VA slotted into third place with a time of 39.47. Katharina Offel and Hearst DB took the fourth spot with the fastest round of the four-faulters, while last week's Grand Prix winners Michael Greeve and Guan GJB placed fifth.
"I think the course builder set a nice track, with two 1.60m verticals. The hardest part was the line after the triple bar, with five really short strides to the big Liverpool vertical followed by a plank on the front of the oxer after. It was a difficult line, but the course was nice and fair for the horses," Guery said.
About his tactics for the jump-off, Guery laughed and said: "Fast and clear! Luckily, it worked out today."
"I am really happy with my mare," Guery said about his winning ride Margriet de Mariposa. "I just started to ride her here, my wife Patricia has been producing her until now. Margriet was always good with Patricia, but she never rode her fast. During the two weeks here, Margriet learned really quick; last week, she won a ranking class and had the last fence down in her first CSI3* Grand Prix – but already that was a good result. And now she won!"
The mare is not just anybody and has an incredible pedigree; her mother is Olympic team gold medallist Flora de Mariposa – that had great success with Penelope Leprevost in the saddle. "She has quality, she is careful, she is a little bit stiff, but she wants to jump clear – and that is the most important thing in our sport," Guery told about the talented mare. "She stayed long with Patricia, and we really took our time with her, because we thought from the beginning that she will be a horse for the big shows. She is nine, and now is the time for her to jump bigger. I think next year you will see her at the five-star shows."
Guery is a regular at Mediterranean Equestrian Tour and pointed out how the venue is great to bring up future stars such as Margriet de Mariposa. "For us, MET is a place we love to come to produce the horses," the Olympic team bronze medallist said. "All the facilities are great, we have three big arenas close, everything here is perfect for us. When you come here, you know what you get!"
The Autumn MET 2021 now takes a break of one week and continues with the second part of the tour, MET II, on October 26.