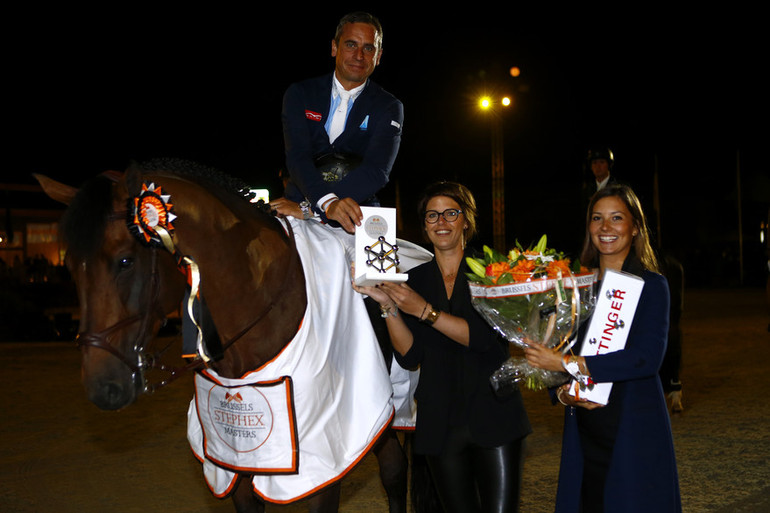 Julien Epaillard and Safari d'Auge won the Seacoast Prize at Brussels Stephex Masters. Photo (c) Scoopdya.
Julien Epaillard – the King of Speed – made a copy-paste from last year's edition of the Brussels Stephex Masters when he won Thursday's five-star feature class: The 1.50m Seacoast Prize.
Worth a total of 24 600 Euro, as well as offering valuable world ranking points, the sport's best were ready to race against the clock in this competition as the floodlights settled over the beautiful main ring at Stephex Stables.
Just like a year ago, it was Epaillard that would prove to be the fastest taking all the risk aboard the 11-year-old Diamant de Semilly-son Safari d'Auge to stop the clock at 63.34 seconds after going clear over the twelve-fence track set by Uliano Vezzani.
"I think I was the only one to do eight strides between fence two and three, and I won a bit time there. I also had a good distance after the turn to number four, and after the plank to the oxer I could take the first distance. Then I took a bit more time for the last jumps, because that part was more difficult for my horse," explained Epaillard.
"My plan was to try, because Safari d'Auge is not jumping the Grand Prix on Sunday – so it was win or lose!"
"I have none," laughed Epaillard when asked about his secret to always being so fast. "I just push, and I like to go fast. I did motor cross when I was young, and like speed – also fast cars!"
Safari d'Auge is one of the successful horses Epaillard and his wife have bred and produced themselves. "We breed between five-ten a year, and now we start to have a couple of good horses from our own program – also my Grand Prix horse Usual Suspect d'Auge," Epaillard detailed.
It was a close race in the Seacoast Prize today, with Jerome Guery slotting into second place a few riders after Epaillard left the ring – only 0.37 behind the French rider's time. Fresh from the European Championships in Gothenburg, the Belgian rider was the best for the hosts in this class aboard his faithful partner Papillon Z (Perhaps V Berkenbroeck x San Patrignano Cassini).
Ireland's Darragh Kenny, who took the lead as number ten to go on Team de Coquerie (Heartbreaker x Papillon Rouge), eventually finished third. He was followed by his compatriot Bertram Allen riding Molly Malone V (Kannan x Cavalier) to fourth place, and Belgium's Nicola Philippaerts on Aikido Z (Accardi x Corrado I) in fifth.
Earlier in the day, USA's Beezie Madden was the best in the CSI5* 1.45m presented by Silverspoon. Fifteen out of the 41 riders in the competition produced double clears in this two-phase special, and it was one of the world's most decorated riders that was the fastest as Madden stopped the clock at 30.22 seconds aboard the lovely 8-year-old Con Taggio (Contagio x Golliath Life).
A little over a second behind on the clock finished Belgium's own Constant Van Paesschen, riding Compadre van de Helle (Casall x Concerto II) while Germany's Marcel Marschall ended third with Fenia van Klapscheut (Cicero Z Van Paemel x Ahorn Z) four seconds behind Madden. Dutch rider Maikel van der Vleuten and American rider Paris Sellon completed the top five.
---
Source: Press release Stephex Brussels Masters // Picture © Scoopdyga