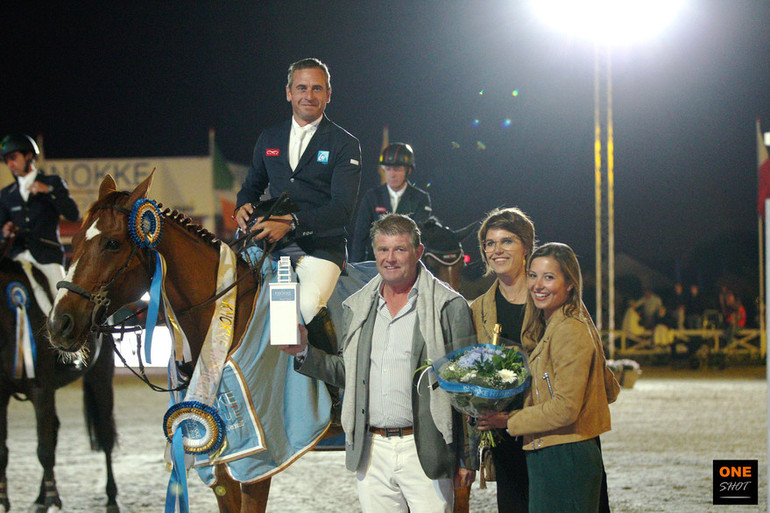 Julien Epaillard and Usual Suspect d'Auge won the CSI3* Grand Prix at Knokke Hippique. Photo (c) OneShot.
The 2017-edition of Knokke Hippique continued this week, with the first part of the Summer Circuit getting underway on Wednesday. It's been an action-filled program with the CSI3* Top Series, the CSI2* Super Cup, the CSI1* Prestige League, the Future Stars classes for 6- and 7-year-old horses as well as international pony competitions unfolding in the three rings at Knokke Hippique.
Leading up to Saturday's CSI3* Top Series Grand Prix presented by BMW, William Funnell (GBR) won Friday's 1.50m Grand Prix qualifier counting towards the World Ranking in the main ring Zoute Plage.
Riding the 14-year-old stallion Billy Angelo (Tangelo van de Zuuthoeve x Kroongraaf), Funnell had the fastest of the eighteen clears in this Table A competition against the clock stopping the timers at 66.87 seconds. Close behind with a time of 67.44 followed home hero Wilm Vermeir (BEL), one of the five-star winners last weekend, riding Gentiane de la Pomme (Shindler de Muze x Diamant de Semilly). Harry Charles (GBR) finished third aboard Controe (Wender R x Iroko).
In Saturday's CSI3* Top Series 1.55m Grand Prix presented by BMW, nine riders moved on to the jump-off after producing clears over the first-round track. Under the floodlights, some of the world's very best lined up to race against the clock and to compete for valuable World Ranking points – and the crowds fell silent as the action got underway, all in anticipation over what was to come.
The special partnership of Marlon Modolo Zanotelli (BRA) and the 14-year-old stallion Extra Van Essene (Diamant de Semilly x Gotthardsen) set the tone in the jump-off with a clear round in 38.40 seconds. Right after, living legend Michael Whitaker (GBR) followed on Calisto Blue (Chacco Blue x Con Air) – but slotted in 0.10 seconds behind. Home hero Olivier Philippaerts (BEL) on Henna de Goedereede (Argentinus x Heartbreaker) added a stride to the penultimate jump, crossing the finish line in 39.68 seconds and eventually finishing as the best Belgian rider in 6th.
Fresh from their victory in the CSI5* Grand Prix of Paris, Julien Epaillard (FRA) on the 9-year-old stallion Usual Suspect d'Auge (Jarnac x Papillon Rouge) set off meaning serious business. The French speed demon took out a stride on every single line, and went over the finish line in an incredible 37.19 seconds.
None of those to come could catch Epaillard, even though they tried. Closest came his compatriot Nicolas Delmotte (FRA) on the 9-year-old stallion Ilex VP (Diamant de Semilly x Darco) 0.74 behind slotting into second and pushing Zanotelli down to third and Whitaker to fourth. Fifth was Daniel Deusser (GER) on behalf of the hosting Stephex-team, riding Clintop 2 (Clinton I x Calvaro Z).
"I saw Marlon who was first to go, he had a normal seven strides on the first line and I was thinking it was seven long. So, I was saying to myself that maybe it would be possible to do six strides from fence one to two – and it worked out," said Epaillard. "After I had a super distance to the oxer before the double. Then I thought to myself, I keep going because my horse has a big stride and towards the finish I took a bit more time because I knew I already won a lot of time earlier on."
"Usual Suspect d'Auge is born and bred at home, but in the beginning of his career he was a bit difficult," explained the winner. "For the time being I prefer to keep him off grass rings, that is why I came here and did not go to Chantilly for the five-star event there with him."
"I think Usual Suspect d'Auge is a super-star. He is really careful and has a good head," said Epaillard. "He is getting easier and easier, and is on a good way – but still I want to be careful with him."
On the Knokke Hippique-event, Epaillard said: "The show here is fantastic, top quality for riders and horses!"
On Sunday, there will be two more Longines Ranking classes: The CSI2* Super Cup Grand Prix and the CSI3* Top Series 1.50m competition. The Summer Circuit then takes a two-day break before competition resumes on Wednesday.
---
Source: Press release from Knokke Hippique // Picture © OneShot