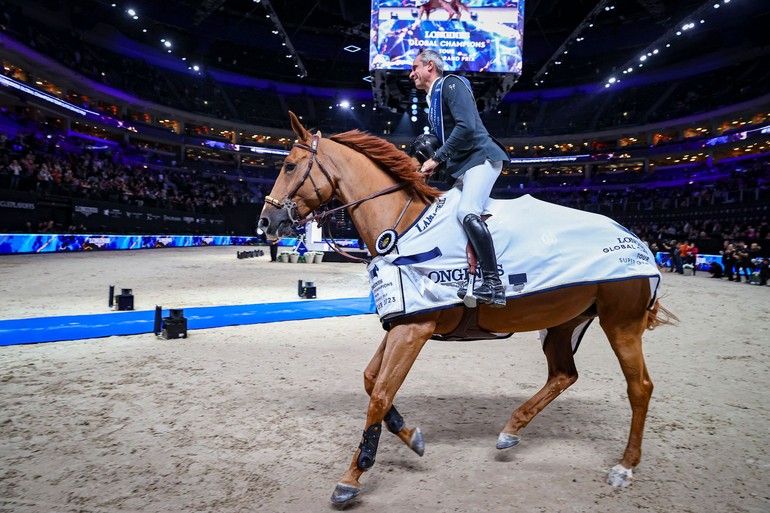 Julien Epaillard and Dubai du Cedre, winners of the Longines Global Champions Tour Super Grand Prix. Photo © Global Champions.
Edited extract from GCL press release
---
Julien Epaillard (FRA) and the remarkable 10-year-old mare Dubai du Cedre (Baloubet du Rouet x Diamant de Semilly) emerged victorious in Saturday night's prestigious €1.26 million Longines Global Champions Tour Super Grand Prix at the GC Prague Playoffs.
A full house at the O2 arena with over 13,000 spectators created an intense and thrilling ambiance for the fifth edition of the GC Prague Playoffs. The two-round 1.65m competition featured 16 of the world's top riders, who had earned their qualification throughout the 2023 Longines Global Champions Tour-season.
Round one showcased the extraordinary talent with six clear rounds; Peder Fredricson (SWE) on the 17-year-old Catch Me Not S (Cardento x Ramiro's Son), Sanne Thijssen – the youngest rider in the field – with Cum Laude (Cooper van de Heffinck x Corofino I), Andreas Schou (DEN) and Darc de Lux (Darco x Contender), Jessica Springsteen (USA) and Don Juan van de Donkhoeve (Bamako de Muze x Heartbreaker), Katrin Eckermann (GER) and Cala Mandia (Capistrano x Valentino), Maikel van der Vleuten (NED) and Beauville Z N.O.P. (Bustique x Jumpy des Fontaines) as well as Julien Epaillard with Dubai du Cedre all left the fences up inside the time allowed.
All other horse-and-rider combinations finished with just a single rail down, apart from Philipp Weishaupt and Coby 8 (Contagio x Escudo) who had an unusual 12 faults writing them out of the game. In the tightest ever LGCT Super Grand Prix, any of the 15 riders could still finish on the podium as it was all to play for in the second round.
Piling the pressure on those to come, Bertram Allen (IRL) and Pacino Amiro (Pacino x NC Amiro) posted the first clear in round two with a time of 61.04 – keeping them on just four faults from the first round.
2023 LGCT-champion Harrie Smolders (NED) gave it everything he had on Monaco N.O.P. (Cassini II x Contender), but although he was clear his time of 61.20 seconds wasn't fast enough – eventually leaving him 5th with his score of four faults from round one. Next up, Max Kühner (AUT) and Up Too Jacco Blue (Chacco-Blue x ARD VDL Douglas) – also with a score of four from the first round – stormed into the lead ahead of Allen, shaving the time to beat down to 60.41.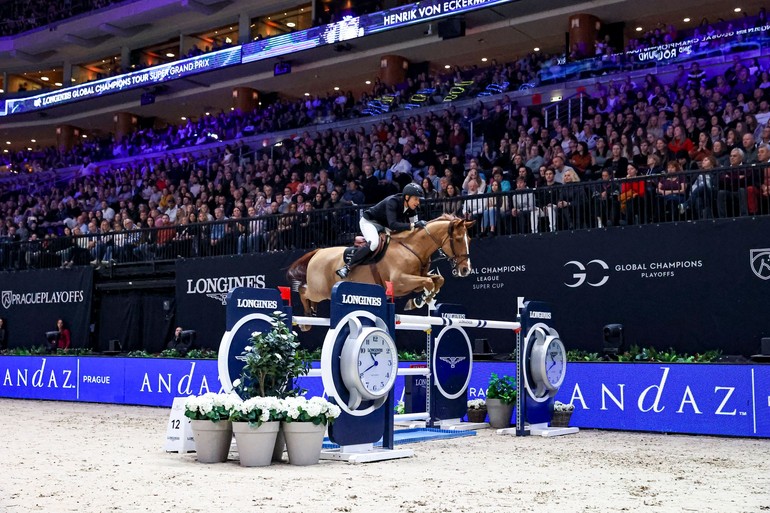 Runners-up in the Longines Global Champions Tour Super Grand Prix: Henrik von Eckermann and King Edward. Photo © Global Champions.
But Kühner didn't stay in the lead for long as world number one Henrik von Eckermann (SWE) risked it all, taking strides out all over with King Edward (Edward x Feo) – finishing on his score of four from round one and in a time of 58.76 seconds which meant the pressure was on.
Neither Eckermann or Fredricson managed to repeat their clears from round one; Cala Mandia took a rail down, while Catch Me Not S threw in a refusal – leaving von Eckermann in the lead.
Known for their speed, Julien Epaillard and Dubai du Cedre took it up a gear when the third fence fell. With nothing to lose, they galloped to the last – flying the 1.65m Longines oxer with ease and cutting off over a second on the time to beat. And, when none of the remaining riders could leave the fences up, Epaillard could start celebrating. Von Eckermann finished second, Kühner third, Allen fourth and Smolders fifth.
The flying Frenchman declared the evening of top sport his biggest career win, saying that the 2023-season has been his best yet – which now spans two Longines Global Champions Tour Grand Prix wins, plus the highly esteemed accolade of LGCT Super Grand Prix Winner: "It was amazing tonight; it's a special atmosphere, it's a special victory for me today. A lot of suspense with my fault, I was not sure if I would stay in the lead, but it was amazing today," he said.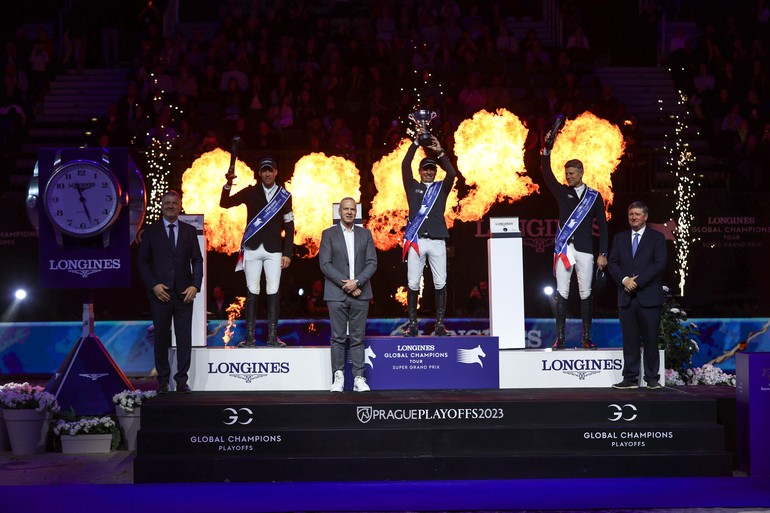 The top three in the Longines Global Champions Tour Super Grand Prix: Julien Epaillard, Henrik von Eckermann and Max Kühner. Photo © Global Champions.
Henrik von Eckermann said: "You try to enjoy every time you go out with King Edward, of course you have the feeling that anything else other than a win is just not good enough, but when you have a round like this second round, even if I'm second, it's pure joy and gratitude to the horse."
Claiming the third spot on the podium was Max Kühner who couldn't quite match the pace. "Prague is a very special show, we as riders love it, it's incredible atmosphere – a lot of horse people are coming here who know the sport, it's always full with the very enthusiastic audience so really a great, great show," Kühner said.
President and Founder of the Longines Global Champions Tour Jan Tops said: "I think what you see here, all the champions from throughout the year coming back and competing together, it's unique for me, and I think that it's the best class of the whole year. Coming together in this kind of special atmosphere, in this beautiful arena, it's just an example of an amazing sport in the world of equestrian. This year's record-breaking attendance is a testament to the growing popularity of the sport and the unique experience that the Playoffs offer."