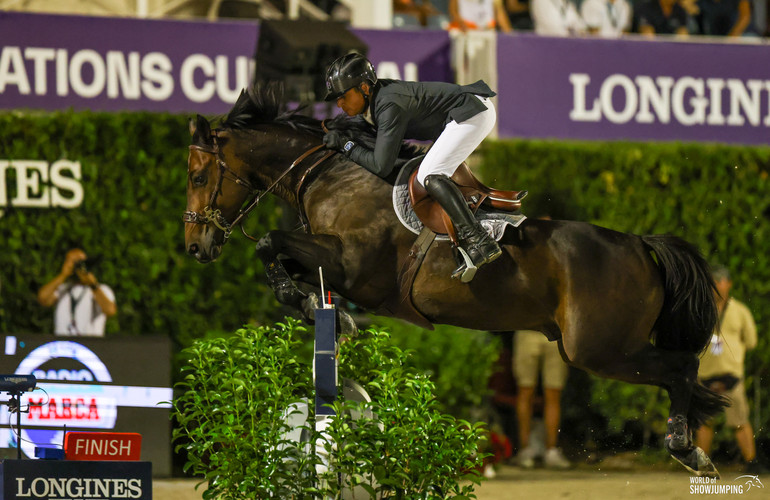 Julien Epaillard and Donatello d'Auge, winners of the City of Barcelona Trophy. Photo © Jenny Abrahamsson for World of Showjumping.
Text © World of Showjumping
---
Friday's feature class at the Longines FEI Jumping Nations Cup™ Final 2023 at the Real Club de Polo in Barcelona, Spain, was the CSIO5* 1.55m City of Barcelona Trophy.
Counting for the Longines Ranking Group B, this 1.55m class was jumped over two rounds, with the best 25% of the 33 horse-and-rider-combinations starting in round one continuing to the second and decisive round. The course set by Spain's own Santiago Varela counted 13 obstacles and 16 efforts in round one, and the Spanish mastermind seemed to once again get it just right with all nine pairs moving forward to the second round clear the first time out.
Starting in reverse order over a shortened track in round two, it was Great Britain's Harry Charles and Sherlock (Bisquet Balou v. Mispelaere x Malito de Reve, bred by Gustaaf Quintelier and owned by Peter Charles) that were pathfinders – setting the standard with a clear in 46.71. However, Germany's Hans-Dieter Dreher and Vestmalle des Cotis (Baloubet du Rouet x Landor S, bred by Rudy Cock & Christine Cock Leva and owned by Hans-Dieter Dreher and Sipe Handels AG) showed that there was plenty of room left for those to follow with their time of 42.69 but unfortunately the two knocked one rail down coming into the double. Brazil's Pedro Veniss and Böckmann's Lord Pezi Junior (Böckmann's Lord Pezi x Quattro 7, bred by Werner Meyer and owned by Camila Veniss) took a flyer to the second fence and kept their pace up throughout the course – going into the lead when the clock stopped on 44.01.
As the third last pair out, current world number two Julien Epaillard and his home-bred Donatello D'Auge (Jarnac x Hello Pierville, bred by Susana Epaillard and owned by Hello Holdings 31 SLU and Julien Epaillard) – a leader on the WBFSH Breeder Ranking – put on a show at the Real Club de Polo in Barcelona, cruising around the course in their signature power-mode style. Getting lucky on the third fence with a massive touch, the French duo stopped the clock on astonishing 40.92 – taking over the lead and moving Veniss to second and Charles to third.
Sweden's Henrik von Eckermann – current world number one – and Glamour Girl (VDL Zirocco Blue x Caletto I, bred by Stoeterij Gaesbeek VOF and owned by Portfolio Horses LLC) gave it their best shot but could not beat the French rider, slotting into second with their time of 42.36. Last out, Simon Delestre and Dexter Fontenis Z (Diarado x Voltaire Pref, bred by S.C.R.I S.Ky Horses and owned by Eric Hochstadter) made it a French one-two in the end, crossing the finish line in 41.93 and taking over the runner-up spot behind Epaillard, pushing von Eckermann down to finish third, Veniss to fourth and Charles to fifth.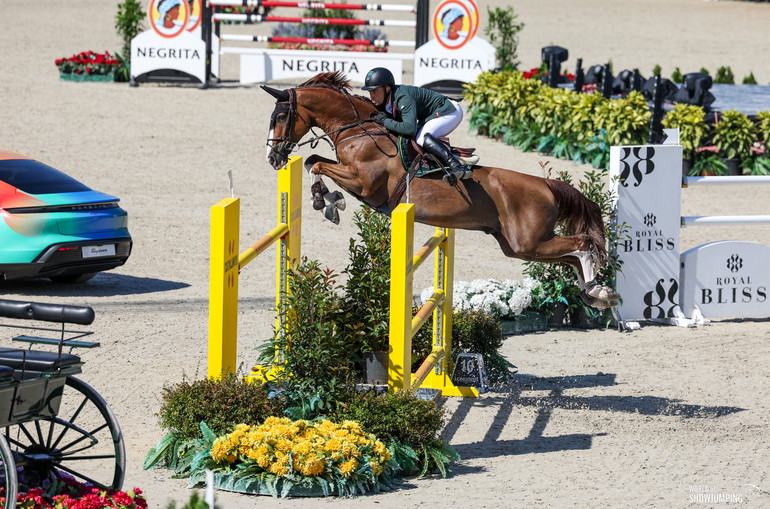 Stephan de Freitas Barcha and Chevaux Hex Lup Imperio Egipcio, winners of the La Vanguardia Trophy. Photo © Jenny Abrahamsson for World of Showjumping.
Ealier in the day, the CSIO5* 1.45m La Vanguardia Trophy – counting for Longines Ranking Group D – went to Brazil's Stephan de Freitas Barcha and Chevaux Hex Lup Imperio Egipcio (X-Rated GMS x Clinton Jmen), followed by Ireland's Denis Lynch and Dark Chocolate 48 (Casall x Acodetto 2) in second and USA's Jessica Springsteen aboard Hungry Heart (Baltimore 1178 x Loucaibo) in third.