Press release from Desert International Horse Park
---
The crowd knew they were in for a fast jump-off when Kent Farrington (USA) and Karl Cook (USA) were the only two jumping. Fast is exactly what they got.
The only two to navigate Alan Wade's (IRL) track clear in the $450,000 Marshall & Sterling CSI5* MLSJ Grand Prix, the two Americans went head to head in front of the crowd to battle it out and contend for top honors. Farrington put in all he had with Orafina, who stayed incredibly careful all evening – and all week – to jump double-clear in a jump-off time of 35.27 seconds.
All eyes then fell on Cook, who, with Kalinka Van't Zorgvliet, knew exactly what he had to do. He executed his plan and put his faith in Signe Otsby's mare, crossing the timers in 34.84 seconds and making the win his own.
"We've had a long journey together," Cook reflected on his partnership with Kalinka Van't Zorgvliet, who is 12 years old this year. "To think we started this year off here in January doing our first three-star grand prix together and ending the year this way, and to have the consistency we've had, for me it speaks volumes to her. She's special."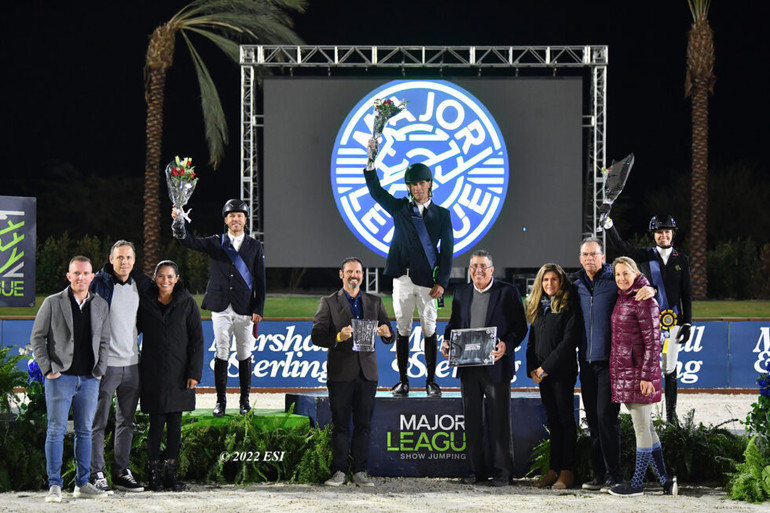 Karl Cook topped the podium in the $450,000 Marshall & Sterling CSI5* Grand Prix. Photo © ESI Photography.
His horse wasn't the only one Cook thanked for the success of the evening, and the whole season, landing him in the runner-up position for the individual title of the Major League Show Jumping Season. He expressed gratitude for the entire team behind him, including trainer Eric Navet (FRA)
"We started working together in 2012 and I really knew nothing when he started working with me," Cook said of training with Navet. "Over the past ten years he's put in a lot of hard work because I'm not the easiest to work with. Everything I think about horses has come from him; it's all through who he is as a horseman that has brought me here."
Cook has performed exceptionally during this final week of the MLSJ tour, but he doesn't perceive the pressure the way others do. "People always see it as pressure, but it's not," he continued. "When you go last you know what you have to do. At that moment, I'm not riding against Kent or whoever, I just know exactly what I need to do. So I just do it, instead of thinking about those outside constructs."
Farrington walked away with second place, but he also earned the individual title for the Major League tour as the top-performing grand prix athlete.
"You do this sport for a long time and you know you can always be beat," Farrington said of how he felt after his jump-off round, awaiting to see what Cook would do. "In a two-horse jump off there's always a bit of strategy going first. You have to go fast enough to put the pressure on somebody else, but they have to beat you, and that's what Karl did today. He had an incredible round, he rode great, and he pulled off the win."
Tiffany Foster (CAN) ended up third on a clear effort with two time faults. "It was awesome, because if I'd been in that jump-off and seen those two I would have just not gone and been third anyway," she joked. "I was thrilled with this finish. I was so impressed with the Major League and the facility here is incredible; they've done an amazing job. The two weeks were really enjoyable and I felt like all my horses kept getting better with the schedule."
Desert Holiday II concludes Sunday with the $50,000 Go Rentals Grand Prix and the $30,000 Vogel 1.40m Open Classic.