Press release from Traverse City Horse Shows
---
Karl Cook (USA) is really finding his rhythm with Major League Show Jumping (MLSJ). After winning the final CSI5* Grand Prix of the 2022 season and being a member of the 2022 winning team, Team Helios, Cook secured another victory Saturday in the $414,300 B&D Builders CSI5* Grand Prix with his top mount, Signe Otsby's Kalinka Van't Zorgvliet.
It wasn't an easy win for Cook to walk away with, though. Marina Azevedo (BRA) built a very technical track that only produced five clears, and of the five, Cook was the sole double-clear effort. He was very fast, with Darragh Kenny (IRL) and Kent Farrington (USA) both behind him, but with each pulling a rail, the win went to Cook. Andrew Bourns (IRL) and Sea Topblue took second place, while Kenny claimed third with 9-year-old Hamrah Van Het Exelhof Z, owned by Heathman Farms, LLC.
"When you've had a horse for a while, when you get on them to start warming up you have a feeling," Cook explained of how he reads the 13-year-old Belgian Warmblood mare (Thunder Van De Zuuthoeve x Flipper d'Elle) he's produced to the top level. "They just give you a feeling. I had a really great feeling from her, and then the first round was very tough. But she fought so hard in that first round."
"She was with me the whole time and I knew that wasn't going to change for the second round," he continued. "So I felt I had a good shot if I didn't make any errors. She was going to be right there with me."
Despite two top riders coming after him, Cook had his mind focused more on what happened before he went in the ring, watching Irishmen Andrew Bourns and Darragh Kerins go before him.
"Honestly at the time I was more focused on what had happened before me because I'd seen Andrew and Darragh go, and I saw where the risks were," he explained of his approach to the jump-off. "I tried to temper those risks as best as I could. Of course I knew Kent was coming up after me, but it's much better to go clear and maybe a little bit off the pace than to go whole hog and have eight faults and end up fifth. So I was actually looking more at Andrew and Darragh."
Ultimately, the course played a large role in how the top results panned out. The course was a challenge but the top performers put on a show for the crowd that gathered to watch the first CSI5* Grand Prix of the season in Traverse City.
"Marina did an unbelievable job today," Cook continued. "It's been a while since I've jumped a course that presented so many challenges, and the time allowed wasn't that big of a factor, but there were so many challenges where there wasn't an easy answer. There were rails but no crazy disasters."
Bourns was thrilled with Sea Topblue's second-place finish. "This is probably one of his better results in his career," Bourns said. "He's won grand prixs up to the four-star level and has placed numerous times in the five-stars. I think I misjudged the double in the jump off; I'm not sure if I would have beaten Karl because he was coming after me, but I would've given him a better run for his money if I had just made a slightly better judgment on the double. It certainly wasn't Sea Topblue's fault today; he was out for the win."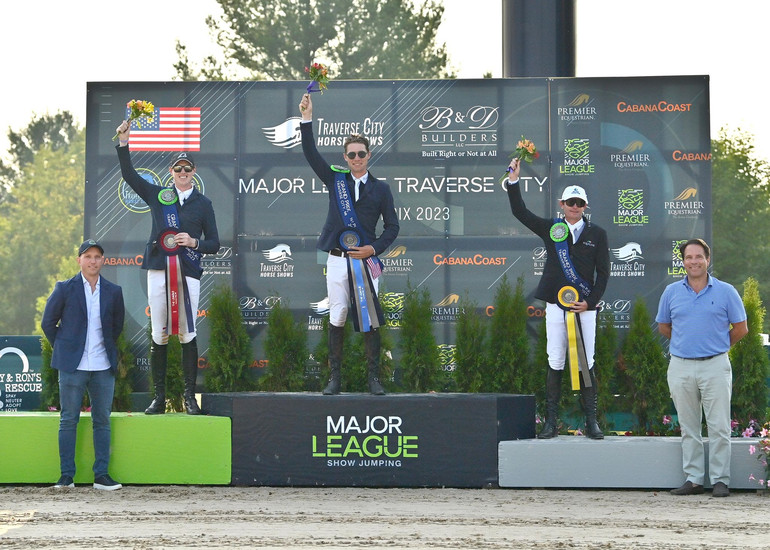 Karl Cook (USA), Andrew Bourns (IRL), and Darragh Kenny (IRL) in their winning presentation, pictured with Keean White and B&D Builders' Will Phipps. Photo © Andrew Ryback Photography.
Kenny echoed how excited he was by his horse's performance, knowing he has a winner for the future. "I'm very happy to be honest," he shared. "I knew going into the jump off that I didn't really have a chance to beat Karl. My horse is 9 years old; he's super green. He only just started the five-star level, and he's jumped clear in every five-star grand prix he's jumped in so far. He's a really special horse but he was no match for Karl's horse today, so I was happy with my week. All of my horses jumped great, and I'm really excited for this horse. I think next year he can be an incredible horse. He's so talented and keeps getting better every round."
Cook will attend the next stop on the Major League tour in Greenwich, CT, before he could potentially be named to the team for the Pan American Games. With another up-and-coming top mount in Caracole De La Roque, Cook is certainly one to watch for the individual title as the season continues.