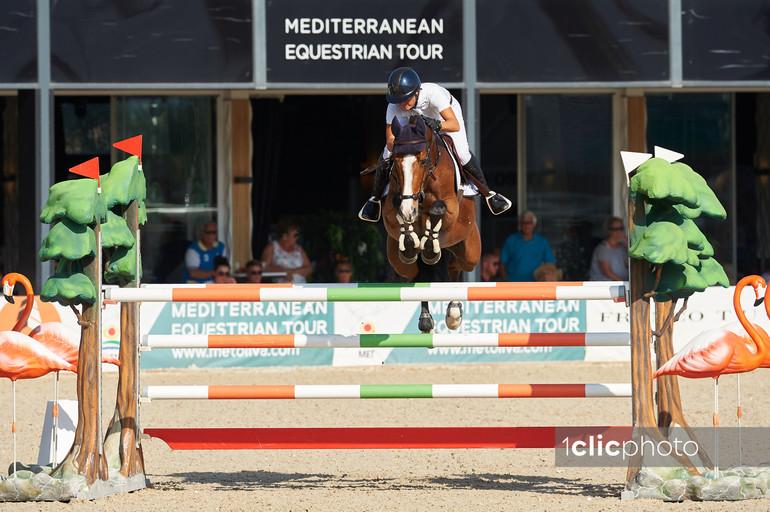 Katharina Offel and Elien on their way to victory in the CSI2* Grand Prix presented by Oliva Nova Beach and Golf Resort. Photo © Hervé Bonnaud / www.1clicphoto.com.
Press release from the Mediterranean Equestrian Tour
---
Sunday's CSI2* Grand Prix presented by Oliva Nova Beach & Golf Resort at the Autumn MET went to Germany's Katharina Offel and her 10-year-old mare Elien (Carambole x Mermus R), after a lightning fast jump-off.
Offel was one of ten riders among the field of 61 participants to produce a clear over Peter Schumacher's first round track, that counted thirteen fences including a double and a triple combination. "The track was very fair. The time allowed was a factor that for sure caused some faults, because you really had to keep it in mind today," Offel commented.
Two Germans – Frederick Troschke and Luisa Himmelreich – were first out in the jump-off, and both went for steady clear rounds. Two riders later, it was time for Offel and her tiny rubber-ball Elien and from the start it was clear that they were in it for the win. Chasing the clock, the pair managed to shave off 3.53 seconds on Troschke's leading time and went into the lead in 41.35 seconds.
Those to come all tried to catch Offel's time, and as next in the ring Joseph Davison (GBR) gave it a shot on Cirrus (Casall x Quinar) but slotted into a temporary second place with a time of 43.07 seconds. Davison was quickly pushed down by Harry Allen (IRL) however, who went into runner-up position with Guinness (Nabab de Reve x Katell) after crossing the finish line in 41.93 seconds. Marielle Friesen (NED) was the next to follow and produced a very good round on Stakkabisa (Stakkatol x Cannabis Z), going into third place in 42.59 seconds.
Two British riders remained in the jump-off, and as the first in the duo Jane Annett slotted into fifth with Billy Tudor (Cevin Z x Andiamo Z) behind Offel, Allen, Friesen and Davison. As last to go, Kayleigh Watts gave it everything she had – whistled on by the crowds – but unfortunately the risk on the last stretch resulted in a pole on the final oxer and the victory went to Offel.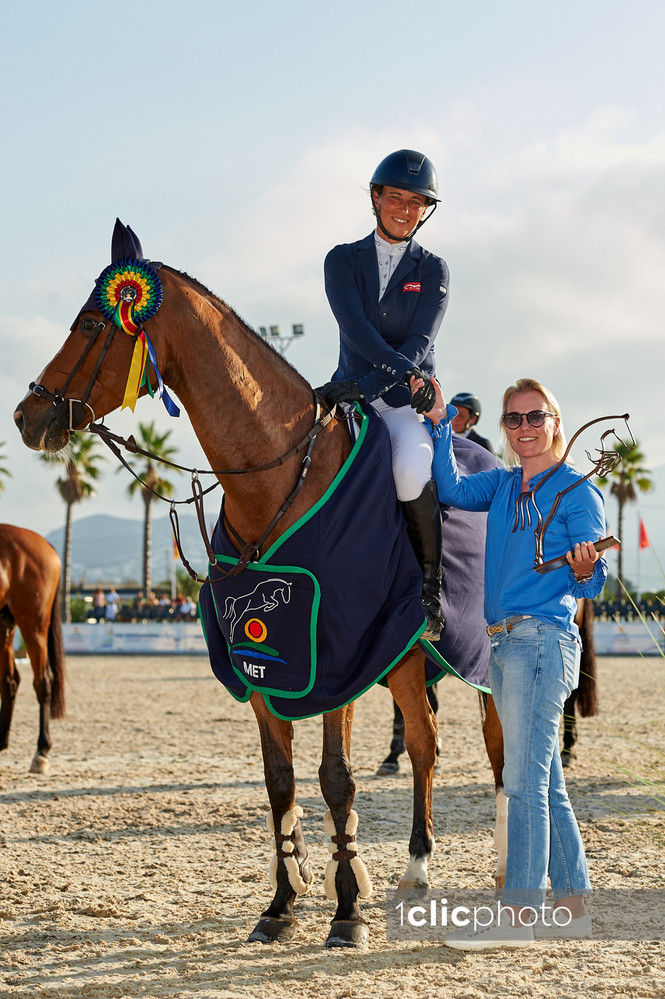 Offel receives her trophy from MET Event Director Bettina Poehls. Photo © Hervé Bonnaud / www.1clicphoto.com.
"I'm of course very happy!" Offel said. "This was a real team-win though. Earlier this week, my groom Terri Fitton was very unlucky and dislocated her knee after she slipped so she has her leg in a cast for the next week. Her boyfriend Adriano de Freitas was so kind to step in to help me here. They are both amazing horse-people with so much knowledge, and it really makes such as difference for me as a rider to have people like them around me," Offel smiled.
"My plan was just to go for it today. Elien felt very good in the warm-up, and it was a good jump-off course for her. Elien was really fighting for me today, and wanted it as much as I did," Offel said.
"I mostly brought 7- and 8-year-old horses with me to Oliva. I have a very young and talented team now and Elien is the only one here with more experience. The MET is a great place to step up the younger generation, they learn so much in a short amount of time – and that was the main reason I came here. I also have a group of students with me here, and the facilities are perfect to combine my own riding with training them – we're all enjoying our time in Oliva!" Offel concluded.
The Autumn MET I now continues with another week of competition, before taking a one-week break and then resuming with Autumn MET II that runs from 29th of October to 17th of November 2019.
More information, start and result lists, as well as live streaming from the competitions, can be found on http://metoliva.com/en/