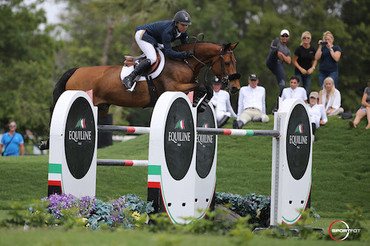 Kent Farrington and Gazelle. Photo (c) Sportfot.
Week 11 of the 2016 Winter Equestrian Festival (WEF) concluded on Sunday, March 27, featuring the $86,000 Suncast® 1.50m Championship Jumper Classic, held on the derby field at The Stadium at the Palm Beach International Equestrian Center (PBIEC). For the second week in a row, the 1.50m win went to USA's Kent Farrington, this time aboard his own and Robin Parsky's Gazelle. He topped week ten's $35,000 1.50m aboard RCG Farm's Creedance. The 12-week WEF circuit comes to a close for 2016 with one more week of competition through April 3.
Forty-one entries jumped in Sunday's 1.50m competition on the derby field with six clear rounds over the Olaf Petersen, Jr. (GER)-designed track. In the jump-off, Egypt's Abdel Said and American Equestrian Association's California set the pace with a clear round in 41.12 seconds to eventually finish fifth. Adam Prudent (FRA) and Plain Bay Sales' Vasco were next to go, finishing with four faults in a time of 50.70 seconds after a refusal on course, to place sixth. Amanda Derbyshire (GBR) and David Gochman's Cannavaro BH jumped off next with a clear round in 40.25 seconds to take fourth place honors.
Farrington and Gazelle followed with the winning round in 38.33 seconds. Lorenzo de Luca (ITA) and Homer de Reve, owned by Stephex Stables and VDB Equestrian Stables, followed with the second place time of 38.61 seconds. Last to go, Paul O'Shea (IRL) and Nordic Lights Farm's NLF Favorite jumped into third place with a time of 38.99 seconds.
Gazelle, a Belgian Warmblood mare by Kashmir Van Shuttershof x Indoctro, is just ten years old, and Farrington has been trying her out in different classes over the winter.
"She is still a green horse for the big sport," the rider noted. "I had her jump a couple of grand prixs at the beginning of the circuit. She jumped the first 4* and I think she was a low ribbon. Then I threw her in a 5* and it went okay, but she was a bit green and I had two down. I thought the horse was quite careful, so then I thought she needed a few smaller rounds so she stayed confident. I did a few 1.40m classes just to get her confidence back and then I brought her out here. She loves the grass. She jumps fantastic on the grass, and I was really pleased with her performance and her progress through the winter. She really rallied back."
Speaking of the course and the opportunity to jump on the grass field, Farrington stated, "I thought Olaf did a great job of designing all week. For me, it is a real pleasure to come over here and jump at a different venue other than the same rings for the 12-week circuit. It is a luxury to give our horses a different place to compete, and in my opinion, that is the best thing that we can do for the winter circuit."
Detailing his jump-off, Farrington explained, "My plan for the jump-off was to go fast. I know that those other horses are pretty competitive. I tried to go what I would call a competitive, fast round, without going all out. The margin was pretty small at the end and today it played into our hand."
Farrington is still deciding whether Gazelle will compete in the $130,000 Suncast® 1.50m Championship Jumper Classic Final next Saturday. He will then figure out her summer tour, but noted that he is taking her plans one step at a time for the moment.
---
Source: Press release from Equestrian Sport Productions News // Picture © Sportfot