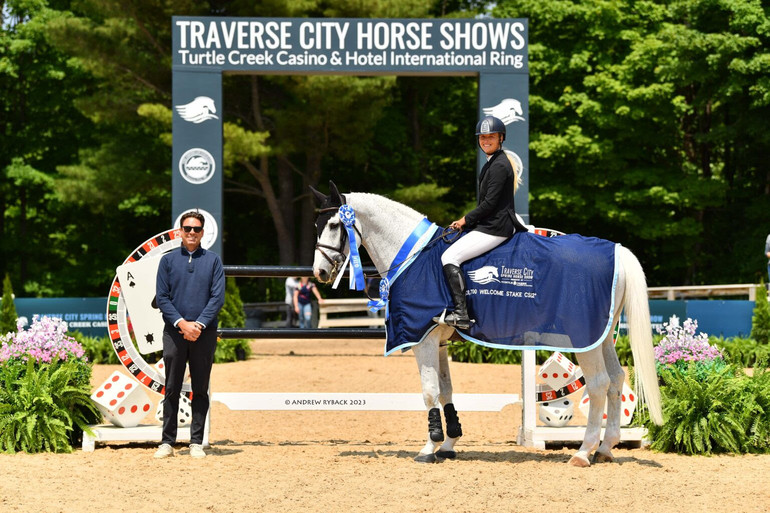 Kristen VanderVeen (USA) and Bull Run's Faustino de Tili presented as winners of the $38,700 CSI2* Welcome Stake by Matthew Morrissey, Director of Traverse City Horse Shows. Photo © Andrew Ryback Photography.
Press release from Traverse City Horse Shows
---
Kristen VanderVeen (USA) is known to be a winning machine, and for close to seven years now, her most trusted partner has been the now 18-year-old Bull Run's Faustino De Tili. Today, he helped her clinch the win in Friday's $38,700 CSI2* Welcome Stake during opening week of the Traverse City Spring Horse Show, presented by Turtle Creek Casino & Hotel.
The field of 22 entries handled Manuel Esparza's (MEX) track quite well, with nine pairs jumping clear over round one and advancing to what would be a very quick jump-off. Margie Engle (USA) jumped clear with both her mounts, but VanderVeen had the advantage of going last.
"We're fortunate we have such a strong partnership because we've been together so long," she said of her relationship with Bull Run's Faustino De Tili, owned by Bull Run Jumpers Five LLC. "He has a huge stride so he can look like he's not going super fast. He's unique in the fact that he can run but he can also turn really tight. I thought his turns were quite slick. I got to use his big stride to the last jump which is always to our advantage, especially to go through the timers."
The pair's quick time of 33.18 seconds was enough to seal the deal, edging out Megan McDermott (USA) who took second with Nintendo, owned by Counter Balance LLC. Engle claimed both third and fourth with Jackofhearts, owned by Gladewinds Partners, LLC, and Cesna M, owned by Virginia Bartholomay, respectively.
With 18 years of experience under his belt, the preparation for "Frosty," as he's known in the barn, is quite simple. "I've been really blessed that he's been super sound for us," VanderVeen explained. "I've had him since the end of his 11-year-old year. We keep things really simple with him. When he's not horse showing he doesn't need practice. He loves to go out on trail rides. We rode in the woods a week before we came here and he came out and was jumping."
Friday marked a big milestone for the horse and the duo: Frosty scored his 50th FEI victory. VanderVeen herself has 84 FEI victories, including Friday's Welcome Stake, which means nearly 60% of her wins have been atop the Belgian Warmblood stallion.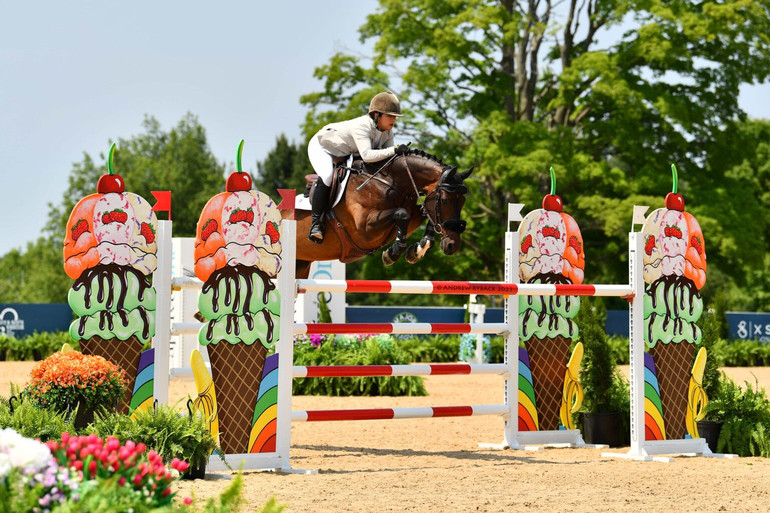 Megan McDermott (USA) and Nintendo claim second place in the $38,700 CSI2* Welcome. Photo © Andrew Ryback Photography.
"Frosty is really what put me on the map in my professional career," VanderVeen continued. "He's the first horse I've had that's been super competitive at this higher level of FEI show jumping. He's one of the winningest horses in the world, and that has boosted my confidence. He's given me a lot of experience with jump-off speed classes; it's really invaluable. He's irreplaceable really."
While VanderVeen and her team have been to Traverse City in the past, it's her first time venturing up north for the early part of the summer, and the experience is paying off in spades.
"I really love Traverse City," she shared. "I've never gotten to come here this time of year. I've been here in the fall. I would like to make this part of my schedule every year. The weather is perfect here, the footing has been phenomenal and now we have the upgraded barns. Every year there is a new improvement and we look forward to coming and seeing it."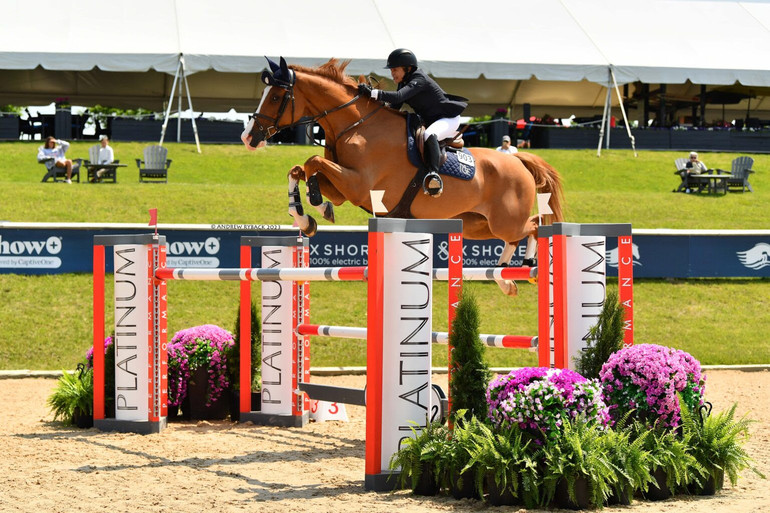 After a win a day earlier, Margie Engle (USA) was third, this time aboard Cesna M in the $38,700 CSI2* Welcome Stake. Photo © Andrew Ryback Photography.
So far it's been the leading ladies topping FEI competition as the Traverse City Spring Series has gotten underway, but as the season continues it will be anyone's game, knowing more top pairs will arrive and try to take top honors in the Turtle Creek Casino & Hotel International Ring as they chase the CaptiveOne Advisors Leading Open Jumper Rider Bonus. VanderVeen plans to give it her best while also learning from some of the masters, including Engle, who produced two double-clear efforts Friday but wasn't quite quick enough for the win.
"I love watching Margie go," she said of her fierce competition. "She's always been such an inspiration. Of course Margie is the only one who has two in the jump-off today; no surprise there. But it's great to be in the same arena as her and get to compete."
The $30,000 National Grand Prix takes center stage Saturday, followed by Sunday's $77,300 Turtle Creek Casino & Hotel CSI2* Grand Prix.