Press release from Traverse City Horse Shows
---
Kristen VanderVeen (USA) is perhaps best known for her unforgettable victories and high levels of speed with her 18-year-old Bull Run's Faustino De Tili, but in Friday's $38,700 CSI3* Welcome Stake, she ended up taking victory on a horse that is nine years "Frosty's" junior.

The day was Bull Run's Jireh's time to shine, and VanderVeen sees the potential in the 9-year-old Holsteiner gelding (Uriko x Colman) to become her next top horse.

"I think he's going to be my top horse," she said of Bull Run's Jireh, owned by Bull Run Jumpers Inc. "We have really high hopes for him. We'll see where it takes us and we don't want to rush him because he is so special, but I'd like to do all of the things with him."

All of the things started with a win in the Welcome Stake during Traverse City Spring III, presented by Turtle Creek Casino & Hotel, against seven other jump-off contenders. VanderVeen jumped late in the starting order over Anderson Lima's (BRA) course, and had the benefit of taking to the short course last.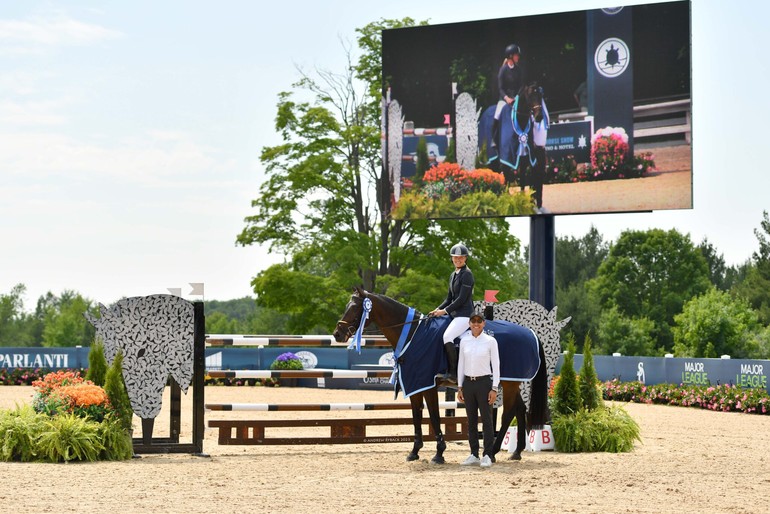 Kristen VanderVeen (USA) and Bull Run's Jireh, pictured with Ivan Rakowsky. Photo © Andrew Ryback Photography.
"He's such a special horse," she continued of her winning mount. "Honestly he's one of the most talented horses I've had the privilege of riding. I haven't found a fault with him yet. He loves his job, he's fast, he's careful, but he's ultra brave, and as a rider it's super special to ride a horse like him. It gives you all the confidence in the world."

Prior to VanderVeen going in, the leaderboard was topped by 2022 CSI5* grand prix winners in Traverse City Callie Schott (USA) and Garant (Warrant x Verdi TN), owned by Southern Arches LLC. VanderVeen shaved off just about half a second from the leading time, pushing Schott to second and putting Caitlyn Connors (USA) in third with Falcon De Hus Z (Florian de la Vie x Adlantus AS FRH).

"It was nice that I got to go at the end today," VanderVeen reflected. "My plan was to go a little bit fast because Garant was still fast enough. I had a little rub at jump one but after that he was flying."

Her confidence in the horse has built since she acquired the ride during his 8-year-old year, so she knew she could trust him going for speed as the last to go.

"He's just always been there; he's never backed down," she explained. "His first night class and his first class on the grass, he came out like a lion. Nothing has ever made him shrink before, so I had a good feeling on him today and I never actually questioned him."

Strictly business in the show ring, Bull Run's Jireh is all fun and games at home with VanderVeen.

"He's a ham," she joked. "He is so playful, he has stuffed animals and he genuinely loves toys. He's nice with everyone. He loves people, loves attention. Frosty gets a little jealous if we pay too much attention to him but they're actually best friends. He has a real personality."

This is VanderVeen's second FEI victory of the Traverse City Spring Series, and both have been memorable. The first marked Bull Run's Faustino De Tili's 50th FEI win and the second marked Bull Run Jireh's first FEI win.

"We are new to the Spring [Series] here and we've really enjoyed it," she shared. "I've always been here in the fall and this has been great. It's nice with this younger horse to get started up here early in the year with the two and three stars here. It's been great weather, great footing, great course design, so what more could you want?"

International show jumping resumes Sunday with the $145,100 CSI3* Grand Prix.