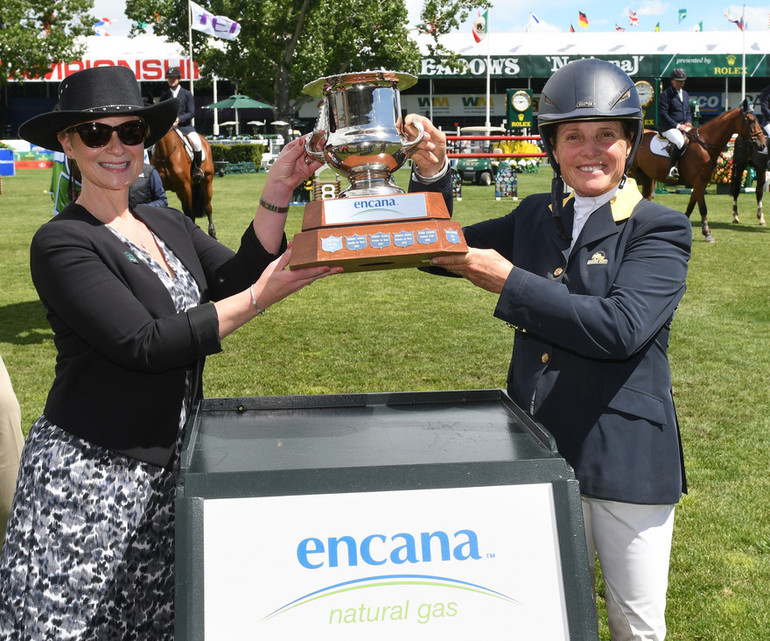 Leslie Howard celebrates her Encana Cup win with Rachel Moore, Vice President, Human Resources at Encana. Photo (c) Spruce Meadows.
Friday of the Spruce Meadows 'National' Tournament, presented by ROLEX started with a great competition in the Encana Cup. A huge international entry of 61 competitors came to play on the beautiful International Ring stage. Split into two phases, the Encana Cup (1.45m) saw a great sprawling course of 12 obstacles that qualified 15 riders to an action packed Jump Off.
In the end three American athletes would make it to the top of the standings, lead by veteran rider, and no stranger to the International Ring podium, Leslie Howard. She and her grey mare Donna Speciale (Cavalier x Concorde) would carry on their speed and precision from the first round into the jump off for the win. "Donna Speciale is Fabulous, I've had her for a year and a half now and shes been a winner since the start. We are just starting out easy this week in the 1.45m and I plan to show her in the 1.50m next week so we'll see how that goes for the circuit. She is just naturally careful, scopey and very smart – a super smart horse," said Howard following the win.
Also arriving to the medal podium were student/trainer duo, Adrienne Sternlicht, and McLain Ward (USA). Ward and the 10 year-old Selle Francais mare Tina La Boheme (Calvaro x Arpege Pierreville) was beaten out by 24 year-old Sternlicht and Raia Dhelby (Fergar Mail x Papillon Rouge) by 0.58 seconds to finish third behind the rising start. Sternlicht, arrived to Calgary after representing the stars and stripes in last weeks' FEI Nations Cup in Langley, BC.
---
Source: Press release and photo (c) Spruce Meadows.