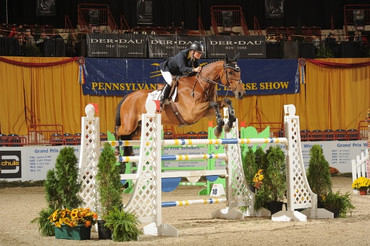 Leslie Howard and Gentille Van Spieveld won the $85,000 Grand Prix De Penn National. Photo (c) Al Cook - www.alcookphoto.com.
Olympic veteran and World Cup winner Leslie Howard won the $85,000 Grand Prix De Penn National, the showcase event of the 70th Pennsylvania National Horse Show, and a class that the rider has never won before, on Saturday night riding Gentille Van Spieveld.
Only four riders managed to get around Designer Michel Vaillancourt's 1.60 meter course. It wasn't until the seventh horse in the order, that a clear round was posted on the scoreboard. Peter Lutz, Goldens Bridge, NY, and Robin Du Ponthual, owned by Katherine Gallagher and Michael Meller was the first. They were followed by the next in the order, Laura Chapot, Neshanic Station, NJ, with Quointreau Un Prince, jointly owned by the rider and McLain Ward. It took five more rides before Canadian rider Jordan MacPherson with Aldine, owned by SVED Stables posted another fault free round. Howard, the 14th rider on course, guided the nine year old bay gelding, owned by GJ Stable, to a faultless performance, making four to return to jump off against the clock.
Lutz returned first in the second round and luck was not with him as his mount had two rails down for an eight fault penalty in a time of 43.92. Chapot, always a speed threat, was next in the rign and she did not take her foot off the gas, but her time of 40.79 came with four faults at the next to last fence. MacPherson was the third to attempt the course and she turned in a clear, steady round, no penalties in a time of 44.31. This left the door open for Howard, and she walked right through. She broke the timers in 43.71 second to win the class.
Howard was thrilled to finally be able to add this Grand Prix to her list of wins. "Finally I get to make the wall," she said. "I came to this show when I was 11 on a large pony, and I am 59 so I have been here a lot. The first year I rode in the Grand Prix would have been Chase The Clouds, so that would have been 1979. I just kept on trying, so, finally!"
"I'm very excited about this horse. He is very green," continued Howard. "I got the ride about a year ago and he's done nothing but what I have asked him to do. I have really high hopes for him. He's been learning the ropes. I have always had a tremendous amount of confidence in the horse because he is so scopey. He is like a big puppy dog, all big and cumbersome, but now he is getting quicker and more coordinated. He wants to do the right thing. I think he's the horse for the future."
By virtue of their win, Howard was named Open Jumper Champion. Laura Chapot was named Leading Lady Jumper Rider as well as Leading Open Jumper Rider due to her top placings through the week.
Recognized as a premier equestrian event, The Pennsylvania National Horse Show runs October 8-17 and has been held indoors at the State Farm Show Complex and Expo Center in Harrisburg, PA since its inception in 1945.
Known locally for its contributions to the community and globally for excellence in competition, PNHS attracts top Hunters and Jumpers, sport horse enthusiasts and spectators who find the show exciting, educational and inspiring. Visitors enjoy the intimacy of one competition ring, a full concourse of shops and a variety of special events.
Proceeds from the show benefit the Harrisburg Kiwanis Youth Foundation dedicated to youth programs and The Pennsylvania National Horse Show Foundation supporting equine programs. PNHS is proud of its contributions, proud to be consistently recognized by the Show Hunter Hall of Fame and the North American Riders Group, proud of its heritage and looking forward to a bright future.
Source: Press release from Classic Communications
Results $85000 Grand Prix de Penn National 238.2.2
Plc Horse / Sire x Dam Rider / Owner R1 TA:68 JO TA:50 Prize Money
1. 79 GENTILLE VAN SPIEVELD, HEARTBREAKER x TEQUILA VAN SPIEVELD Leslie Howard (USA), Gj Stable 0 67.490 0 43.710 $28,050.00
2. 32 ALDINE, Vitesse K x Voldine Jordan Macpherson (CAN), Sved Stables 0 65.430 0 44.310 $17,000.00
3. 19 QUOINTREAU UN PRINCE, DIAMANT DE SEMILLY x MELODIE DE SAFRAY Laura Chapot (USA), Laura Chapot & Mclain Ward 0 64.220 4 40.790 $12,750.00
4. 18 ROBIN DE PONTHUAL, ELF D'OR x IO DE LA GRANGE Peter Lutz (USA), Kathryn Gallagher & Michael Meller 0 66.190 8 43.920 $8,500.00
5. 53 GRAND CRU UP VIJF EIKEN, CONTACT VD HEFFINCK x Quinette vd Heffinck Vanessa Mannix (CAN), Vanessa Mannix 1 68.400 $5,100.00
6. 62 STAR POWER, QUICK STAR x MAXIM Jonathon Millar (CAN), Team Works 1 69.000 $3,825.00
7. 10 SIMBA DE LA ROQUE, KANNAN x OPEUM DE CHAMANT Conor Swail (IRL), Susan Grange 4 63.860 $2,550.00
8. 26 ZANDER, CANTOS x SACHA Beat Mandli (SUI), Grant Road Partners Llc 4 64.400 $2,125.00
9. 68 VDL WIZARD, GENTLEMAN x PRETTY Callan Solem (USA), Horseshoe Trail Farm, Llc 4 65.850 $1,700.00
10. 29 QUESTER DE VIRTON, KASHMIR VAN T SCHUTTERSHOF x NANOU DES HAYETTES Meredith Darst (USA), Meredith Darst Llc 8 64.570 $1,700.00
11. 24 AMARETTO D ARCO, DARCO x TATOUAGE D AVONTUUR Katherine Dinan (USA), Grant Road Partners Llc 8 65.810 $850.00
12. 47 FINOU 4, FOR PLEASURE x CONCHITA Aaron Vale (USA), Thinks Like A Horse 8 66.870 $850.00