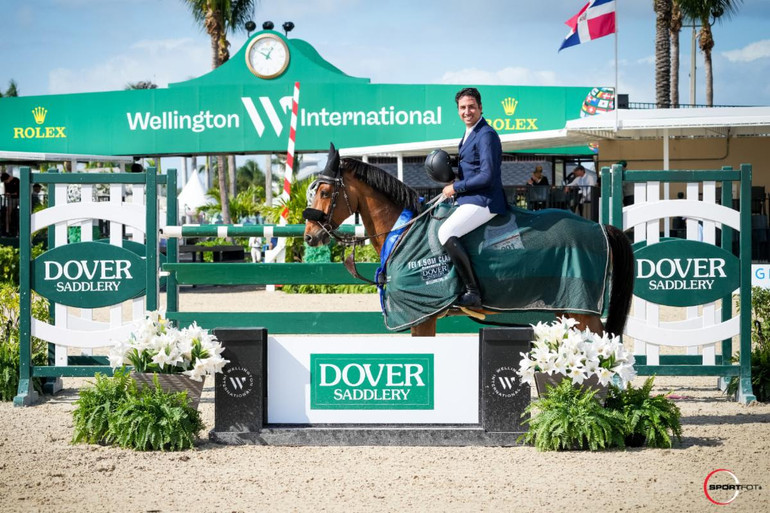 Luiz Francisco De Azevedo and Collin claimed the $50,000 Dover Saddlery 1.50m Classic CSI4*. Photo © Sportfot.
Press release from Equestrian Sport Productions
---
The opening week of the 2022 ESP Holiday Series presented by Arthramid®Vet concluded on Sunday with a full day of high-level competition. The day's featured class, the $50,000 Dover Saddlery 1.50m Classic CSI4* saw an opening field of 53 riders compete for the lion's share of the prize money. The winning pair was Brazilian rider, Luiz Franciso De Azevedo, and Collin, owned by Santa Cecilia Stables.
"When the first round was done, I saw there were fourteen pairs heading into the jump-off and I knew I would have to take a risk. I was lucky enough to have two horses in it, the other one is an eight-year-old of mine, but I knew the principal horse to win the class would be Collin. We tried our best and the risk paid off," said Luiz. "Funny enough, Collin won this class last year, so this win is really special for us. He is a really special horse for me and for my team. He's 15 years old now, he's been competing with us for 10 years, and he's always given me his best. I'm really happy," Azevedo said of the 15-year-old Dutch Warmblood gelding by Colandro x Amethist.
Designing for the International Arena throughout the week, American course designer, Anthony D'Ambrosio, challenged the riders to a thirteen-jump round, followed by a six-jump jump-off. Fourteen riders cleared round one and advanced to the jump-off. Azevedo tested later in the jump-off round, allowing him to make the best plan for his winning track. Luiz and Collin completed the jump-off fault free, with a time of 36.95 seconds.
Following Luiz's track was Irish rider Harry Allen, and Calculatus, owned by Qinyu Pang, in second place with a double-clear performance and a jump-off time of 37.39 seconds. Completing the podium was Canadian native, Sam Walker, and Evita, owned by Marbill Hill Farm, with a fault-free jump-off time of 37.41 seconds.
Ensuing his win, Luiz reflected on his home in Wellington and the new improvements to the grounds. "It's getting better and better. I think it's really important for us to have that quality of stalls. Now, we are waiting for the rest to come and hope to eventually have all the stalls like this. It's really important for the horses, for the grooms, and for us. I do feel that this is the best place in the world to be competing; it's my home, so it's the place I want to be and so I'm happy to see the improvements taking place."