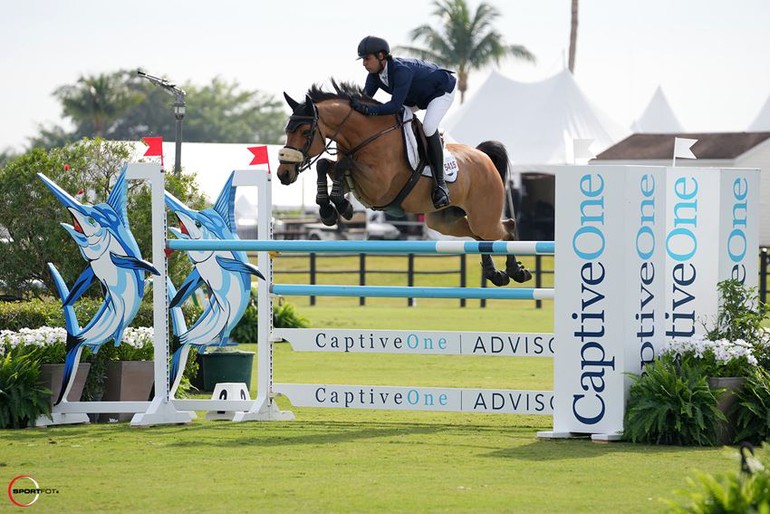 Luiz Francisco de Azevedo and Collin won the CHF37,000 CaptiveOne Advisors 1.50m Classic. Photo © Sportfot.
Press release from Wellington International
---
The CHF37,000 CaptiveOne Advisors 1.50m Classic highlighted the action on the derby field at Equestrian Village on Saturday afternoon. A star-studded lineup consisted of 29 pairs over a course set by Oscar Soberon (USA). Eight riders advanced to the jump-off, but Luiz Francisco de Azevedo (BRA) and Collin, a 2007 KWPN gelding (Colandro x Amethist) owned by Santa Cecilia Stables, clinched the win with a jump-off time of 41.09 seconds.
Francisco pipped Max Wachman (IRL) and Quintini, who posted a time of 41.98 seconds, and Ben Maher (GBR) found himself in the victory gallop on the 20-year-old Tic Tac for the second day in a row, this time in third, with a time of 42.04 seconds.
"He's a once-in-a-lifetime horse," said Francisco de Azevedo of Collin, a mount he's had for ten years. "We rescued him from a devastating situation, so I'm really proud to share this story because he's one in a million. A friend of mine, Didier Jackmen, is an equine dentist in Belgium and he called me about the horse which was about to be sent to slaughter.
"He was really difficult to ride, but the only thing I was trying to do was give him the chance to show his confidence," continued Francisco de Azevedo. "With a lot of patience we learned that he needs as much paddock time as we can give him and to only jump at the show. He knows when it's go time!"
Collin certainly knew his job on Saturday when he cruised around the derby field with impressive foot speed. "In this kind of competition, the plan is to use the horse's speed otherwise you don't even need to go to the jump-off," joked Francisco de Azevedo.
Speaking to how Collin has made a home in his string, Francisco de Azevedo concluded by saying, "He's super intelligent, he knows he's mine forever and now he's like part of the family."