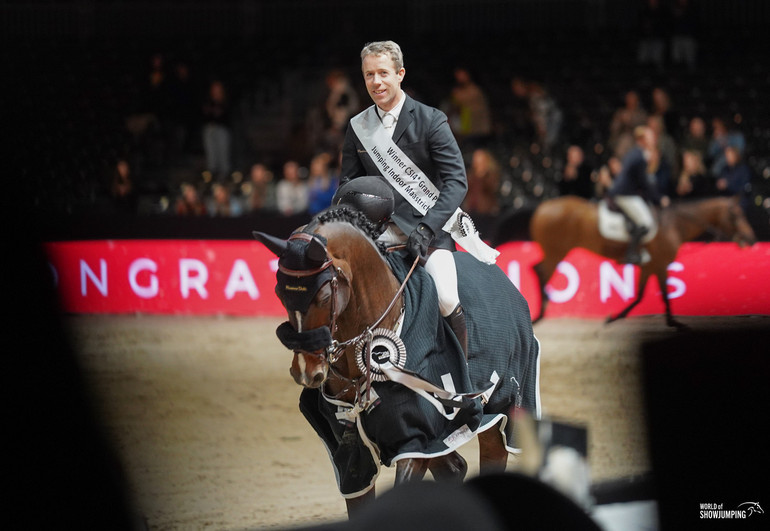 Maikel van der Vleuten and Luigi d'Eclipse won the CSI4* Grand Prix of Maastricht. Photo © Nanna Nieminen for World of Showjumping.
Text © World of Showjumping
---
The 2023-edition of Jumping Indoor Maastricht concluded with a Dutch podium in Sunday's CSI4* 1.55m Grand Prix of Maastricht, with Maikel van der Vleuten (NED) and Luigi d'Eclipse (Catoki x Calato, bred by Schrickx B.v.b.a.) taking the top honours.
Eleven pairs out of the 37 horse-and-rider-combinations at start cleared the first-round track set by Louis Konickx (NED) and joined the deciding the jump-off, where the Dutch riders delivered – much to the joy of their enthusiastic home crowd. With a time of 33.95, van der Vleuten took the win ahead of Willem Greve (NED) and Highway M TN (Eldorado vd Zeshoek x Chellano, bred by P. Verdellen Paarden Fok & Opfok) in second in 34.48 and Mathijs van Asten (NED) aboard Sirocco (Balou du Rouet x Guidam, bred by Sarah Williams) in third in 35.83.
"I think Louis Konickx made a tough enough course today," van der Vleuten said after his victory. "Especially the last line was difficult with many faults. You needed a good horse and you had to ride well, and the time was an issue. In the jump-off, Willem put on the pressure and I had to take all the risk – and it was Luigi's day today. He is a good horse: He has all the possibilities, he has all the options in his canter and I think today he showed that he also has the speed in him. You can ride him in all different kind of arenas, and I am very happy with him."
"This was the first big show for my horse after Barcelona," second placed Greve said. "I didn't take all the risk to the second-last vertical, so I knew I left the door a little bit open. When the two to come were Maikel and John [Whitaker], I did not have the feeling it was unbeatable. Still, I think Highway jumped great and we saw great sport today so I am very happy."
"I think it was a very well-built course today," third placed van Asten said. "The time was a point we had to think about, and in the end the line with the four and the six and then the triple combination as fence twelve caused some faults. Sirocco is a horse I rode as an 8-year-old and then sold to Jan Tops and his client – the Qatar Federation. Now a young Qatari rider – Hamad Nasser Al Qadi – who is training with me, rides the horse. I ride him sometimes as well, to keep him in the rhythm. Normally, he will fly to Qatar next week."
Jana Wargers (GER) and Clash Royale (Clarimo x Wellenspiel, bred by Klaus Lehrfeld) finished fourth and Niels Bruynseels (BEL) aboard Origi v. Vosberg (Echo van'T Spielveld x Clinton, bred by Dany Van Lombergen & Dirk D'Haese) fifth.