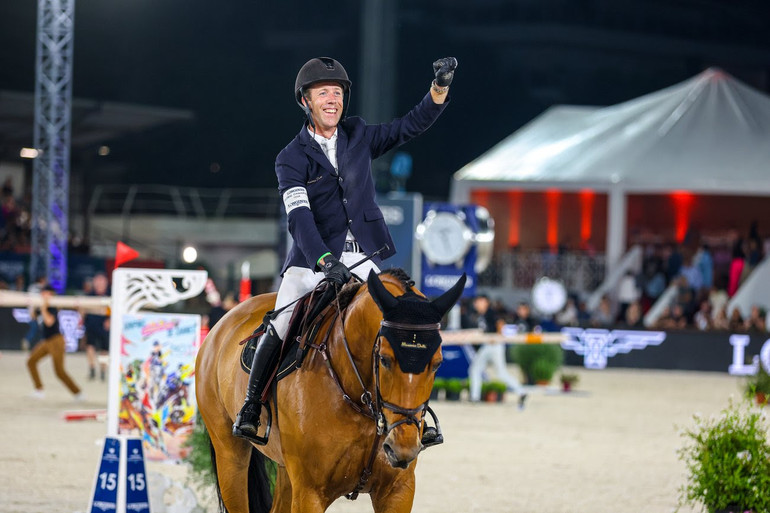 Maikel van der Vleuten and Beauville Z N.O.P., winners of the €500,000 CSI5* 1.60m Longines Global Champions Tour Grand Prix of Cannes, presented by La Ville de Cannes. Photo © Longines Global Champions Tour.
Edited press release from Longines Global Champions Tour
---
The prestigious €500,000 CSI5* 1.60m Longines Global Champions Tour Grand Prix, presented by La Ville de Cannes, concluded the weekend in Cannes, France. This year's event was further heightened by the jubilant celebrations of the 40th anniversary of Jumping Cannes, adding an extra layer of excitement to the occasion.
Last to go in the electric stadium, Maikel van der Vleuten (NED) and Beauville Z N.O.P. (Bustique x Jumpy Des Fontaines) stopped the clock half a second faster than Pieter Devos (BEL) riding MoM's Toupie de La Roque (Kannan x Nabab de Reve) to secure the top spot on the podium and claim a golden ticket to the Longines Global Champions Tour Super Grand Prix at the GC Prague Playoffs later this year.
First to go in the 13-rider jump-off, Michael Duffy (IRL) and Cinca 3 (Casall x Carthago) held on to a podium position as the world's top show jumpers competed fiercely for the coveted title under the glittering night sky of the French Riviera. It was an ultra-tight jump-off which resulted in just 0.98 seconds between 2nd placed Pieter Devos and 6th placed Christian Kukuk (GER) and Mumbai (Diamant de Semilly x Nabab de Reve). Philipp Schulze Topphoff (GER) and Carla (Comme Il Faut 5 x Potsdam NRW) finished fourth, followed by Andreas Schou (DEN) and Darc de Lux (Darco x Contender) in fifth.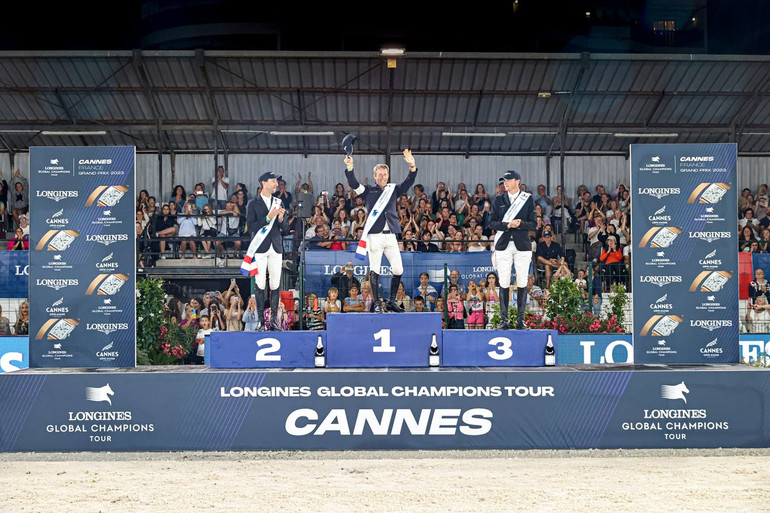 Maikel van der Vleuten, Pieter Devos and Michael Duffy on the podium in Cannes. Photo © Longines Global Champions Tour.
Maikel van der Vleuten told GCTV: "It's a fantastic feeling, I made a plan together with my father and it's a fantastic feeling when it works out that well. My family was here today as well as the owner of Beauville, Marta Ortega Pérez with her husband, so it was a fantastic moment for me today."
Leaving the door open for further movement on the championship leaderboard, Maikel will not be in Stockholm or Paris. Talking of his 26 point lead, Maikel said: "I will not do Stockholm, I will not do Paris – Monte Carlo will be the next one, but hopefully I've built a bit of room between the second rider now. I am really trying my best this season to win the overall, that's something I am looking forward to."
Pieter Devos explained: "I'm super, super happy of course, it was so close it also feels a bit bitter. Maikel, he is one of the best, so I knew he was very dangerous to me and I thought ok, I do my round and see and hopefully he goes a bit slower or has one down – but he didn't because he's the best. The atmosphere is quite special here, it's dark and it's quite cozy and the people are really with you and the sport, especially to the last turn everybody is cheering and you feel that – you do a little bit more of course."
In typical Irish style Michael Duffy said: "Someone has to go first, and she jumped great. When it didn't look like there were going to be that many clears, I had a different plan… and when there was thirteen clears I said 'I'm not going to leave it behind me, may as well throw the kitchen sink at it and see what happens, you know' – she jumped great, she jumped amazing – and she deserved it as well."
The Grand Prix of Cannes gave a huge shake-up in the overall championship ranking. Maikel van der Vleuten has extended his lead to 175 points while Christian Kukuk has catapulted into second place with 134.2 points. Malin Baryard-Johnsson and Edwina Tops-Alexander sit third and fourth on 130.1 points and 117 points respectively.