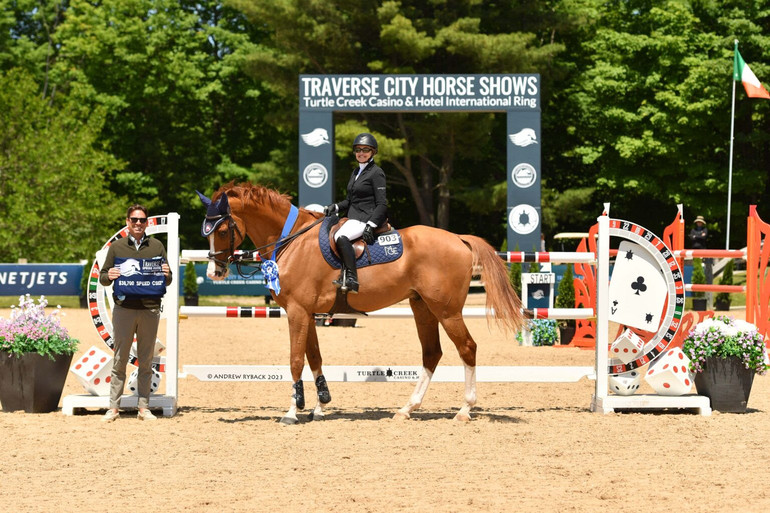 Margie Engle and Jackofhearts presented as winners of the $38,700 CSI2* 1.45m Speed by Matthew Morrissey, Director of Traverse City Horse Shows. Photo © Andrew Ryback Photography.
Press release from Traverse City Horse Shows
---
The cards fell in Margie Engle's favor Thursday afternoon to kick off the 2023 season of international show jumping at Flintfields Horse Park. Following suit from the year before, Engle won the opening speed class during the Traverse City Spring Series, presented by Turtle Creek Casino & Hotel, in the $38,700 CSI2* 1.45m Speed, this time with Jackofhearts, owned by Gladewinds Partners, LLC.
Twenty-four entries took their turn around the Turtle Creek Casino & Hotel International Ring to welcome back FEI competition to Northern Michigan. Over Manuel Esparza's (MEX) track, clear rounds were a bit hard to come by, but top names including Beezie Madden (USA), Hilary McNerney (USA), and Engle herself posted fault-free rounds to put themselves in the hunt.
Engle had an initial shot at the track with another up-and-coming mount, Virginia Bartholomay's Cesna M, finishing in 73.49 seconds to ultimately place fourth. She took what she needed from that ride and returned on "Jack" near the end of the class to claim victory. Finishing second was Delaney Flynn (USA) with Tom Hanks, owned by Windsor Show Stables, and Madden claimed third with Abigail Wexner's Hummer Z.
Jackofhearts, a 2011 Danish Warmblood gelding (Heartbeat x Baloubet Du Rouet), debuted as part of Engle's string during the 2022 season in Traverse City, but it's clear he's on the path to becoming a star now that he's a year older. "He's still a newer horse to me and he's built a little like a giraffe," Engle remarked. "He's got his own shape but he's a very game horse. He wants to be careful and wants to leave the sticks up."
Engle discovered Jack from Karel Cox in Belgium, but she wasn't dying to have the horse in her stable at first. "He wasn't actually my first pick," she admitted. "I wanted to get two others but it didn't work out and [Karel] said, 'You should get the big chestnut.' I [didn't want to] come back with another monster, because he's very tall. He doesn't quite suit me. People think I look for big horses but I really don't.
"Karel said, 'I believe in this horse for you. I think he'll make a good horse for you.' So I took his word on it and he's been coming along better and better all the time." Karel's belief in the horse and in Engle's riding has led to a strong partnership that has already produced a CSI5* victory.
Though he wasn't her first pick, there was still a lot to like about Jackofhearts. "I liked that he was careful and had plenty of blood," Engle remarked. "You don't have to manufacture much; he goes forward very easily and he felt like he jumped the jumps easily."
Engle doesn't have a particular "type," but Jack fits her preferences well at the end of the day, proving himself more and more each time they come out. "He's a trier," she explained. "Any horse that has a big heart and tries to miss the jump I think is my type. He has his own style and he's not exactly the ideal size for me but he tries to leave the jumps up and he's got a lot of go in him."
Engle led the CaptiveOne Advisors Leading Open Jumper Rider Bonus standings from week one until the very last week of competition in 2022, when it just slipped out of reach. She's back this season and ready to fight just as hard to make that title her own, and she's off to an excellent start.
"It couldn't be better," Engle said of her return to Northern Michigan. "I don't know anywhere else in the world where the weather is this nice this time of year. The weather is perfect and the facility looks great [with] all the improvements they made. It's great to be in the FEI stabling with the brand new barns, big aisleways, new walkways and they just keep adding on and making things better and better. It's always a pleasure to be here."
Atop the podium countless times throughout the years in Traverse City, Engle plans to bring her heavy-hitters out later this season as well, but they're enjoying some well-deserved rest back home while Engle gives the younger ones some extra experience."
"Both Royce and Dicas have had close to three months off," she said of her two top mounts. "They've been home enjoying a 'spring break' and Lisa Wilcox has been working them on the flat keeping them in shape. They'll start back soon to get their jumping muscles going."
Show jumping during the opening week of competition at Traverse City Spring Horse Shows picks back up Friday with the $38,700 CSI2* Welcome Stake, followed by Sunday's $77,300 CSI2* Turtle Creek Casino & Hotel Grand Prix.