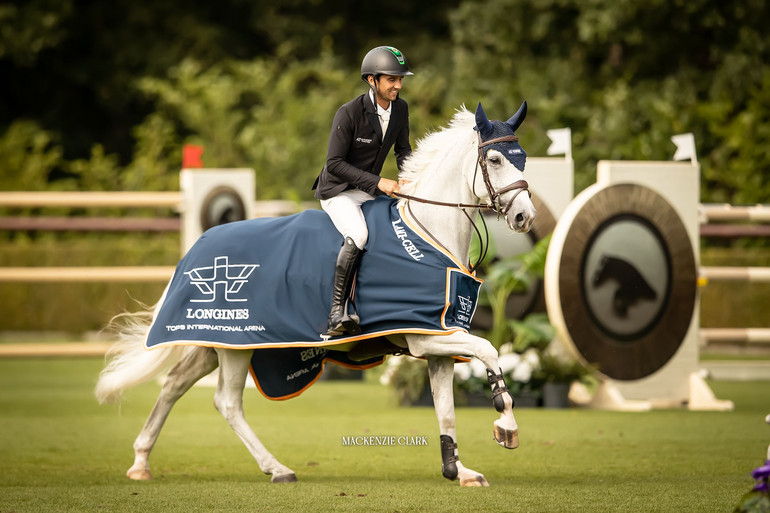 Marlon Modolo Zanotelli and Cornest, winners of the CSI4* 1.55m Grand Prix at Longines Tops International Arena. Photo © Mackenzie Clark.
Text © World of Showjumping
---
The first week of the 2023 Summer Festival at Longines Tops International Arena in Valkenswaard, the Netherlands, concluded on Sunday with a Brazilian victory in the CSI4* 1.55m Grand Prix. Only four pairs out of the 47 at start cleared the first-round track set by Germany's Peter Schumacher and joined the deciding jump-off.
As last to go in the jump-off, Marlon Modolo Zanotelli (BRA) and the 10-year-old Cornest (Balou du Reventon x Stakkatol) took the win ahead of Abdel Said (BEL) and the 9-year-old Clown of Picobello Z (Cardento x Orlando) when the clock stopped on 43.56 for the Brazilian rider who shaved off 0.62 seconds on the time to beat. Edwina Tops-Alexander (AUS) and Corelli de Mies (Calvaro F.C. x Centauer Z) placed third with a time of 46.87, while Jack Ryan (IRL) and Eagle vd Wolfsakker Z (Elvis ter Putte x Kashmir van Schuttershof) finished fourth in 47.90, followed by Bassem Mohammed (QAT) in fifth with a single time penalty from round one aboard Caletto Cabana (San Patrignano Cassini x Cap Canaveral).
"I think the course builder has done an excellent job the whole weekend," Modolo Zanotelli said after his win. "This was the main class of the weekend, and I think he did not expect the time allowed to play such a big part in the end. However, I am very happy we were only four in the jump-off, and really pleased with my horse. He is very green on this level, and this is the first time we jump a Grand Prix like this. He did an amazing job today."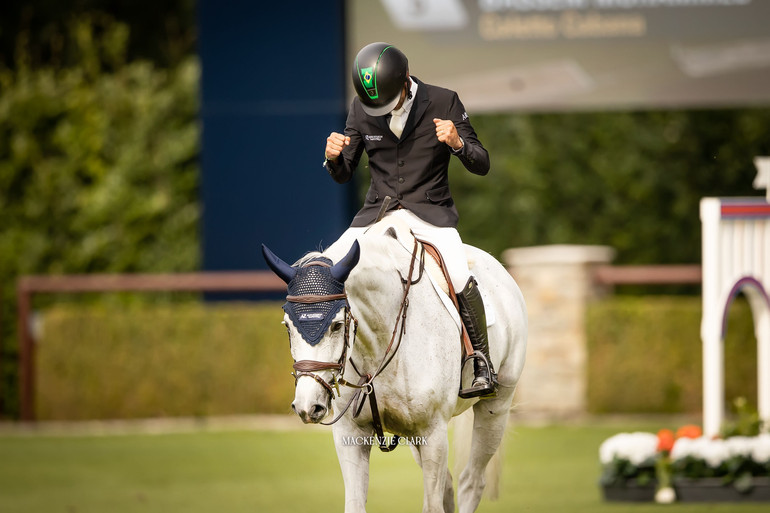 "It worked out fantastic," Marlon Modolo Zanotelli said about his winning jump-off. Photo © Mackenzie Clark
"It is a funny story," Modolo Zanotelli continued to speak about his winning partner – the 10-year-old Cornest. "He is owned by Wilma Hellström and her mother – who are like family to us – and they stepped in when I had the situation with two of my horses leaving and Harwich being sold. Wilma said back then how I had ridden Cornest when she was injured and had really liked him so she asked if I didn't want to try and ride him again, to see if he could be a better horse for me. It is special to have people like this supporting me, and we did such progressive work with Cornest now – he has been improving so fast. He jumped in Rome as a third horse and was clear every day in the 1.45m classes there, then I took him to Paris where he did his first 1.50/1.55m class and jumped clear again. He is just developing and he is a special horse. He is so careful, has a big heart and he really tries hard in the ring, even when things are not easy for him. I think it was tough for him today, and he started to over-jump a bit in the beginning of the course which made him tired in the end – but he was still fighting. And I think this is what makes the difference between the good and the better horses; they fight for you."
"I was last to go and could see everybody," Modolo Zanotelli said about his plan for the jump-off. "I have been in a few speed classes with Cornest so I know his strong points and his weaknesses, and I thought the jump-off suited us, with the long lines and the long gallops to the oxers – I could just canter and I knew he was going to jump clear, I did not have to worry too much about the fences. Also, my brother Marcus was watching and told me to do eight strides to the last fence, while Abdel did nine. I think there, I knew I could win a bit of time and it worked out fantastic."