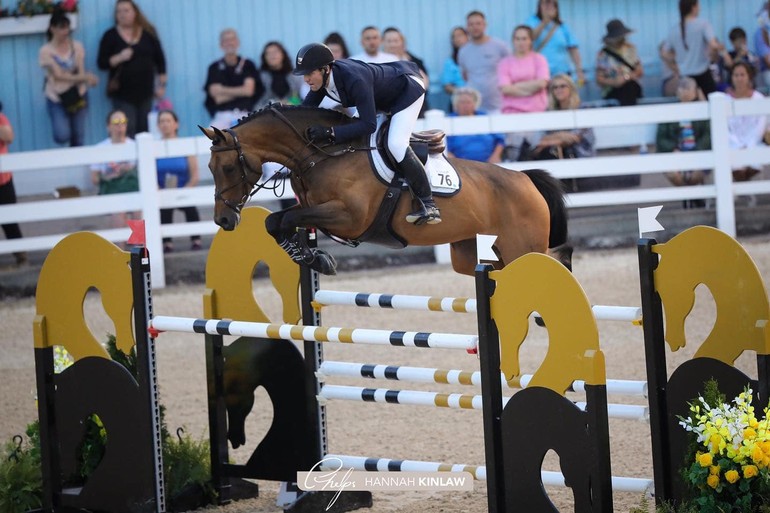 McLain Ward and First Lady, winners of the CSI4* $38,700 Main Line Challenge at Devon Horse Show. Photo © Phelps Media Group/Hannah Kinlaw.
Edited press relase from Phelps Sports
---
At Devon Horse Show and Country Fair, Wednesday was closed out by the CSI4* $38,700 Main Line Challenge in the Dixon Oval. A total of 47 horse-and-rider combinations, representing five different countries, prepared to enter the Dixon Oval and test the limits on the Anderson Lima designed course set at 1.45m. As the biggest class of the 2023 Devon Horse Show to date, the fans filled the grandstands to witness a world class show jumping event.
Lima, a well known course designer within FEI showjumping, presented the riders with a 12-obstacle, 14-effort track that featured seven oxers and two double combinations in total. However, the class was split into two phases so the time would start over after jumps 1-6.
The class proved to be unfazed by the pressure-filled atmosphere as a total of 20 entries boasted double clear efforts on both phases of the track. Leading the pack was McLain Ward (USA) aboard First Lady (Don Diarado x Lordanos) in 30.69 seconds, followed by Jessica Mendoza (GBR) and Chaning Tatum (Canturano x Balou du Rouet) in second with a time of 30.73, and Laura Chapot (USA) and Chandon Blue (Chacco-Blue x Landcapitol) in third on 31.09. On his winning partner First Lady, Ward explained: "She's a young horse and we've been developing her, and now she's stepping up to the bigger classes."
"It's always great to be here. It's a very special place to me, and I think to many people. It has so much tradition, probably more than any other show in the United States," Ward said about the The Devon Horse Show.