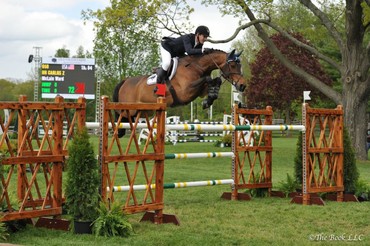 McLain Ward and HH Carlos Z. Photo (c) The Book LLC.
McLain Ward (USA) of Brewster, NY, and HH Carlos Z saved the best for last to win the $50,000 Old Salem Farm CSI 2* Grand Prix, presented by The Kincade Group, from the final spot in the jump-off order at the Old Salem Farm Spring Horse Shows.
Ward and HH Carlos Z, a proven winning combination for Double H Farm, topped a field of 36 over tracks built by Richard Jeffery of Great Britain. Ward and his 14-year-old Zangersheide gelding batted cleanup in a five-horse jump-off to secure his second consecutive Week 1 Grand Prix victory at the Old Salem Farm Spring Horse Shows after leading the victory gallop in 2015 on HH Azur.
Fellow Double H Farm rider Quentin Judge (USA) was first to return for Sunday's jump-off in the irons of HH Whisky Royale. Two rails gave them eight faults in 43.04 seconds for fifth place. Peter Lutz (USA) returned next with Robin de Ponthual for owners Katherine Gallagher & Michael Meller, but they pulled one rail to land them with four faults in 40.08 seconds for fourth place.
Katie Dinan (USA) and Dougie Douglas were first to give the crowd a cheer-worthy clear round in 41.31 seconds. Their lead was short-lived, however, as Brianne Goutal (USA) returned next on Zernike K and broke the tape in 39.40 seconds. Ward and HH Carlos Z were the final pair on course and broke the timer beam in 38.70 seconds for the win. Goutal took second for Remarkable Farms, LLC and Dinan slid to third for Grant Road Partners, LLC.
Ward was happy to have HH Carlos Z's experience on his side over the "tricky" course. "It is nice to have a horse like Carlos who is very predictable," he said. "I think the younger horses found it harder to pass a few of the tests, but you know when you have a horse like I do, you don't have to worry about the natural fences or his balance. It really makes things a lot easier."
HH Carlos Z has pocketed wins all over the world for Ward, but especially strives on the grass Grand Prix Field at Old Salem Farm. "It's always a little surprising to me because he is a super careful, small horse, and you would lean toward thinking that a horse like that would like a small sand arena better, but he really grows in these big fields," said Ward.
Goutal made a strong bid for the win, but was pleased with second place. "I don't like to be beaten, but I am glad that it was McLain who beat me," she said.
Goutal was most pleased to see Old Salem Farm offer two weeks of FEI-sanctioned competition during the 2016 season. Announced earlier this year, the Old Salem Farm Spring Horse Shows will host a 3* grand prix next Sunday, May 22, after this weekend's 2* event.
"I have been commenting for a while now about how there should be more FEI shows [in the U.S.]," said Goutal. "I was really happy to see that there are a lot this summer, and I am going to take advantage of that. I also have a lot of students who want to show locally, so we are going to caravan around America a little bit. I haven't done that in six years, so I am super excited to jump in all those classes."
Ward, who considers the Old Salem Farm Spring Horse Shows to be his hometown show and is a familiar face at the two-week event, echoed Goutal's thoughts on bringing more international-level competition to North America.
"It's great to see them thinking big, and I try to support shows in America that are making that effort," he said. "We are very proud of how [Old Salem] has grown and the efforts of Allen Bietsch and everybody involved who have made this facility world-class and a home of FEI-level events."
For Dinan, Sunday's finish was her best of the week in FEI competition, and she was quick to give credit to her mount, Dougie Douglas. "I was very happy with my horse – he thrives in these big grass fields," said Dinan. "He grew up in Ireland and England and has a lot of experience, and that makes the job for the rider a lot easier. I am very lucky to have him, and I just try to do the best I can every ride."
Hailing from New York, NY, and a regular competitor at Old Salem Farm, Dinan will miss the second week of the Spring Horse Shows to graduate from Harvard University with a degree in Human Developmental and Regenerative Biology. Her college career will conclude on May 26 and full-time riding will commence.
"I am looking forward to the next chapter in my life," she said. "I will be in Europe all summer and then pick up from there."
Final Results: $50,000 Old Salem Farm Grand Prix, presented by The Kincade Group
1 HH CARLOS Z: 2002 Zangersheide gelding by Chellano Z x Voltaire
McLain Ward (USA), Double H Farm: 0/0/38.700
2 ZERNIKE K: 2004 Dutch Warmblood gelding by Sam R. x Topas
Brianne Goutal (USA), Remarkable Farms, LLC: 0/0/39.400
3 DOUGIE DOUGLAS: 2005 Irish Sport Horse gelding by VDL Douglas x High Roller
Katherine Dinan (USA), Grant Road Partners, LLC: 0/0/41.310
4 ROBIN DE PONTHUAL: 2005 Selle Francais gelding by Elf D'or x Calypso D'Herbiers*Ecolit
Peter Lutz (USA), Katherine Gallagher & Michael Meller: 0/4/40.080
5 HH WHISKY ROYALE: 2005 Zangersheide gelding by Wonderful Van't Beugehof x Kannan
Quentin Judge (USA), Double H Farm: 0/8/43.040
6 MR VISTO: 2005 Holsteiner stallion by Levisto x Ariadus
Lauren Tisbo (USA), Tequestrian Farms, LLC: 1/84.150
7 AVON: 2004 Swedish Warmblood stallion by Quidam de Revel x Cortez 679
Mattias Tromp (USA), Beyaert Farm, Inc.: 1/84.400
8 RETIRO: 2005 Warmblood gelding by Rockefeller Z x Play Boy
Peter Lutz (USA), Katherine Gallagher & Michael Meller: 1/86.370
9 BALOU DU REVENTON: 2006 Oldenburg stallion by Cornet Obolensky z Continue
Liubov Kochetova (RUS), Kochetova Equestrian, LLC: 1/86.580
10 GENTLEY: 2006 Belgian Warmblood gelding by Bentley vd Heffinck x Major de la Cour
Filip de Wandel (BEL), Filip de Wande: 4/79.200
11 WASHINGTON SQUARE: 2005 KWPN gelding by Quattro B x Nimmerdor
Georgina Bloomberg (USA), Gotham Enterprizes, LLC: 4/80.420
12 WAYFARER: 2006 gelding by Languster
Peter Leone (USA), Lionshare Farm: 4/81.120
---
Source: Press release from Jump Media LLC // Picture © The Book LLC