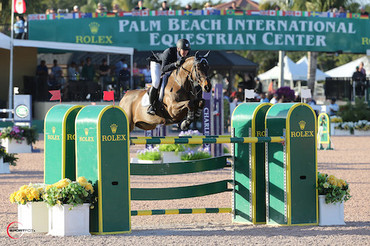 McLain Ward and HH Carlos Z. Photo ((c) Sportfot.
Week four of the 2015 Winter Equestrian Festival, sponsored by Fidelity Investments®, concluded on Sunday with the $85,000 Suncast® 1.50M Championship Jumper Classic featured in the International Arena at the Palm Beach International Equestrian Center (PBIEC). The class saw a win for McLain Ward (USA) and Double H Farm's HH Carlos Z in a very fast 20-horse jump-off over Todd Minikus (USA) and Quality Girl. They were followed by Irish speedsters Darragh Kenny and Conor Swail in third and fourth places, respectively.
Course designer Guilherme Jorge (BRA) saw 62 starters on his final course for week four with 20 clear rounds to jump-off. Twelve were double clear over the short course, and the times were blazing. Ward and HH Carlos Z completed their course in 37.26 seconds, just ahead of second place finishers Todd Minikus and the Quality Group's Quality Girl, who clocked in at 37.41 seconds. Darragh Kenny and Toffolon Partners LLC's Gatsby finished third in 38.26 seconds. Kenny also tied for fourth place with Conor Swail in the same time of 38.47 seconds. Kenny's second ride was aboard Oakland Ventures LLC's Picolo. Swail rode Ariel and Susan Grange's Martha Louise.
Ward and HH Carlos Z had a great start to their partnership beginning last season in Wellington and went on to an excellent year with top finishes throughout North America. The pair earned two wins and several top placings at Spruce Meadows over the summer. They won the prestigious $125,000 President's Cup Grand Prix CSI 4*-W at the Washington International Horse Show in October, and they went on to a great win at the Royal Winter Fair in Toronto to cap off their 2014 season. The 13-year-old Zangersheide gelding (Chellano Z x Voltaire) is a jack-of-all-trades and has already inked a great start to this year's winter circuit.
"He is a very fast little horse, and he is very careful," Ward stated. "He was actually unlucky not to win the WEF (Challenge Cup) on Thursday. He jumped a hell of a round and had a bit of a cheap rail, which I could take responsibility for. In that jump-off, with that many fast riders, you knew it was all or nothing."
"He had a pretty nice first season with me," Ward said. "He is kind of what I would call a workman-like horse. There is not a job at the show he can't do. He jumped the biggest grand prix in the world very well last year at the Masters, and he will win a Table C speed class on Wednesday at a horse show. He kind of does it all. He plugs into every role, and he has been a great asset to the Double H team and my string."
"I really enjoy him. He is a trier and gives a lot," Ward declared. "I thought he was a little unlucky on Thursday not to win the class, so it is nice that he came back just as strong, if not stronger, today."
In the jump-off, Ward followed two very fast rounds already set by Darragh Kenny. He also had some very fast riders still to come, such as Todd Minkus and Conor Swail, but the time held on to win.
"I knew Darragh's round was pretty phenomenal," Ward detailed. "I felt like I had a good round, but for sure those guys on their best day could have caught me. That is always the way, but it was our luck and we needed it. We needed a little break. We had a bit of a slow January, so we needed something to turn."
With a great win in hand, Ward and HH Carlos Z will jump a few more classes in the next few weeks as they prepare to represent the United States in the $100,000 FEI Nations Cup, presented by Kingsland Equestrian, during week eight's CSIO competition. Ward also looks to jump Carlos in the $500,000 Rolex Grand Prix CSI 5* to conclude the WEF circuit in week 12.
Final Results: $85,000 Suncast® 1.50M Championship Jumper Classic
1. HH CARLOS Z: 2002 Zangersheide gelding by Chellano Z x Voltaire MCLAIN WARD (USA), Double H Farm: 0/0/37.26
2. QUALITY GIRL: 2003 Oldenburg mare by Quidam's Rubin x Dobrock TODD MINIKUS (USA), Quality Group: 0/0/37.41
3. GATSBY: 2004 Irish Sport Horse stallion by Simba x Cruise On DARRAGH KENNY (IRL), Toffolon Partners LLC: 0/0/38.26
4. MARTHA LOUISE: 2004 Swedish Warmblood mare by Maloubet de Pleville 1039 x Wolfgang CONOR SWAIL (IRL), Ariel and Susan Grange: 0/0/38.47
4. PICOLO: 2003 Selle Francais gelding by Diamant de Semilly x Alme DARRAGH KENNY (IRL), Oakland Ventures LLC: 0/0/38.47
6. FEROX B: 2005 Belgian Warmblood gelding by Quidam de Revel CSF x Contender LAURA KRAUT (USA), Mike Collins: 0/0/39.23
7. BALOUS DAY DATE: 2005 Oldenburg mare by Balou du Rover x Domino MOLLY ASHE-CAWLEY (USA), Louisburg Farm: 0/0/39.30
8. EXQUIS WALNUT DE MUZE: 1999 Belgian Warmblood gelding by Nabab de Reve x Chin Chin HARRIE SMOLDERS (NED), Team Exquis: 0/0/39.54
9. RECONNAISSANCE: 2005 Swedish Warmblood gelding by Camaro M x Irco Mena LAUREN HOUGH (USA), Laura & Meredith Mateo: 0/0/40.61
10. CARISMA: 1999 Swedish Warmblood mare by Cardento 933 x Maraton 600 DANIELLE GOLDSTEIN (ISR), Israeli Equestrian Partners: 0/0/41.58
11. WITH WINGS: 2003 KWPN gelding by Larino x L. Ronald KAREN POLLE (JPN), Karen Polle: 0/0/43.28
12. CHALLENGE Z: 2005 Zangersheide stallion by Carthago x Cordelme Z MARIO APPEL (BRA), Mario Appel: 0/0/43.61
Source: Press release from Jennifer Wood Media, Inc.