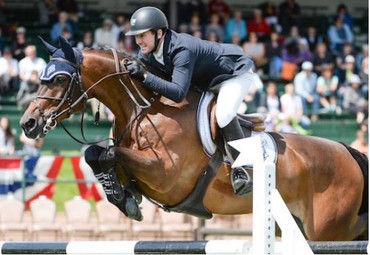 McLain Ward and HH Carlos Z. Photo © Spruce Meadows Media Services.
McLain Ward (USA) carried his winning momentum from Saturday's $400,000 ATCO Power Queen Elizabeth II Cup into Sunday morning with a victory in the $85,000 Enbridge Cup 1.50m aboard Double H Farm's HH Carlos Z.

Course designer Santiago Varela (ESP) set the track for 39 entries in round one of the Enbridge Cup, with 16 advancing to the jump-off, and nine double clear rounds. Ward and HH Carlos Z blazed to the win in 40.50 seconds. Todd Minikus (USA) and Quality Girl finished second in 41.26 seconds. Pablo Barrios (VEN) and Antares placed third in a time of 41.27 seconds, and Kent Farrington (USA) took fourth in 41.38 seconds riding Gazelle.

The win marks Carlos and Ward's third victory in this year's Summer Series along with many other top placings. HH Carlos Z, a 13-year-old Zangersheide gelding (Chellano Z x Voltaire), is always fast and careful.

"He is a remarkable little horse," Ward remarked. "I have been lucky enough over the years to have a few like him. He is just a great little competitor."

"I have a great string of horses," Ward said of his success this summer. "I have great people behind me, great sponsors. I have the same team that I have always had, but we all bring a lot of experience and knowledge to the table. It is always the same in a series – if things start off well, typically you keep going that direction. If it starts out a little rough, it is sometimes hard to pull yourself out. I have been on the top and I have been on the bottom and I probably will be both again, so I will enjoy it while it is going well!"

Carlos jumped several times this week, but the cards played differently each time, and Ward chose to keep his preparation for Sunday's competition simple.

"It was a long week; this is his fourth competition of the week," Ward noted. "On Wednesday, he was in good form and then he lost his shoe in the jump-off and kind of fell down. Yesterday, he was in great form and had the time in the jump-off and I messed up the last fence. He doesn't need much practice. Today we just walked him to the ring right out of his stall. He jumped a few jumps and went in the ring."

Commenting on his winning jump-off, Ward detailed, "He is very fast everywhere. Everything was showing up nice. I had a nice cut on the original fence number one. I got the six-stride, which was a little longer than I thought to the Rolex jump, and then I think I was very fast to the last. He is so careful, you can kind of leave out all the way."

The 2015 Spruce Meadows Summer Series concludes with one more week of competition, the 'Pan American' Tournament CSI 4*, presented by Rolex, on July 9-12, 2015. For a complete tournament schedule and full results, please visit www.sprucemeadows.com.
Final Results: $85,000 Enbridge Cup 1.50m
1. $28,050 HH CARLOS Z Zangersheide / G / 13 Chellano Z x Voltaire MCLAIN WARD (USA) BREWSTER, NY Double H Farm: 0/0/40.50
2. $17,000 QUALITY GIRL Oldenburg / M / 12 Quidams Rubin x Dobrock TODD MINIKUS (USA) LOXAHATCHEE, FL Quality Group: 0/0/41.26
3. $12,750 ANTARES Warmblood / G / 10 Manhattan x Cavalier PABLO BARRIOS (VEN) WELLINGTON, FL Pablo Barrios: 0/0/41.27
4. $8,500 GAZELLE Belgian Warmblood / M / 9 Kashmir van Shuttershof x Indoctro KENT FARRINGTON (USA) WELLINGTON, FL Robin Parsky and Kent Farrington: 0/0/41.38
5. $5,100 CHIVAS Z Zangersheide / G / 16 Cumano x Lord Gotthard RICHARD SPOONER (USA) AGUA DULCE, CA Richard Spooner: 0/0/41.63
6. $3,825 FINE LADY 5 Hanoverian / M / 12 Forsyth x Hauptstutbuch ERIC LAMAZE (CAN) SCHOMBERG, ON Artisan Farms, LLC: 0/0/41.73
7. $2,550 HH CISKE VAN OVERIS Belgian Warmblood / M / 13 Celano x Darco MAGGIE MCALARY (USA) AMHERST, NH Double H Farm: 0/0/44.12
8. $2,125 G&C CLOSE UP Dutch Warmblood / G / 8 Eurocommerce Wastington x Cobra LUIS LARRAZABAL (VEN) WESTON, FL Gustavo Mirabal: 0/0/45.18
9. $1,700 BELLINDA Dutch Warmblood / M / 9 Namelus R x Hors La Loi II KARA CHAD (CAN) CALGARY, AB Stone Ridge: 0/0/46.91
10. $1,700 PUERTAS SO WHAT Dutch Warmblood / G / 11 Quattro x Iroko JUAN PABLO GASPAR ALBANEZ (MEX) ZAPOPAN, JALISCO Felipe Gaspar: 0/4/42.46
11. $850 MATADOR Dutch Warmblood / S / 13 Indoctro x Corland JAIME AZCARRAGA (MEX) MEXICO CITY Jaime Azcarraga & Family: 0/4/42.84
12. $850 BALBOA 6 Warmblood / G / 12 Baloubet D.Ro x Cascadeur LESLIE HOWARD (USA) DARIEN, CT Moormann, Rolf u. Paul Schockemohle: 0/4/44.42

Source: Press relese from Jennifer Wood Media Inc.